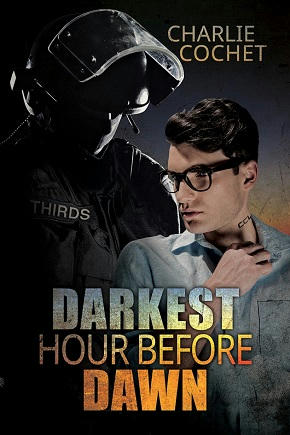 Title: Darkest Hour Before Dawn
Series: THIRDS #9
Author: Charlie Cochet
Genre: Mystery, Suspense, Science Fiction, Urban Fantasy
Publisher: Dreamspinner Press (April 25, 2017)
Length: Novel (224 Pages)  
Heat Level: Low
Heart Rating: ♥♥♥♥♥ 5 Hearts
Blurb: THIRDS Team Leader Sebastian Hobbs and Chief Medical Examiner Hudson Colbourn are as much in love now as they were nearly seven years ago when a tragic event on the job destroyed their relationship. The two drift together only to be pulled apart time and time again. When Hudson draws the interest of dangerous enemies, both within and outside the organization, Seb wants nothing more than to protect the man who still means everything to him.
As life and death events, an uncertain future, and startling truths draw Hudson and Seb to each other yet again, they must make a choice: trust their love and take strength from what they share, or lose what matters most for good this time. 
ISBN: 978-1-63533-609-2
Product Link: https://www.dreamspinnerpress.com/books/darkest-hour-before-dawn-by-charlie-cochet-8399-b
Reviewer: Lisa
Review: One day I was out looking for a new audible book when I came across the very first book in this series and from then on I have been caught.  I will admit that I actually listened to the first 7 books before even buying the ebooks.  With this series you must start with book one, otherwise you can get pretty lost on who the characters are and what they are about.  
Seb and Hudson have been mates for several years, but a tragic accident sent them into different directions.  A child was killed when Seb ran to protect Hudson instead of the public.  From that time on there was so much friction that you would get burned just bringing it up.  You can see that both men still love each other but there is so much going between them that it would take a miracle to help.
That miracle might just happen when the ones targeting Dex, puts their sights on Hudson.  Now with this there are many twists and turns, but there is one major shock still in store for our sexy little doctor.  I can guarantee that it will shock you also.
I will admit that this is the only series that I have read by this author and more than once.  I can tell you that it is not only entertaining but will keep you on the edge of your seat just waiting for the next shoe to drop.  It has a serious tone to it but there is quite a bit of humor mixed in.  Well what do you expect when Dex is around.  
I had a blast reading this and cannot wait to see what happens next.  It is one of the most fascinating tales I have read in a long time.  There is so much action, mixed in with danger that you will not want to miss a bit of it.  I can admit that this author has moved up the ranks in my library quite fast with her stories.  I need to go read her other books, if they are like this one I will be in a happy place.  So over all this is a major win with me, and I would definitely recommend it to all.