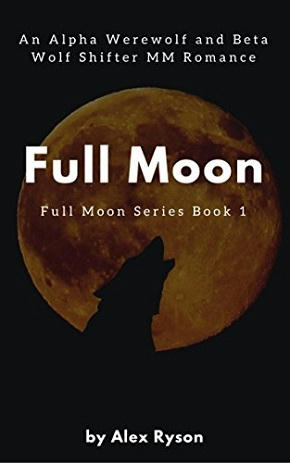 Title: Full Moon
Series:  Full Moon 01
Author: Alex Ryson
Genre: Fiction, Romance
Length: Novella (110 pages)
Publisher: Alex Ryson (February 28, 2017)
Heat Level: Low – Moderate
Heart Rating: ♥♥♥♥ 3.75 Hearts
Blurb: The pack is life for Sam. He grew up living on a large property filled with men and women that work to keep the pack stable and running. He has never really been alone until he had to go away for college. Scared, alone for the first time ever, and only with a small amount of money, he traveled to the city. He had never seen so many people so close together. Especially so many that didn't seem to care for one another. 
Trying to find some air and peace, he unknowingly makes his way to the wrong side of the city. He could tell by the strong smell that something big lived there. He runs into Elliot, a terrifyingly large man, built like a brick wall. The scruffy face and bruised cheek did not help his impression that Elliot was pure danger. Sam had been warned about werewolves but had never met one before. Elliot didn't hurt him. Instead, he helped him back to the main part of the city… and from there Sam learned some very important things about city life and love. 
ISBN: B06XCK3VR9
Product Link: https://www.amazon.com/Full-Moon-Shifter-Book-One-ebook/dp/B06XCK3VR9
Reviewer: Shorty 
Review: Sam struck me as the typical first time college student until he gets lost. From the time he meets Elliot his life changes. I really liked this story however, there was so much that was needed for me to truly love it. 
There did not seem to be as much in depth details that were needed. Maybe the author planned it this way to keep the reader interested in the series. While I liked the actual idea of the plot, the overall delivery fell flat for me. 
Good read.