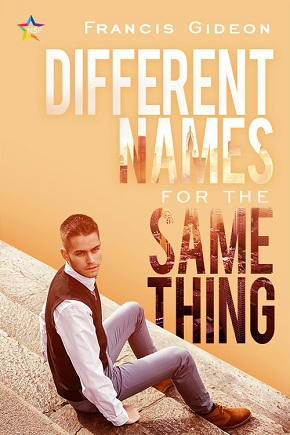 Title: Different Names for the Same Thing
Author: Francis Gideon
Genre: Contemporary, Transgender
Length: Short (54 pages)
Publisher: Nine Star Press (31 Oct 2016)
Heat Level: Moderate
Heart Rating: ♥♥♥ 3 Hearts
Blurb: The last time Joël Paquet was in New York City, he nearly died. Too distracted by his problems, he didn't look when he crossed the street and was nearly made into a pancake by a transport truck in the downtown core. The only saving grace of this trip, other than the cute person working as a living statue who saved him and then took him out for coffee, was the fact that his near-death experience finally gave him the courage to come out as trans.
Five years later, Joël Paquet is one of the most in-demand horror writers in North America. Going to New York City from his current Montreal home for the Black Markets Horror Con should be exciting, but when he gets an email that uses his birth name, he nearly cancels the trip altogether. The only thing that keeps Joël going is the thought of that living statue who saved his life once before.
ISBN: 978-1-911153-93-1
Product Link: https://ninestarpress.com/product/different-names-for-the-same-thing/
Reviewer: Prime
Review: This is short and sweet story about a trans writer who despairs when he receives emails using his birth name, rather than his chosen name, Joel. I know, that is horribly explained. The explanation does not actually describe the gravity that this has on Joel, being called his birth name makes him feel vulnerable in a way that seems terrifying.
Joel goes to a convention in New York despite his reservations after receiving emails addressed to Violet. This is his second trip to New York and the first one ended in a near death experience. After his panels have finished he meets the person who had saved him on his last trip who has changed just as much as he has –like him his savior had known what they were on the inside and that most definitely was not a female.
I just feel like I keep screwing up this explanation in an effort to keep this short. This is a well written short which touches wonderfully on the feelings that Joel goes through. This is all about identity but it is also much more. Ultimately, I see this as two people who are coming to terms with how they feel inside before they can come to terms with what they feel for each other. I find it absolutely intriguing that both MCs are trans, this is definitely a first for me, though in the end trans or cis doesn't matter for my actual love of the characters themselves.
In the end, I suppose that Different Names for the Same Thing is truly more than accurate.