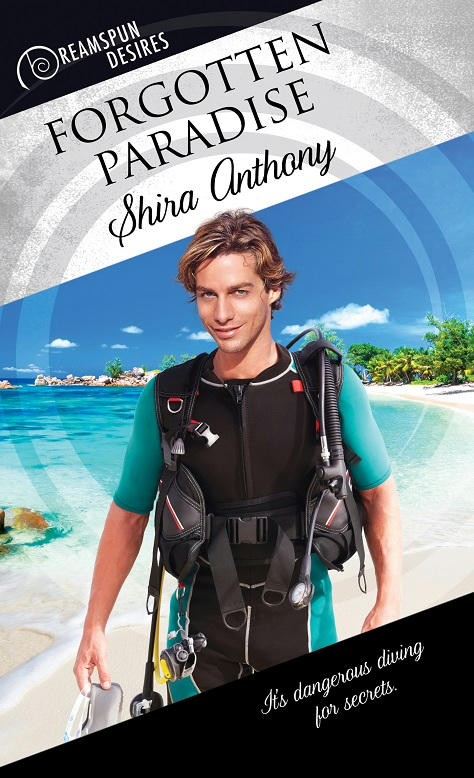 Title: Forgotten Paradise
Series: Dreamspun Desires 32
Author: Shira Anthony
Genre: Contemporary
Length: Novel (238 pages)
Publisher: Dreamspinner Press (15 April 2017)
Heat Level: Moderate
Heart Rating: ♥♥♥♥ 3.5 Hearts
Blurb: It's dangerous diving for secrets.
When a megacompany threatens to take over his family-owned business, programming prodigy Adam Preston escapes the stress with a much-needed vacation in the Dominican Republic. There he meets attractive, intelligent, insightful Jonah James, a scuba dive instructor, and what starts as a holiday fling soon blossoms into much more.
But Jonah has a secret: ten years ago he woke up on an island beach with no idea how he got there… or even who he is. Their paradise may not be as perfect as it seems. When Jonah's memories come crashing back like waves on the sand, will it be Adam clinging to the proverbial life raft, or will the two men find a safe harbor to ride out the storm?
ISBN: 978-1-63533-203-2
Product Link: https://www.dreamspinnerpress.com/books/forgotten-paradise-by-shira-anthony-8323-b
Reviewer:  Prime
Review: Here I go, picking up the newest Dreamspun Desires and happily getting lost in the contrived soap opera that is what I have come to expect from these stories. Seriously, if you want something a bit more serious and heavy on the sickly sweet love plotlines and not like watching Neighbours or Days of Our Lives, then probably best to stay away. This warning cannot be any more relevant to Forgotten Paradise, which uses the predictable amnesia storyline.
But I get ahead of myself. Our two main players are Adam Preston and Jonah James (or is that his name? Hmm…) Adam runs the family company and programming whiz, he is now dealing with the stress of some massive corporation wanting to overtake the company which he holds so dearly. And so what does Adam do – he's off on a short break to forget his troubles in the Dominican Republic. On holiday he meets sexy scuba instructor, Jonah James, who is a lot more than a simple dive instructor in paradise. He has no idea about whom or what he is. I won't say anything else in case I give it away, but seriously, I'd wager that most readers will figure out Jonah's identity within the first few chapters.
Of the two characters, I found Adam much more than relatable than Jonah. I wonder if it's because Jonah seems to be in a constant loop of questioning himself and trying to figure out his true identity. For me the set up was to the novel was rather slow. I don't know if that's because a rather predictable storyline or if Shira Anthony just explains everything in exceptional detail which I don't have the attention span for. I found that I had to persevere with the first half of the book and then once the pace picked up I really got into things.