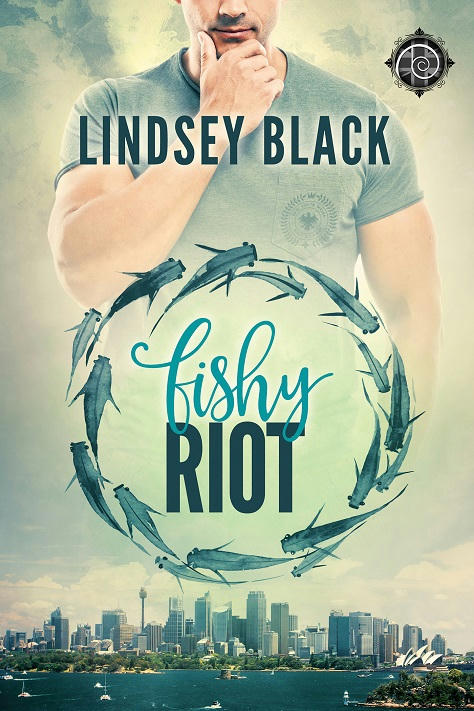 Title: Fishy Riot
Series: Perchance to Dream 08
Author: Lindsey Black
Genre: Contemporary, Humor
Length: Novel (236pgs)
ISBN: 978-1-63533-449-4
Publisher: Dreamspinner Press (24th April 2017)
Heat Level: Low – Moderate
Heart Rating: ♥♥♥♥♥ 5 Hearts
Reviewer: Pixie
Blurb: Most people think riot squad officer Taylor Jameson is an asshole. Little do they know his apparent indifference stems from having a meddlesome family always butting into his business. And little does Taylor know he's about to stumble into a situation that'll make indifference impossible.
When everything goes horribly wrong at a political rally on a harbour ferry, Taylor encounters Sietta Salisbury. The son of a wealthy politician, Sietta is a revered—but presumed dead—musician, and an enigma who is so strange, Taylor is compelled to look into his background. What he discovers draws him into a bizarre mess of prisoners, politics, and attempted murder that makes him realise what he's been missing.
Falling in love isn't hard. Trying to convince someone else you're worth loving despite your crazy family and the people trying to kill you? That's a whole other can of worms.
Purchase Link: https://www.dreamspinnerpress.com/books/fishy-riot-by-lindsey-black-8298-b
Review: Taylor is a riot squad officer, he's a hardass and most people say an asshole but he doesn't care, he's got a crazy family, his work is dangerous and he hasn't got time for the niceties in life but the second he lays eyes on Sietta he knows he's found the one for him… if only people would stop shooting at him.
Sietta has had a shitty life, the only person he cares about is his younger brother and he's willing to put his life on the line to protect him, meeting Taylor is a turning point in his life and he plans on grabbing hold and never letting go, and as for Taylor's crazy family well Sietta fits in just fine.
This is a fantastic story that I had an absolute blast reading, the storyline is a little outlandish but it's a fantastic read. Both Taylor and Sietta are fabulous characters, Taylor's grown up in a loving close knit family even though he feels a little stifled at times he loves them all to death, Sietta is someone we want to coddle and protect Sietta's family is best left not talked about other than his little brother Micah (because I'm not giving anything away about the storyline), Sietta adores Micah and goes through hell to protect him, Sietta isn't the type of person you want to cross his revenge is thought out, well planned and perfectly executed.
The one thing I will tell you is that this is an action packed, humor filled story, I laughed my ass off reading it. I have to caution you as well, there are some touchy subjects touched on with Sietta but Lindsey Black has done an amazing job of redirecting our attention with humor and crazy characters. The author doesn't make light of the situation but she does lift it up so there's a light-heartedness to the story.
Did you know this is Lindsey Black's debut story? Well it shocked the hell out of me that she wrote something this fantastic the first time out, this is a brilliant story that is well written, fully fleshed out, interesting and grabs your attention from the first page.
I recommend this to those who love stories that are funny and humor filled, that adores action and danger, who love an interesting storyline and a fabulous love story that makes you giggle in glee.