Hi peeps! We have Liv Rancourt popping in today with her new release A Holiday Homecoming, we have a great excerpt so check out the post and enjoy! ❤️ ~Pixie~
A Holiday Homecoming
by
Liv Rancourt
Ten years ago, Jon's passion for the piano took him across country to New York, where a demanding concert career consumed his life and left him no time to look back. His father's stroke is the only thing that brings him home to Seattle. The sick room makes for a dreary holiday until Jon runs into Bo, whose inner light can make anything sparkle.
Bo loves the holidays; the food, the crafts, the glitter! A fling with an old school friend – who grew up to be his celebrity crush – makes a good thing better. The season turns sour, though, when Jon is offered a gig he can't refuse. He wants Bo to share the moment, but Bo doesn't fly. Anywhere. Ever. Is this good-bye, or will a handmade ornament bring Jon home to Bo?

Excerpt!
THE WOMAN'S shriek rose above the burble of talk and laughter, fading away in a cascade of giggles. The spray of glitter that prompted it, however, would last a little longer.
Bo slipped between tables, the bells on his Christmas sweater jingling. "You okay, Miss Lady?" To be honest, this student's little accident had only added a sheen of gold to the chaotic mix of glitter, sequins, and fabric scraps already covering the floor. Oh, well. It's that time of year. "I'll sweep it up later."
Bo's favorite time of year. Christmas. When everything could be a little extra. Even if he did have to face it as a single man. Again.
"Thank you, Bo. You're an awesome teacher."
The woman's smile was contagious, catching him before he could dive too deep into his own navel. She was one of a dozen students in Bo's class "Glue Guns and Glitter: Making holiday decorations on the fly." The class was being held in the workroom at Bonnie's Fabrics, Crafts, and Yarn. The dozen students had spread out at the six tables, helping themselves to the overstuffed supply shelves lining the walls.
Bo didn't so much teach them anything as give them permission to play and the toys to play with. He might have made a few suggestions, but most of the inspiration came from the students themselves, which was how he liked it.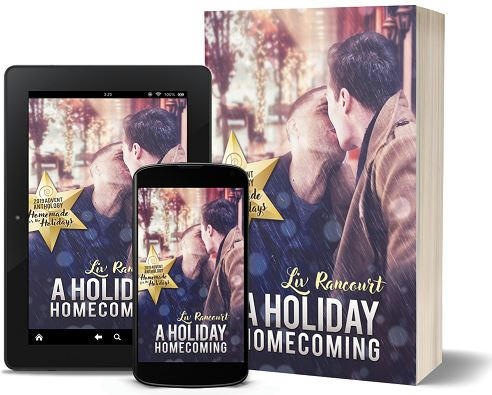 About Liv!
Liv Rancourt writes romance of all kinds. Because love is love, even with fangs. 
Liv is a huge fan of paranormal romance and urban fantasy and loves history just as much, so her stories often feature vampires or magic or they're set in the past…or all of the above. When Liv isn't writing she takes care of tiny premature babies or teenagers, depending on whether she's at work or at home. Her husband is a soul of patience, her kids are her pride and joy, and her dogs – Trash Panda and The Boy Genius – are endlessly entertaining.
Liv can be found on-line at all hours of the day and night at her website, on Facebook, or on Twitter. She also blogs monthly over at Spellbound Scribes. For sneak peeks and previews and other assorted freebies, go HERE to sign up for her mailing list or join the Facebook page she shares with her writing partner Irene Preston, After Hours with Liv & Irene. Fun stuff!