Hi guys! We have Marguerite Labbe popping in today with her upcoming release A Little Side of Geek, we have a brilliant guest post and a great excerpt so check out the post and enjoy! ❤ ~Pixie~
A Little Side of Geek
by
Marguerite Labbe
When opposite worlds collide, it's anyone's game.
Proud geek and comic book artist Morris Proctor wants nothing more than to live in semiseclusion with his devil cat and gamer friends. Despite what his well-meaning family thinks, he's perfectly content with his status quo. The last thing he needs is to date another nongeek hell-bent on changing him.
Then he meets his adorkable new neighbor, Theo Boarman, who doesn't know Star Trek from Star Wars, but who tempts him like no other.
Theo has spent the last year recovering from the loss of his parents and trying to play both roles for his teenage brother, while working to keep the family restaurant afloat. Dating is the last thing on the menu, especially with a man who thinks the height of dining is shoving a packaged meal into the microwave.
But if Morris gives him one more shy smile or flaunts that kilt he wears so well, Theo will be forced to convince him that a hot summer fling is just the recipe to let off a little steam.
When that fling gets serious fast, Morris has to decide if he's willing to give his heart to Theo on the chance that they're a perfect mix.
Marguerite Labbe!
And a New Series is Born
A couple of years ago I decided that I should try writing a contemporary romance again. A different series since I wasn't ready to dive into my idea for Eli's cousin yet in my mountain boys. But I was having a hard time coming up with a concept that excited me.
I happened to be sitting at a comic book convention. One very similar to the convention that Morris goes to at the beginning of A Little Side of Geek. It was a small convention, deep in the heart of Southern Maryland. I was manning my husband's table while he was teaching a class and my girlfriend had stopped by to visit with her daughter and she was throwing ideas at me. None of them were clicking. Then I looked around the room at all the activity going around me.
The hall bustled as the con wound down. Vendors, artists, cosplayers, and the promoters all doing their thing. It was a life I had never dreamed of until the day my husband decided to throw it all out there on a dream. We purchased a $50 table slot at a small collectible convention in Pittsburgh. We showed up with no banners, no tablecloth, only a little product, and really no idea what we were getting into. We spent the entire weekend at that show with our young son in tow and had a blast.
When we left, we'd made back the money for our table if not the trip itself, but after talking to other vendors and artists we had a better idea of what to do next. As I sat in that hall and reflected that life, I thought why the hell am I not writing a series about this. And as soon as the thought hit me, the characters were born. All six of them.
I knew I had to start with Morris, my comic book writer and artist because that's what I knew the most. And I figured I'd do the podcasting and promotion the last because that's what I knew the least about. I don't think we had started our own podcast at that time or if we had, it was still in the early stages. So I figured it would give me time to research. But as the characters grew and developed, I think it fell out just the way it had to be.
Out of all my characters, Theo Boarman is the outsider. He's only a fringe geek at best. The only reason he went to a con in the first place was to give his younger brother a treat. So it was interesting to see the convention through his eyes at the beginning. He's prepared for a day of wandering and boredom when he decides that he wants to get a piece of original art for their house so it will feel like a home. Lucky for him there's a distraction waiting for him.
I hope you enjoy the excerpt.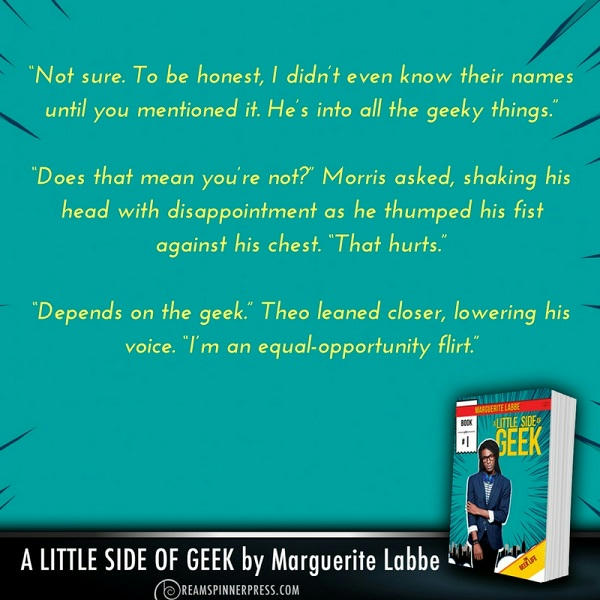 Excerpt!
He turned down the final row where booths backed up against the massive windows. There was a station set up on the end with kids doodling and coloring at tables covered with scraps. As Theo scanned the row, a newly familiar face caught his attention. Morris Proctor sat behind a table, his long body hunched over a board.
Theo watched him work, attraction striking him again as it had when he'd first caught a glimpse of Morris from his window. If Lincoln had realized he'd been ogling their new neighbor, he would've been mortified. The table covered the long, muscular bare calves Theo had admired earlier. Theo had never appreciated the idea of a man in a skirt outside of Scotland until he'd met his neighbor. Now he hoped it would be a common sight.
Morris tilted his head, his broad brow drawn in concentration as his hand moved rapidly over the board propped against the table. His chin tapered from prominent cheeks and ended with a sexy little cleft. Thick, dark lashes framed heavy-lidded eyes, and their sensuousness echoed in his full lips. The dreads he had pulled back earlier now spilled around his broad shoulders in thin richly brown twists.
He wore his emotions in every flicker that crossed his face. Theo found it as fascinating now as he had that morning when Morris had tramped across their driveway, his mouth hard with aggravation and impatience.
A meshed frame arced over his booth loaded with poster-like pictures of all sizes, some with characters Theo knew from Lincoln, but most he didn't. Beside the booth rose a banner emblazoned with the title Beneath the Surface by Morris Proctor, and a picture of a young black girl in a wheelchair with a glint of steely determination on her thin face. At her side sat a gray-and-black cat that looked suspiciously like the one who gave Morris such a hard time earlier.
His hot neighbor was an artist and a writer. That explained why he was always at home. Theo was beginning to think he was a hermit. Theo moved toward the booth with quick steps, eager to revisit their earlier interrupted conversation.
About Marguerite!
Marguerite Labbe has often been called both Trouble and Sunshine by those who know her. She's not sure how she manages to make both those nicknames work together, but apparently, she does. She's a New Hampshire woman who married an Alabama man, an Air Force brat who has somehow managed to settle herself firmly in Southern Maryland, with one overgrown son and two crazy cats.
Marguerite loves to spin tales that cross genre lines, where stubborn men build lifelong ties of loyalty, friendship, and family no matter the odds thrown against them, and where love is found in unexpected places. She has won the Rainbow Award for Historical Romance with Fae Sutherland, as well as the Rainbow Award for Paranormal and the Rainbow Romance Award for Excellence, also in Paranormal.
When she's not working hard on writing new stories, she spends her time reading novels of all genres, enjoying role-playing and tabletop games with her friends, and helping out her husband with Apocrypha Comics Studio.
Website | Twitter | Facebook | FB: Roll With Us
Check out the other blogs on the tour!