Hi guys! We have Jamie Fessenden stopping by today with his new release A Viking for Yule, we have a great excerpt and a brilliant giveaway, so check out the post and enter that giveaway! <3 ~Pixie~
A Viking For Yule
by
Jamie Fessenden
AFTER SAM'S GRANDFATHER nearly died in a blizzard one year ago, Sam has panic attacks in snow storms. So where does his friend Jackie propose they spend the holidays, as the last stop on their trip around the world? 
Iceland. Of course.
But there's more in Iceland than snow. When Arnar, a handsome Icelandic man, offers to escort Sam on a several-day tour of the beautiful countryside, they soon find themselves drawn to each other. But Arnar is firmly rooted in his native soil, and Sam has to return to the US in a week to care for his ailing grandfather. 
Suddenly, yule can't last nearly long enough.
NOTE: Though this novel includes characters from "A Cop for Christmas," it is a standalone adventure. It isn't necessary to read "A Cop for Christmas" first.
A Cop for Christmas
Excerpt!
ARNAR'S MOTHER HAD prepared a baked cod, breaded and seasoned with lemon juice and grated cheese, even though it was fairly early. She'd anticipated their guests might be hungry after the flight. The kitchen table was small, normally seating two, but Arnar brought a couple of folding chairs in from the hall closet, and they huddled close together as they ate. Arnar rarely spoke during meals, and Sam was likewise quiet, either because he normally was or because he was exhausted. Jackie and Mom talked enough for ten people, when they got going, and they had a lot of catching up to do.
"Are you in touch with Thorsteinn at all?" Jackie asked.
Mom winced. "No, not really. Not since he moved to Copenhagen. Does he email you, Arnar?"
"No." Arnar had lost interest in his father's comings and goings years ago. He wouldn't spit on the man if he showed up to visit, but he was low on the list of people Arnar wanted to spend time with.
"Well, that's too bad," Jackie said wistfully. "We had a lot of fun together, the three of us."
Arnar's mother shrugged. "That was a long time ago."
"What about you, Arnar?" Jackie asked, brightening. "Are you still seeing Stefan?"
"We broke up." He didn't feel like going into the gory details.
"Oh, that's too bad." Jackie didn't actually seem upset over the news. If anything, her smile widened before she changed the subject to… something else.
Maybe Mom's latest conquests. Arnar wasn't paying attention.
He was watching Sam.
It wasn't that Sam had done anything weird exactly, but when Jackie had asked about Arnar's love life, he'd rolled his eyes. Then he'd attempted to hide it by looking down and taking another bite.
Oh, fuck. She's trying to fix us up. He wasn't sure if Sam had known that beforehand—Arnar suspected he hadn't—but he'd known what she was up to the moment she asked about Stefan.
Which meant Sam was gay. Terrific. Not that he wasn't cute, but Arnar was still getting over Stefan, and the last thing he needed right now was to get involved with someone who'd be leaving the country in a week. Having a brief fling in every country she visited was Jackie's idea of fun, and that was fine, but Arnar wasn't built for that.
And now he knows I'm gay too. That didn't really bother him. He was out to everybody and his dog. He just hoped Sam didn't get ideas.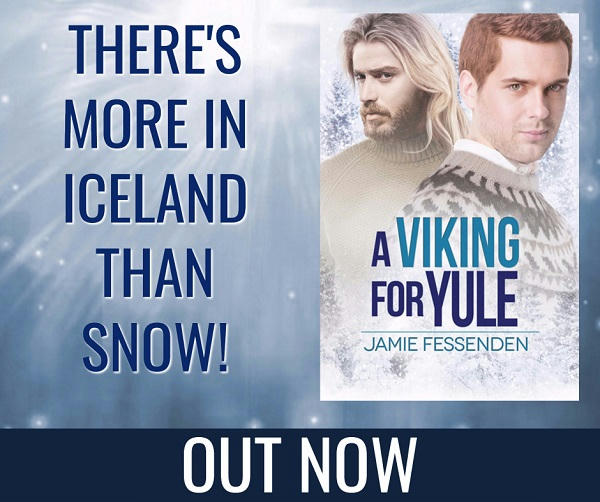 About Jamie!
Jamie Fessenden is an author of gay fiction in many genres. Most involve romance, because he believes everyone deserves to find love, but after that anything goes: contemporary, science fiction, historical, paranormal, mystery, or whatever else strikes his fantasy. 
Jamie Fessenden set out to be a writer in junior high school. He published a couple short pieces in his high school's literary magazine and had another story place in the top 100 in a national contest, but it wasn't until he met his partner, Erich, almost twenty years later, that he began writing again in earnest. With Erich alternately inspiring and goading him, Jamie wrote several screenplays and directed a few of them as micro-budget independent films. He then began writing novels and published his first novella in 2010. After nine years together, Jamie and Erich have married and purchased a house together in the wilds of Raymond, New Hampshire, where there are no street lights, turkeys and deer wander through their yard, and coyotes serenade them on a nightly basis. 
Jamie recently left his "day job" as a tech support analyst to be a full-time writer.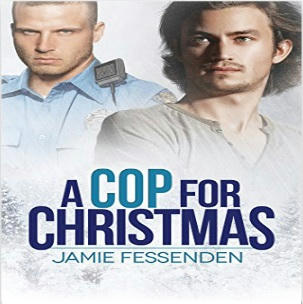 Giveaway!
Win a Ebook of A Cop For Christmas!