Hi guys! We have V.L. Locey stopping by today with her new release An Erie Collection, we have a great excerpt and a brilliant giveaway so check out the post and enter the giveaway! ❤ ~Pixie~
An Erie Collection
by
V.L. Locey
You can now have all four of the MM Lake Erie pack novellas in this one reasonably priced collection! Included in the set are the previously released novellas An Erie Halloween, An Erie Operetta, and An Erie Garden Party. To round off this whimsical and romantic shifter set is a brand-new novella, An Erie Uprising!
It's been one wonderfully romantic year since skunk shifter Templeton Reed met Mikel Lupei, the alpha wolf of the Lake Erie pack. During that year, the two men fell in love and worked side-by-side to solve some tricky murder mysteries. They also opened up Lupei Manor, Mikel's familial home, to other LGBTQ mystical beings in the Erie area. Sadly, being gay in the supernatural world Templeton and Mikel live in can be a death sentence.
During the past year, the magical world has slowly been coming unraveled. Civil unrest now runs rampant through the community as the lesser breeds revolt against the hateful dictates of the Elder Counsel. The uprising will surely touch every person residing in the magical world beside Lady Erie. Will the flames of unrest and war consume everything and everyone Templeton and Mikel hold dear as well?

Excerpt!
from An Erie Garden Party
"Son of a human," Mikel snarled.  He stripped and shifted. I stood with his clothes over my arms, watching the wolf work the scent. He padded to the lake, snuffled the shore intently, and then slowly made his way back to the corpse. I turned my head to stare at Erie when he shoved his head under the bloody sheet to smell the body. The water seemed almost tranquil today. How I wished we were planning our spring fete instead of standing here beside a dead man. Mikel tapping my arm brought my attention from the Great Lake back to him. I handed him his pants.
"So, what can you tell us about this poor man's fate?"
"He's human." Mikel zipped his trousers vehemently. "And he was killed by a large animal, either wolf or bruin. Whoever did this dragged him through the lake to mask the scent. I'll have to gather the pack to scour the woods. Damnation."
"Oh dear me," I sighed. "I suppose the call must be made then."
Mikel threw his head back and stared at the soft white clouds ambling past. "Yes. We have to notify the Elder counsel. That is standard operating procedure when a human is involved in mystical matters. Damnation!"
I reached out to pat his thick bicep. I wasn't sure he wanted consolation but I offered it anyway. He placed his hand over mine.
"Let me know when they plan to arrive. I'll take a long stroll through the woods."
Mikel's lip rolled as he turned to look down at me. "I hate that as well. You should be at my side. This mansion is as much your home as it is mine."
"Yes, well, the times they aren't a changing as rapidly as needed," I smiled then snuggled into his wide chest. His arms cinched around me tightly, his smoky shirt smashed between us. My ear rested over his strong heart. "If one of the Elders saw me here it would raise questions. I know we have a lie all in place, but I for one do not wish to put that lie to the test. Better I enjoy the forest for an hour or so while they attend to this mess."
"I love you beyond words, Templeton," Mikel said into my black hair. "Someday, I swear, we shall not have to hide our love for each other."
"From your mouth to the Elders' ears," I whispered, then tipped my head up for a kiss. We both needed one. Pity it couldn't be a longer one, but it was tender.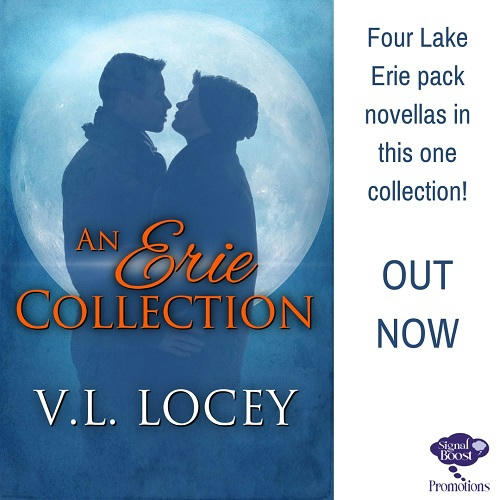 About V.L.!
V.L. Locey loves worn jeans, yoga, belly laughs, Dr. Who, Torchwood, walking, reading and writing lusty tales, Greek mythology, the New York Rangers, comic books, and coffee. (Not necessarily in that order.) She shares her life with her husband, her daughter, one dog, two cats, two Jersey steers and a flock of assorted domestic fowl.
When not writing lusty tales, she can be found enjoying her day with her menagerie in the rolling hills of Pennsylvania with a cup of fresh java in hand.
Website | Facebook | Twitter | Pinterest | Goodreads | Blog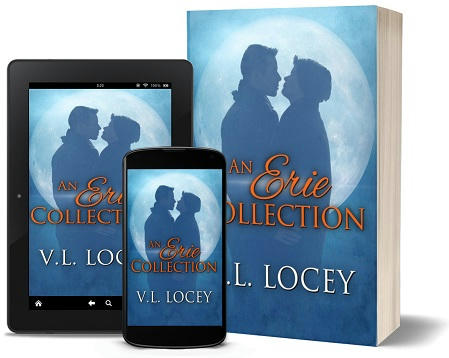 Giveaway!
Win a Backlist Ebook from V.L. Locey!