Hi guys, we have Felice Stevens popping in today with her new release Austin, we have a great excerpt so check out the post and enjoy! ❤ ~Pixie~
Austin
by
Felice Stevens
I can make it by myself. The only rules I follow are my own. Love? I learned that lesson the hard and painful way—it wasn't right for me. Sure, sometimes it gets lonely, and I wish I had a man to hold. Who'd love me. Want me. Treat me with respect. Yeah, I dance in a club, but that doesn't mean I'm easy. Or a fool. So you, sitting in the back, watching me? I know what you want. You want me. In your bed. Under you. But I say no. It doesn't matter how many presents you give me.
I'm not falling for you. I know who you are. But you don't know me. You don't know Austin.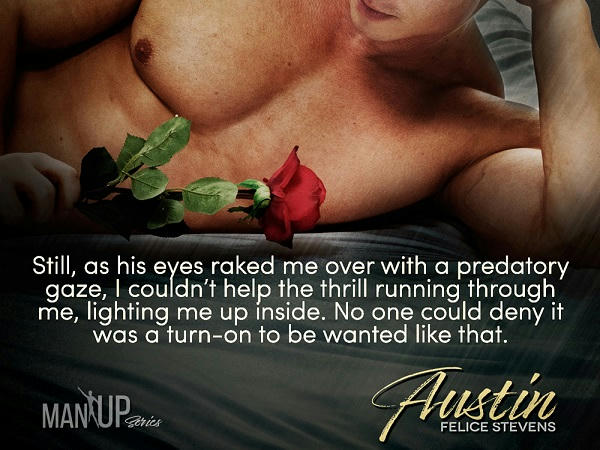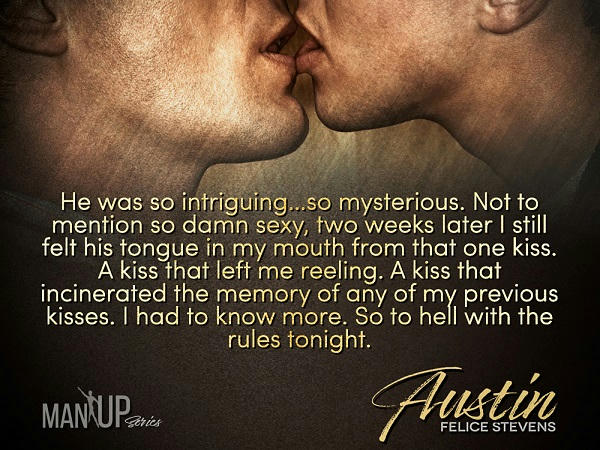 Excerpt!
I lifted my chin. "I'm sorry, but customers aren't allowed in here. You have to leave."
Ignoring my statement, he closed the door behind him and stood, his face impassive, expression hard and fierce as if hacked out of granite.
"Did he hurt you?"
The softness of his voice surprised me. It didn't reconcile with his large, imposing presence. Forgetting my previous statement, I gazed up at him from my seat, and not wishing to be at a disadvantage, stood.
"You saw what happened?"
"I did." A twinkle lit his startling blue eyes. "You handled it perfectly."
"Fucking asshole. He's lucky I didn't kick him harder."
"The kitten has claws, I see."
A smile curved his stern mouth, and he looked younger and impossibly attractive. A rush of desire hit me, but I couldn't fall prey to it or him.
"I'm not a kitten, and if you think I need a protector, you can forget it. I can take care of myself." I'd had to all my life.
"I don't want to be your protector." Fire replaced the smile in his eyes. "Did you like what I sent you?" He licked his lips. "Are you wearing it?"
I should have been scared. Being alone with him here could be dangerous, even though my instinct told me he'd never hurt me. But whether to listen to my body or my heart, I hadn't yet decided. Wordlessly, I took several steps until I stood only a few feet in front of him. I peeled back the top of my shorts, exposing the frothy lace. The sparkling crystals caught the light. He reached out with a finger, then halted in midair.
"May I?"
My dick shifted in my thin shorts, and though it was impossible not to notice my rising desire, he waited for my response.
"No."

About Felice!

I have always been a romantic at heart. I believe that while life is tough, there is always a happy ending around the corner, My characters have to work for it, however. Like life in NYC, nothing comes easy and that includes love, but getting there is oh so fun and oh so sexy.
I live in New York City with my husband and two children. My day begins with a lot of caffeine and ends with a glass (or two of red wine). I practice law but daydream of a time when I can sit by a beach somewhere and write beautiful stories of men falling in love. Although there are bound to be a few bumps along the way, a Happily Ever After is always guaranteed.
Newsletter | Website | Facebook | Twitter | Pinterest