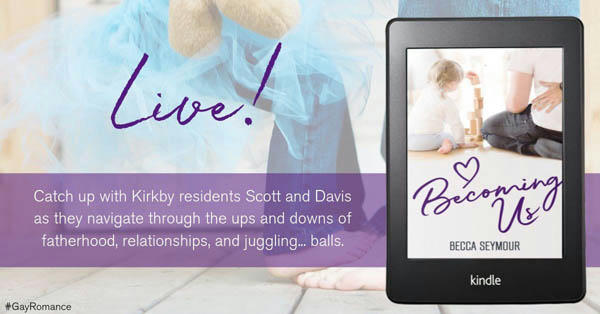 Hi guys! We have Becca Seymour stopping by today with the tour for her new release Becoming Us, we have a fantastic guest post, a great excerpt and a brilliant $10 Amazon GC giveaway so check out the post and enter the giveaway! ❤️ ~Pixie~
Becoming Us
by
Becca Seymour
Catch up with Kirkby residents Scott and Davis as they navigate through the ups and downs of fatherhood, relationships, and juggling… balls.
In two years, it's clear love can last, just as it can grow.
Davis's business remains successful, Scott's clinic is going strong, and Libby is happy and content.
But that doesn't mean real life is always perfect, nor does it mean fatherhood isn't as exhausting as it is wonderful.
Needing a break from their daily routines, Davis and Scott head away for a weekend of uninhibited fun. With lots of laughter and dancing, Davis has never seen Scott so relaxed and comfortable in public.
And he's not quite sure how to handle that.
Worried that life in Kirkby is holding Scott back, Davis nearly makes the biggest mistake of his life.
But Scott has other ideas. He doesn't need saving. What he needs is his man to step up and fight for their family and their future.
And he has just the plan to do it.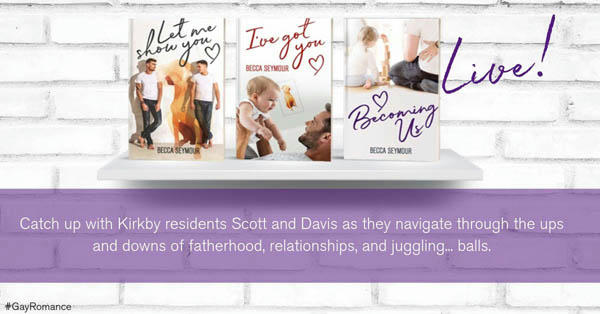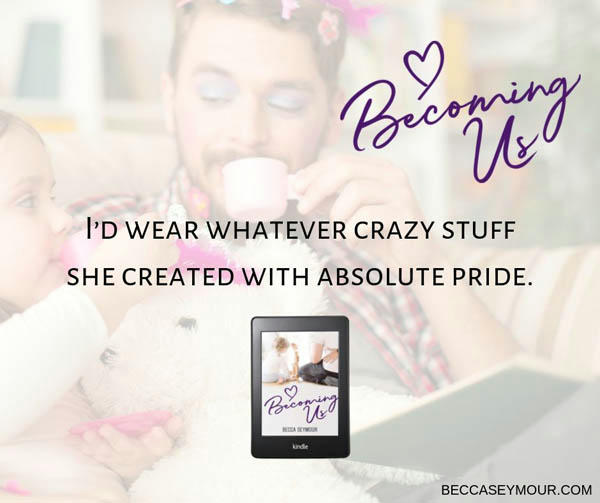 10 Things You Need To Know About Becca Seymour!
1, I'm the ultimate procrastinator. It's so easy for me to fly away with the fairies. YouTube is my nemesis. Though starting work a new manuscript is also a weakness. Yep, I have at least 7 manuscripts on the go at the moment.
2, I have dual citizenship (British and Australian). While I love being a new Aussie and have been here for over 10 years with absolutely no plans to return to the UK, I'm anal about keeping my British passport up to date. The UK did me proud. I was educated there, met the love of my life there, had my baby there, and am so grateful I did. But I must admit, living in Qld is where I'm meant to be. I feel pretty blessed.
3, I used to be the Head of Arts in my last job before I ran my business full time. This meant managing drama and the variety of arts programs of offer. I'm qualified to teach English and art, so while absolutely qualified, my passion and focus was English. I shied away from drama bigtime. Okay, so I totally CANNOT act, but I can teach it apparently. It was a fun albeit exhausting few years in the position.
4, I live on a 30-acre property with my family. We have chickens, beef cows, and dogs. I'm also vegetarian and have been for almost 30 years! The irony, right! Our cows are still young, but I already feel the struggle.
5, My first job was as a lifeguard. It was at a small community pool and one Sunday morning my family came for a swim and I kicked them out for misbehaving. Bahaha. Fun times!
6, I have a double degree in literature and women's studies.
7, I'm crazy stubborn. Like really stubborn. That's not to be confused with an inability to admit that I'm wrong as I'll happily be the first to lift my hand up. But I've been known to be doggedly determined. Yup, I'm tenacious at times.
8, I used to play basketball semi-professionally. Tricks! I so did not. I used to love playing at high school though and played on our mixed gender team.
9, I used to be a member of the Dolly Parton fan club. I adore her so much. I bought a ticket to visit her in concert about 8 years ago when she visited Australia. Was going by myself and everything! But… I ended up not going as I visited my folks in the UK for an impromptu trip instead (I was totally homesick and missed my folks). I was gutted though, and regularly remind my parents that if that doesn't show absolute devotion, then nothing can. LOL.
10, I once won over £7,000 in a game of poker. I couldn't quite believe it. It paid off my overdraft and an awesome trip to US where we (my now-hubby and I) travelled around a few states in America.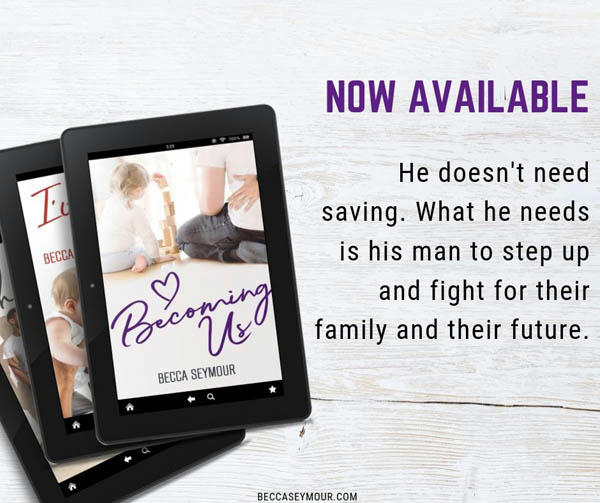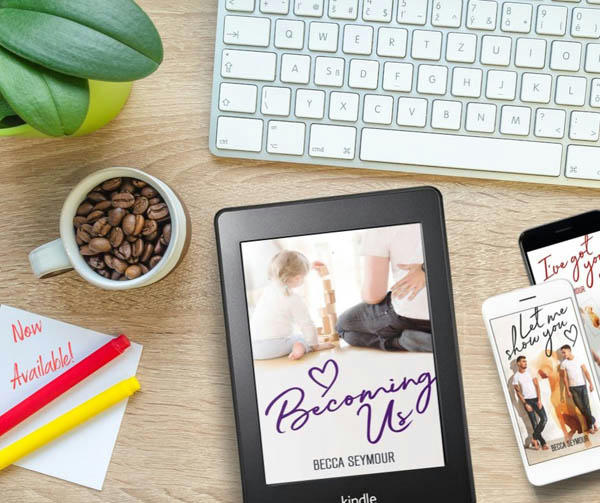 Excerpt!
When Scott came by, Libby holding his hand, I pulled them both into a hug and planted a kiss on both their cheeks. "Hey, you two. That time already?" I glanced at my watch, realizing I was due to wrap up and head on home.
"It sure is." Scott offered that sexy-as-hell smile he reserved solely for me. My gut tightened with the memory of this morning's kiss. The thought of a night away with zero interruptions so we could turn it into one of debauchery was looking even better when heat crept up his neck.
I rarely held back how much Scott affected me and meant to me. And after a couple of years together, all it took was a glance for him to know exactly what was on my mind.
Pulling my gaze away from Scott, I focused on Libby and crouched before her. "You had a great day?"
She nodded enthusiastically and almost socked me in the eye as she thrust out her arm to show me what she was wearing. "Made it with my Scott." A quick glance in Scott's direction showed me he melted at her words. It got the both of us every time.
"Wow. Pretty bracelet there, princess. You two did a great job."
"Yep." She looked thoroughly proud of herself. "And I made you one." She turned her gaze up to Scott. "Daddy's?"
"I've got it right here." Scott grinned down at her and pulled out a bright pink and green beaded bangle, with the odd bead having tinsel and some glitter attached. "I told you Daddy would love it. Here you go." He handed it over, a shit-eating grin on his face.
I had zero doubt my fixed smile was more of a grimace, but there was pretty much nothing I wouldn't do for my girl. She was spoiled rotten, and I had zero regrets about that. Plus, I'd wear whatever crazy stuff she created with absolute pride.
Just last week she'd discovered makeup, courtesy of Jenna. I'd managed to snap a photo of Scott complete with blue and green eyeshadow, something red and slimy on his cheeks with glitter on it, an orange lipstick that had made my sides hurt from laughing so much, and a black crayon or pen or something drawn all around his eyes.
While the same had been done to me, it was Scott's hairclips and butterflies that had set his image off spectacularly.
We were both suckers.
We also had to pay Jenna back somehow for the makeup kit she'd provided.
With the elastic bracelet snapped into place on my wrist, I jiggled it.
"It's soooo pwety." Her pretty eyes were opened wide. "My Scott has one. Look, Daddy." She tugged at Scott's arm so he knelt, then snapped the grotesque necklace on his neck. Scott winced.
"Careful there, Libby. Don't destroy Scott's windpipe." I grinned widely at Scott, who, complete with bright and dodgy-looking necklace, was freakin' gorgeous. How could he not be when he wore the love he had for Libby so openly?
"Sorry." She spun to face Scott and threw her arms around his neck. After a big squeeze, she planted a loud kiss on his mouth. "You 'kay?"
Scott stood with her in his arm. "I sure am. I think this pretty necklace has magical powers, or maybe it's your kiss."
I stood and looked on as Libby nodded.
"I fink it's my kisses."
"Makes sense," he said.
After another bob of her head, she gave him one more kiss. "Love you." She then wriggled her whole body to get down.
Scott's smile lit up his face. "Love you too, Libby." He set her on her feet, and she raced off to Jessie, one of my staff, who was clearing tables. His gaze on me, he asked, "You almost done?"
"Give me five and I'm all yours."
His eyes turned molten, urging me to get my ass into gear and spend the rest of the afternoon and evening with my favorite two people.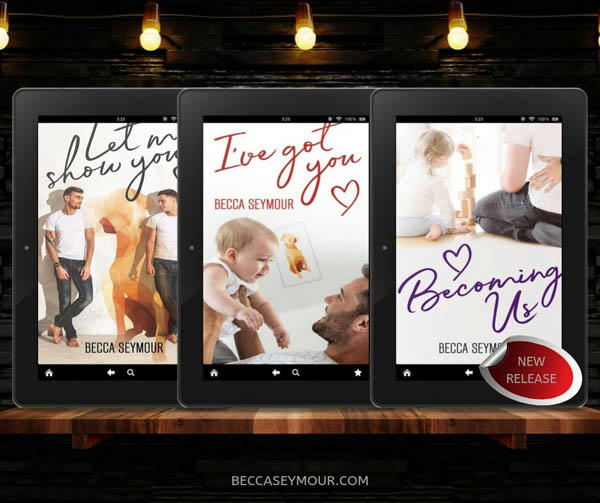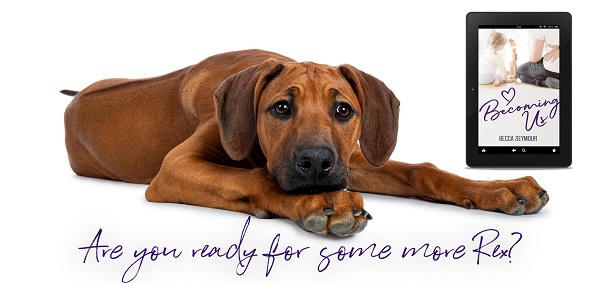 About Becca!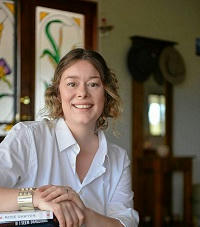 Becca Seymour lives and breathes all things book related. Usually with at least three books being read and two WiPs being written at the same time, life is merrily hectic. She tends to do nothing by halves so happily seeks the craziness and busyness life offers.
Living on her small property in Queensland with her human family as well as her animal family of cows, chooks, and dogs, Becca appreciates the beauty of the world around her and is a believer that love truly is love.
Website | Facebook | FB Page | Twitter | Instagram | Goodreads | QueeRomance Ink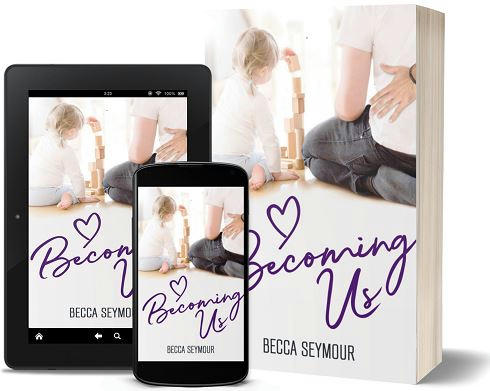 Giveaway!
Win a $10 Amazon GC!