Hi guys, we have D.J. Jamison stopping by today with the tour for her new release Bedside Manner, we have great excerpt and a fantastic giveaway so check out the post and click that giveaway link! (p.s. be sure to keep an eye out on the 29th March for the review!) <3 ~Pixie~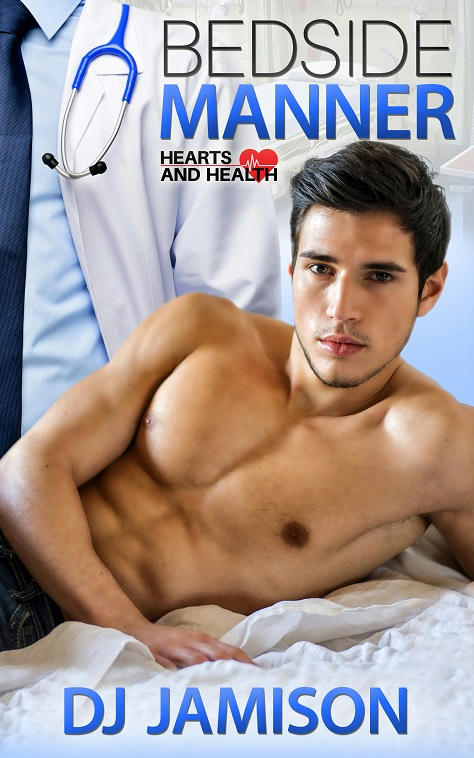 Bedside Manner
by
D.J. Jamison
Dr. Paul Johnston can't get a set of dark, somber eyes out of his head, and the timing couldn't be worse.
The last thing he needs is to fall for a patient. Not now, when he's been put on paid leave pending review of a formal complaint. One that most likely accuses him of sexual harrassment or impropriety of some kind. It's possible he let his newfound freedom as a divorced, out-of-the-closet gay man go to his head, but he's certain — mostly — he didn't do anything wrong. Now, he's struggling to handle the reality that his job is in danger and the only guy he wants should be off-limits.
Zane Kavanaugh is floundering, and there's only one man who soothes the storm inside him.
Reeling from an assault that landed him in the hospital and the painful estrangement from his family since coming out, Zane is trying to get his feet under him and find his independence. He moves in with a roommate and searches for a job, all while recovering from a fractured arm and cracked ribs. None of that hurts as much as the emotional damage he's suffered. When he connects with Dr. Paul Johnston outside of the ER, he's drawn to the man's calm, collected manner. It doesn't hurt that Paul's lack of experience with men is sexy as hell, and so are his over-the-top responses when Zane gets his lips on him.
There's no right time to fall in love.
Paul is afraid to start a relationship, and Zane can only handle so much more rejection. Will these two find their perfect moment, or will they realize you can't choose when and how you fall in love? If Paul can't take a risk, he may have to choose: the career he loves or the first man to capture his heart.
Bedside Manner is Book 1 of the Hearts & Health series. This is a spin-off series from the book Heart Trouble and includes characters from that novel, but it can be read as a standalone.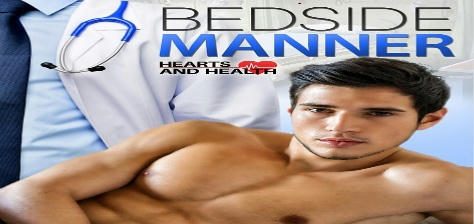 Excerpt
There was nothing to attract Paul to this patient.
Not his features. They were obscured by massive bruising and discoloration.
Sutures sketched a crude line through his eyebrow and at the corner of his mouth.
Not his body. It was a shapeless lump under a hospital gown and blanket. When it was uncovered, it was a subject, not a person. Something to be examined for internal injuries. To evaluate whether that size-11 boot print was hiding anything more than a few cracked ribs.
He was young, and it was true Paul had a soft spot for young men. He hated that about himself. It made him a creep, and he didn't want to be the pervy old man. Not that he was an old man, but older, certainly.
Paul imagined the patient had a supple body and the perfect bubble butt of a fit man in his prime, but he didn't know. The guy wasn't exactly doing a lot of bending over when Paul saw him. He was mostly sleeping flat on his back or staring at the television blankly, lost in a cloud of pain medication.
There was something about his eyes, though. He had dark eyes. Intense eyes. Right now, they were flat-out sorrowful eyes, not that Paul could blame him.
The patient's story made Paul sick to his stomach. The kid's own stepfather assaulted him for being gay. It made Paul angry at the guy's parents. Angry at society. Angry at himself.
Why did this shit still happen? Why did Paul shy away from his own truth for so long? He took the coward's way out, waiting until he had virtually no family left to shun him before admitting he was gay. Meanwhile, brave young people like this patient paid the price for the intolerance that remained in the world.
It had taken Paul to the age of thirty-nine to stop hiding in the closet. Yet, nurse Ben Griggs — in his twenties — was out and proud. He made it look damned good, too. Good enough, Paul had finally gotten the courage to ask his wife for a divorce. He had wanted Ben Griggs for ages, but as much as he'd wanted Ben, he wanted Ben's freedom to be himself even more.
Even so, he'd been too cowardly to tell his wife the real reason. Paul was gay, had known for more than a decade and probably much longer if he dug through his denial to find the faint glimmers of self-truth that had always been there. His conservative family wouldn't have understood, but that was no excuse for stringing Meredith along.
Even if she had been a two-faced, cheating liar by the end. That was probably his fault, too. What wife wouldn't cheat on a closeted gay man who avoided sex whenever possible?
No, he hadn't told her he was gay. He'd pointed out she didn't love him. Also a real reason, if not his primary one. Of course, by the angry accusations and insults she threw out during that cataclysmic discussion, it was pretty apparent she knew he wasn't straight.
So, while there wasn't much appealing about this patient's appearance, there was so much to admire.
Paul found himself staring into those dark, pained eyes while evaluating the patient's injuries. He found himself making detours to the third floor to peek into the patient's room after the young man had been admitted to the hospital for observation and was no longer Paul's responsibility as the ER physician.
This interest was something he shouldn't — couldn't — entertain.
Zane was a patient, and was entirely off-limits while he was within hospital walls.
Paul was still getting dirty looks from other staff members after his failed attempt to hit on Ben, a well-liked nurse in the ER, so he couldn't imagine how much worse it'd be if his fascination with Zane were misinterpreted.
Paul hated that he was so weak. That he was so easily drawn in by a pretty face — or in this case, a sad one.
But even after the patient was released, Paul couldn't help himself.
He thought of Zane often.

About D.J.
DJ Jamison worked in newsrooms for more than 10 years, which helped tremendously when she began her series centered on The Ashe Sentinel, a fictional small-town newspaper in Kansas. She lives in the Midwest with her husband, two sons and three glow-in-the-dark fish.
Facebook Author Page | FB group | Mailing list! | Follow me on Twitter | Find me on Goodreads | Check out my Book Bub profile!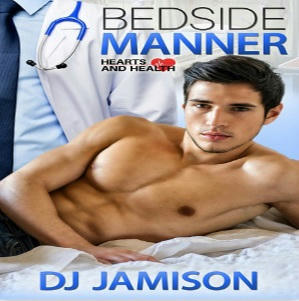 Giveaway!
Win $10 Amazon Gift Card!
(Just click the link below)

Check out the other blogs on the blog tour!