Hi guys, we have Matthew Lang stopping by today with his upcoming release Better With Bacon, we have a fantastic guest post, so check out the post, enjoy and the link to the cover reveal to enter Matthew's giveaway! <3 ~Pixie~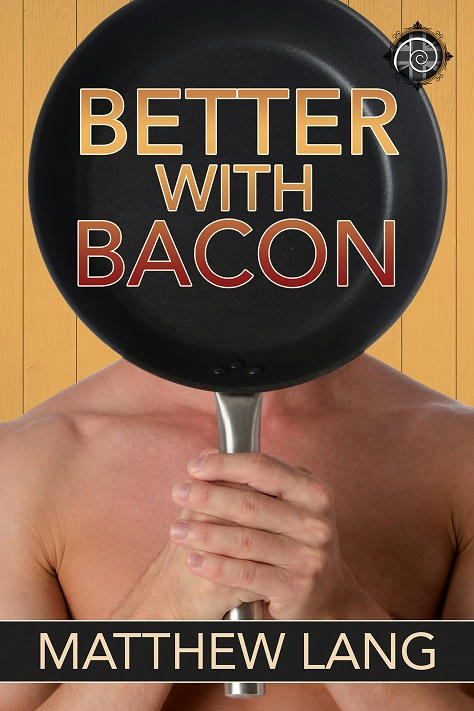 Better With Bacon
by
Matthew Lang
When Patrick's long-term girlfriend Li Ling dumps him just as he's working up the nerve to propose, he ends up drunk on David's couch—and later in David's bed. Although initially reluctant to pursue anything beyond a one-time drunken tryst, David throws caution to the wind during an intimate dinner, where the two men also discuss Patrick's dream of entering the food industry. Just as the friends-turned-lovers are settling into their new romance, Li Ling calls Patrick—she's pregnant.
Convinced the announcement spells the end of their love affair and a return to their platonic friendship, David flees to Sydney to escape his heartbreak. But upon his return to Melbourne, David discovers the situation hasn't gone the way he'd expected. There might still be a chance for David and Patrick's dreams to come true if they can forgive each other's mistakes and move forward.
Release date: 22nd February 2017

Better with Bacon: Cornbread
by Matthew Lang!
If I ever need to bake a quick snack and don't have time to make a focaccia, I usually turn to cornbread. I know, it's odd. You have an Australian author on a UK website writing about cornbread, which is usually thought of as American. But honestly, that there pretty much sums up my life-and my home city of Melbourne.
A friend in Minnesota recently posted about a new flavour combination he was excited about: grilled chicken salad with Kalamata olives and feta cheese. He also added "Wouldn't have thought this would work but it does". Now me, being human, my first instinct was to write, "So…you ate a Greek salad?" And then I paused, and thought, and edited. Eventually I wrote something along the lines of "Sounds like a Greek salad? I sometimes forget that not everywhere is a cultural melting pot when it comes to food."
Some time later, he came back agreeing with me. Apparently Minneapolis, or at least, his corner of it, is just starting to get other cuisines' flavours and is still—in his words—very much the land of the tater tot.
I've never eaten a tater tot to the best of my knowledge.
Anyway, the point is that cultural fusion leads to wonderful tastiness and I highly recommend it. And if you haven't tried cornbread, or haven't tried experimenting with it, give it a try. It's an unleavened bread, so there's no yeast, no rising or kneading needed – just mix and bake. It's also very versatile. Bake in in a tin and you have a loaf. A cask iron pan and you have a side dish. Spoon into a muffin tray and you have savoury muffins—particularly excellent on picnics.
Matt's favourite basic cornbread:
1 cup cornmeal (polenta)

1 cup plain flour

1/3 cup sugar

½ tsp salt

1 egg

¼ cup oil (any good oil – I use macadamia)

1 cup milk
Preheat your oven at 200 degrees Celcius (392 degrees Fahrenheit). Lightly grease whatever baking tin or try you're using for baking.
Sift flour and add all dry ingredients in a mixing bowl. Make a well in the centre of the dry ingredients and add all the wet ingredients.
Add any extra ingredients and pour into the baking tin.
Bake for 15-20 minutes until a skewer inserted into the loaf comes out clean.
Serve with whatever works—I like butter and sometimes honey, but your mileage may vary.
Now here's the fun part-the optional extras.
Baking Powder 2 tsp
Not traditionally used in American cornbread as far as I can tell, baking powder is a raising agent and adding some with the dry ingredients, because it's special compared to the rest of the extras below will give your loaf (or muffins) a lighter crumb texture. It's not necessary, but it's pleasant to eat. Highly recommended if you're making the recipe into a standalone snack like muffins.
Chilli Flakes
If you like spice and head, add chilli flakes to taste. Not only does it add some visual interest to your dish, but the kick of heat is both surprising and, at least for me, welcome. Maybe warn people first though. Or not. Depends on the people you're serving it too and how much you like them.
Corn Kernals
Look, it's cornbread, right? So bump up the corn flavour and sweetness by adding a can of corn kernals to you batter. You can of course, use fresh corn kernals if you cook them first, but the joy of tinned corn is that it means you can pretty much make this recipe from what you have in the pantry in an emergency. Or you can if you shop like me I suppose. Not everyone keeps a container of polenta handy for baking. Actually, if it wasn't for this recipe, I probably wouldn't either.
Cheese
Grate some cheese and throw about half into the mix and the use the rest over the top of the loaf or muffins as decoration. I use Colby which is a hard, almost cheddar like cheese that isn't a cheddar, technically, but it melts beautifully and doesn't leave oily pockets behind when it does melt. There's also a very slight nutty flavour that I personally enjoy, but any hard cheese will do. If you're using Colby or cheddar, I use about an inch thick chunk off my 500 gram (approximately 1 lb) block. I know, really accurate measurements, but it sort of comes down to how much you like cheese and how strong the flavour is. If I was using parmesan for example, I'd probably use a lot less.
Crispy Bacon
Because everything's better with bacon right?
If you have any, and you don't mind sharing, I recommend frying up the bacon until it's crispy and shatters when you apply pressure to it. Then break it up into bits and mix these through just before you bake. You'll get a salty bacon hit when you chomp into your muffin or slice of cornbread. Adding bacon and corn will basically turn the snack into a meal by itself, but that's not a bad thing, really.
So…yeah. Try it, it's good.
I think I was meant to talk about my new book, Better with Bacon at some point, but well, maybe this tells you a bit about why I wrote it in the first place. Also, if you haven't already, you should check out the exclusive excerpt here on MM Good Book Reviews, and you can also go into the running to win an ebook of my first novel: The Secret of Talmor Manor. It's not out of print, so you won't find it available elsewhere anytime soon! The draw will be made on the 20th of February.
Thank you all for reading, and I wish you many reading and cooking adventures.

About Matthew!
Matthew Lang writes behind a desk, in the park, on the tram, and sometimes backstage at amateur theater productions. He has been known to sing and dance in public and analyze the plots of movies and TV shows, and is a confessed Masterchef addict. He has dabbled in film, machinema, event management, and even insurance, but his first love has always been the written word. He is suspected of frequenting libraries and hanging around in bookstores, and his therapists believe he may be plotting some form of literature.