Hi peeps! We have Tali Spencer popping in again with her upcoming release Breaking the Ice, we have a brilliant guest post from Tali, a new great excerpt and a fantastic giveaway! So guys, enjoy the guest post and new excerpt and then click on the cover reveal post to leave a comment to enter the giveaway! <3 ~Pixie~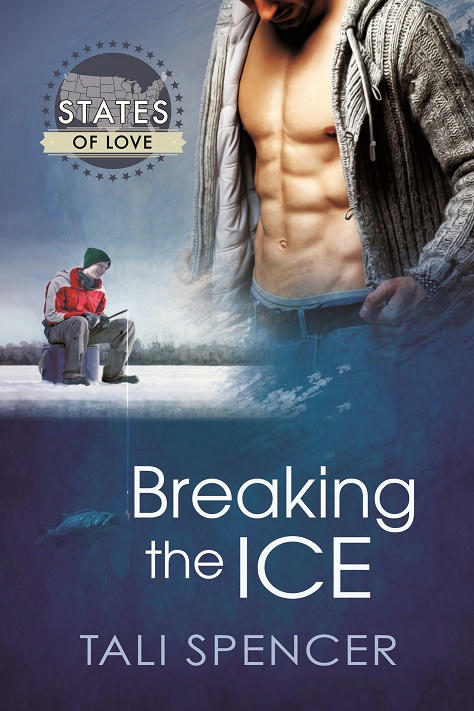 Breaking the Ice
(States of Love 23: Wisconsin)
by
Tali Spencer
For Matt Wasko, February in Wisconsin is the best time of the year, and ice fishing on Lake Winnebago is his idea of heaven. With shanty villages cropping up, barbeques on the ice, monster sturgeon to spear, and plenty of booze to keep everybody warm, things couldn't be better—until a surprise storm hits and an uninvited guest shows up at his frozen doorstep.
Matt's not happy to see John Lutz, a coworker who cracks lame gay jokes at Matt's expense. But John's flimsy new ice shelter got blown across the lake, and it wouldn't be right to leave even a jerk outside to freeze. Would it?
In the close quarters of Matt's fabulous ice shanty, between stripping off wet clothes, misadventures with bait, and a fighting trophy-sized walleye, the two men discover creative ways to keep the cold at bay. And when John confesses his long-running attraction, Matt must decide if he can believe in John's change of heart—and crack the ice for a chance at finding love.
Release date: 19th April 2017

Battle!
 by Tali Spencer
I like battles. Read any of my books and you'll sense a pattern of people who defend what they love—along with the occasional hero or heroine who simply relishes a good fight. A fight means there's something at stake. Fortunately, battles take many different forms and don't always involve bloodshed.
Humans are competitive, and the main character of Breaking the Ice, Matt Wasko, puts everyday competitiveness to shame. Everyone knows Matt loves fishing to the exclusion of all other activities. What he hasn't told anyone is that he's carrying a competitive grudge that goes back to high school. He needs to win… he must win… the Winter Battle on Bago.
The Battle on Bago is real and it happens twice a year, summer and winter, on Wisconsin's Lake Winnebago. The winter event is a family-friendly, community ice-fishing festival that draws thousands of people. There's no age limit on entrants and the prizes are distributed randomly. All you must do is catch a fish and register it at the festival. Kids love this. And the prize list is extraordinary, ranging from Ford pickup trucks, to boats, to fat cash prizes and novelty cups. Prize number one might be a cooler and prize number five hundred might be a snowmobile. After it's all over, you see where your fish landed on the list and then check what prize that gets you. Surprise!
Matt doesn't care about winning a prize, though. He's out for revenge. He just wants the biggest fish—there may not be a prize involved, only bragging rights, but he wants his name at the top of the record book instead of Paul Poker, the nemesis who made Matt's high school years a living hell. Matt also suspects Poker of having cheated to win that first Battle on Bago.
 Catching Matt's attention during an ice fishing tournament won't be easy for John Lutz. John's athletic, good-looking, and available, but his efforts so far have only convinced Matt to think he's a gay-bashing jerk. No wonder Matt is so determined to ignore him.
Pushing himself on a man intent on finishing off an old grudge is a risky proposition, but John does everything he can think of to make Matt take a second look, including signing on for the Battle on Bago.
What does he know about ice-fishing? Nothing.
What does he know about being out on an ice-sheathed lake in sub-zero weather? Nothing.
What does he know about Matt Wasko? Not much, except that Matt's the most interesting man John has ever met…
The real Battle on Bago is just shaping up.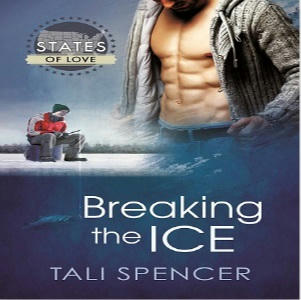 Excerpt!
"Oh baby! It's a big one!"
"You can tell?"
"Damn right I can." Matt perched on the edge of the bench, feet braced and arms ready. The fish was strong. If it was a walleye…. "Get the blanket away from the holes—and be careful of my line! I'm bringing this big boy in."
He was being bossy. Incredibly bossy. But this fish mattered in ways he couldn't even begin to explain to John. For years, ever since skinny-assed Paul "You've Been Poked!" Poker had won the first Battle on Bago in 2007 with a nine-pound walleye, a fish that still reigned as the biggest ever caught in the tourney, Matt had fished his ass off to surpass his arch nemesis. By comparison, John Lutz, until last night, was nothing more than a passing annoyance. It was Paul Poker whom Matt hated with a passion. Poker had pinned him down face-first in the high school parking lot, got on top of him, and taunted that he liked it. Poker had spray-painted Matt's first car, he was sure of it. And Matt suspected, but could not prove, Poker had cheated in the tourney with that fish by registering a walleye his brother had hauled in earlier that week from Green Bay.
Matt was going to put his queer, smiling face atop the history of Bago fishing if it was the last thing he ever did. Sadly, at the rate he'd been going, that might take a few decades—unless this fish paid off.
"Tell me what to do." John had moved the lantern to a safe spot and cleared the blanket from the area. He'd also picked up the rest of the stuff they'd spilled in their ill-advised attempt at ice shack love. Now he stood at arm's length, looking uncertain and chilled with his bare legs and wet socks.
"Pull up that folding chair. Take off those socks. Put on a pair of mine, they're in the duffel." Matt let the fish swim for a few seconds, then reeled him back. Lots of pull still. It might take a while to take the fight out of this leviathan of the lake. "Get that other blanket off the bed and make yourself cozy. We might be here a few minutes. What time is it?"
"Almost eight."
"Good." The tournament ended at two.
"You're not mad at me?" Wrapped in the dry blanket, John perched on the chair and pulled on a pair of Matt's heavy winter socks.
"Not now. Oh yeah, baby," he spoke to the fish as he cranked in the reel, "come to daddy."
"I guess it's more fun when you actually catch a fish."
Matt laughed. "Yeah. We'll have to remedy your fishing virginity. You need to get in on this." Was he leaping to conclusions? John's experiences so far had been rather disastrous. He cocked a look at his shantymate. "Would you be interested in that?"
"Losing my virginity to a fish?" There was the bright laugh Matt was learning to love. "Yeah, as long as you're part of that."
"I've taken on challenges before."

About Tali!
Tali Spencer delights in erotic fantasy and adventure, creating worlds where she can explore the heights and shadows of sexual passion. A hopeful romantic and lover of all things exotic, she also writes high fantasy and science fiction. If you would like to see inspiration pictures for her characters, or glimpse how she envisions her worlds, check out her Pinterest boards.
Tali's books include the Pride of Uttor series: Captive Heart, Dangerous Beauty, Adored, and Victory Portrait, all with Resplendence. Her gay male high fantasy stories, Thick as Thieves, Sorcerer's Knot, and The Prince of Winds, are published by Dreamspinner Press.
Blog | Facebook | Pinterest | E-mail: tali.spencer1@gmail.com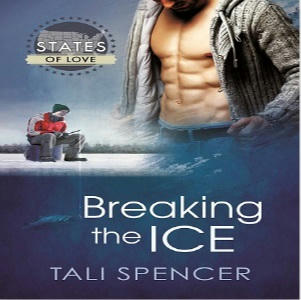 Giveaway link!
(Tali will pick a winner from the comments on the 18th April)