Hi guys, we have J.C. Long stopping by with the tour for his new release Broadway Babe, we have a brilliant guest post where J.C. shares his playlist for Broadway Babe with us and we have a great exclusive excerpt. So guys check out the post and enjoy! <3 ~Pixie~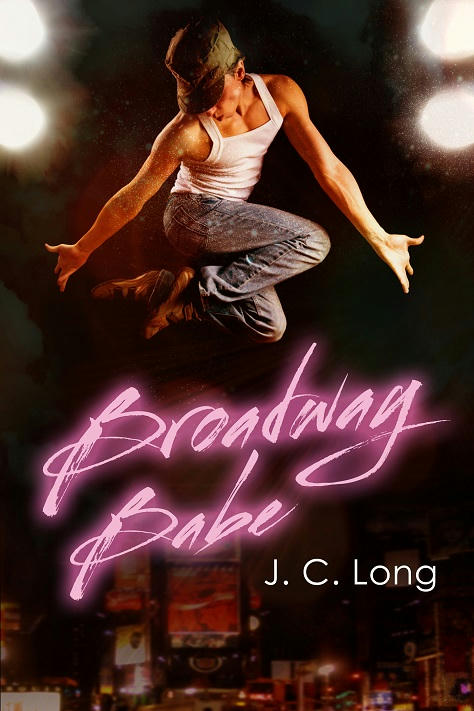 Broadway Babe
by
J.C. Long
Tate O'Connor has worked hard to realize his dream of dancing on Broadway, and it's about to pay off with a premier in his first show. He doesn't expect the distraction of sharing the stage with his celebrity crush: Broadway superstar Mike Chang. Drama ensues both onstage and off as Tate and Mike work closely and realize there could be something between them. However, there are those who don't think an up-and-coming dancer is good enough for someone with Mike's talent and fame, and rumors and misunderstandings might lead to broken hearts if Tate and Mike can't work through their confusion and insecurity.

J.C. Long's Broadway Babe Playlist!
Hey readers of MM Good Book Reviews! I'm J. C. Long, author of Broadway Babe! And thanks to MM Good Book Reviews for hosting this stop of my blog tour! I'm really happy to be here. This is my first whirlwind blog tour, and I'm enjoying spending it with you all.
Today I'm bringing you the playlist that goes along with the novella Broadway Babe, along with an exclusive excerpt! I picked a song for each chapter that fit the feel as I was writing it and what I wanted from it. There will be links listed so you can listen to the songs in conjunction with the chapters. I'm one of those dorks who quite often listens to Broadway (no, I've never actually listened to Hamilton and none of these songs are from there).
1 Give My Regards to Broadway (from Yankee Doodle Dandy)– https://www.youtube.com/watch?v=EpVq9-oID-g
2 I Can Hear the Bells (from Hairspray)-– https://www.youtube.com/watch?v=nccp648RX3Y
3 Opening: I Hope I Get It (from A Chorus Line)-– https://www.youtube.com/watch?v=VvHAoFLAiEU
4 Notice Me, Horton (From Seussical the Musical)-– https://www.youtube.com/watch?v=ggtGiFXmf6c
5 I Won't Say I'm in Love (from Disney's Hercules)-– https://www.youtube.com/watch?v=hKKVzJ_Y0sg
6. Goodbye Until Tomorrow (from The Last Five Years)– https://www.youtube.com/watch?v=wwed2wNNduo
7. Dancing Through Life (from Wicked)-– https://www.youtube.com/watch?v=qtsIz2RvAyU
8 The Ladies Who Lunch (from Company)-– https://www.youtube.com/watch?v=oTsuK_HGFJg
9 There's A Fine, Fine Line (from Avenue Q)-– https://www.youtube.com/watch?v=L6wYoHci6vM
10 I'm Not That Girl (from Wicked)— https://www.youtube.com/watch?v=SdSM887rUIo
11 I See The Light (from Disney's Tangled)-– https://www.youtube.com/watch?v=DtgNB61hu54
12 Almost Paradise (from Footloose the Musical)-– https://www.youtube.com/watch?v=meCEaZrK7Rc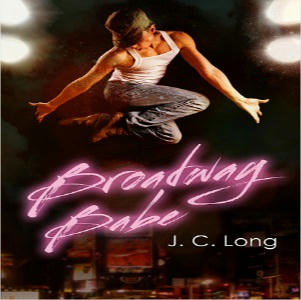 Exclusive Excerpt!
If someone had told me that I, Tate O'Connor, would be standing in front of the doors of a rehearsal studio in the middle of the afternoon, ready to step inside and into my very first rehearsal for my very first Broadway show, I would not have believed it.
And yet here I was.
Like so many people had before me, not caring that it was so utterly cliché, I left my hometown of Memphis, Tennessee, for the Big Apple, chasing my hopes and dreams. Like what seemed like millions of other people, I came to New York to get onBroadway. I didn't have what it took, I thought, but I damn well had to try. I'd taken dance and voice lessons since I was seven years old, all leading up to this day.
I'd been in New York for nearly a year, attending auditions day after day while working night after night for my best friend Lucy's aunt in her diner, living in a loft she was subletting to me while Lucy was studying abroad. Trial and error, trial and error, it had all been one up-and-down ride, but eventually I'd gotten my big break.
I was going to be appearing on stage in a new show by one of the hot up-and-coming composer-and-lyricist duos out there, a risqué piece about love, sex, and identity. I was okay with that—it was a great step forward just getting onto a stage, and I knew many people who had been there longer than I who hadn't yet landed a callback, much less an ensemble role.
I took a deep breath and walked into the studio. Just inside the doors was a sign on a board directing cast members to the main dance room. Heart racing, I followed the sound of voices until I stepped inside. Like most dance studios, mirrors lined one wall, but it was much larger than the studios I had been in before. There were about twenty other guys and girls there, all dressed similarly to me in sweats and T-shirts or tank tops. I had elected a T-shirt. Though I had a dancer's well-toned body, I wasn't comfortable with it enough to just flash it around.
Eyes turned to me as I came in. I could feel them sizing me up. I didn't see anyone I knew in there. Feeling somewhat uncomfortable, I moved to an empty space and started my warm-ups.
"This your first Broadway show?" a short, pixie-esque girl asked me, looking up at me with big doe eyes from where she was stretching on the floor.
I was just under six foot, and I would have guessed her to be roughly five even. She looked tiny down there on the floor, like a doll.
I nodded, stretching my arms first.
"I could tell. You had the 'What the hell have I walked into?' look on your face. I'm Cally."
"I'm Tate."
"Nice to meet you. Choreographer should be here any minute now. I hear she's a real hardass, got a reputation for running strict dance rehearsals. Stay on your toes—so to speak." Cally giggled at her own pun.
I grinned. I like this girl, I decided.
I sat down next to Cally and bent at the waist to touch my toes, working hard to maintain the flexibility that was so important to my profession. "I take it this isn't your first?"
She gave me a look of exaggerated dismay. "That's not the kind of question you ask a girl you just met, you know."
Again she giggled; she was a girl who amused herself. At least someone finds her funny.
"No, this is my third. I was a dancer in the however-millionth revival of Anything Goes. My second show might not even count… it was the musical adaptation of Fight Club." She winced, like she was in pain just thinking about it.
I could understand why. "Didn't that show close before previews were even over?"
She nodded, still wincing.
"At least you made it to the stage," I comforted. I meant it too. She'd accomplished what plenty of others had not: survived the audition process and made it into performances. "Not every show is going to be a success, but you got another notch on your résumé."
"I know that academically," she replied. "It's just hard to remember when I come across reviews for it online and such. 'Worst Broadway show since Starlight Express,' 'A dark day for Broadway,' 'Nonsensical, trite, filled with unlikeable characters and terrible songs.' And those were the good ones."
I couldn't help but chuckle. "Got them memorized, have you?"
"They're burned into my brain," she said solemnly. "I'm pretty sure not a single person clapped at the end of the first act of our first show, and half the audience didn't even come back for act two."
From what I'd read online about the show, that didn't surprise me.
"I should have known it was going to be a bust," Cally said as she finished her stretches. "I mean, the finale is titled 'We're All Tyler.'"
I finished stretching and leaned back on my elbows where I sat, looking at the others that were there with us. We were all young, but then again the show's casting called for a lot of young actors. Every single person in the room was a dancer. This wasn't community theatre, where they filled the ranks with people who could handle easy steps in order to come up with a respectably sized dance group. I was in the presence of people who were all dedicated to the same craft. My chest swelled with pride at the knowledge that I was part of this group, part of this magical profession. I was amongst the best of my peers, and I was exhilarated.
Just by looking around I could spot the few guys and girls who were first-timers like me. They were each busy stretching, attempting to hide their nerves behind placid faces, but they weren't succeeding. Is that how I look right now?More than likely, since Cally knew me for a first-timer as soon as she set her eyes on me.
"Don't worry," Cally said, reaching over to slap my calf good-naturedly. "You'll get used to it. I know it seems overwhelming at first, but if they cast you, you can handle it. Just take it as it comes and don't get too in your head."
I smiled at her gratefully. I was glad she reached out to me when she saw me there, uncertain and overwhelmed. It meant a lot to make a connection there at the beginning and with such ease. I was sometimes an awkward person, finding myself stuck up in my head when it came to talking to new people. By reaching out to me first, Cally prevented me from getting awkward and laid the foundation for the potential friendship between us.
"Tell me about this choreographer," I said.
She shook her head firmly.
"What? Why not?"
"I'm not sure what to tell you. I only know her by reputation. Like I said before, she's known as a no-nonsense hardass, but she's supposed to be a brilliant choreographer. I'm actually looking forward to meeting her."
I let out a frustrated sigh. Normally this wouldn't even be a concern, since we should have met the choreographer at auditions, or at least callbacks. There were special circumstances involved, though, this time. Apparently the choreographer was out of the country, where she'd been working with an international touring show, and couldn't make it back in time for auditions. For that reason all our auditions were with the director and assistant choreographer only, with the assistant choreographer selecting callbacks, which were recorded on a digital camera and submitted to the choreographer, who made final selections.
It was nerve-racking, to say the least, not knowing what we were going to be dealing with. Thankfully we didn't have longto wait to find out. A few minutes later the doors opened and we were joined by a woman who looked to be in her forties but was in her fifties. She was thin, but her muscles were obviously strong. Her face was narrow and regal, her hair ear-length and sporting the sort of frizz that could only be natural.
"All right, everyone, hello. I'm Glinnis Hall, and I will be your choreographer. I look forward to working with you, especially if you can keep up. We've got a lot to do, so everyone up and let's get to it."

About J.C. Long
J. C. Long is an American expat living in Japan, though he's also lived stints in Seoul, South Korea—no, he's not an Army brat; he's an English teacher. He is also quite passionate about Welsh corgis and is convinced that anyone who does not like them is evil incarnate. His dramatic streak comes from his lifelong involvement in theater. After living in several countries aside from the United States, J. C. is convinced that love is love, no matter where you are, and is determined to write stories that demonstrate exactly that.
His favorite things in the world are pictures of corgis, writing, and Korean food (not in that order… okay, in that order). J. C. spends his time not writing thinking about writing, coming up with new characters, attending Big Bang concerts, and wishing he were writing. The best way to get him to write faster is to motivate him with corgi pictures. Yes, that is a veiled hint.
Website | Twitter | Facebook | Facebook Author Page