Hi guys, we have Toni Griffin popping in today with her new release Corey's Christmas Bundle, we have a great excerpt and you can check out the other books in the Mischief Corner Books A Holiday to Remember Collection, and there's an amazing giveaway where you can win 2x $25 MCB gift cards or there's 2x rainbow beanies to win so check out the post, enter the giveaway and enjoy! <3 ~Pixie~
Corey's Christmas Bundle
by
Toni Griffin
Being pregnant is not all it's cracked up to be, especially when you're male and a shifter. Even though the world now knows about wolf shifters, their male's ability to bare young is still a closely guarded secret. Since Corey's pregnancy is now visible, he's been stuck at home working on code and waiting for company to drop by. Problem is, though, the human government wants to know where Corey is.
As Christmas and Corey's due date draw ever nearer, Ben devises a plan that will not only get Corey out of the house, but allows the wolves of Atherton Pack to give the community some Christmas cheer. 
 Mischief Corner Books | Amazon US | Amazon UK | iTunes | Kobo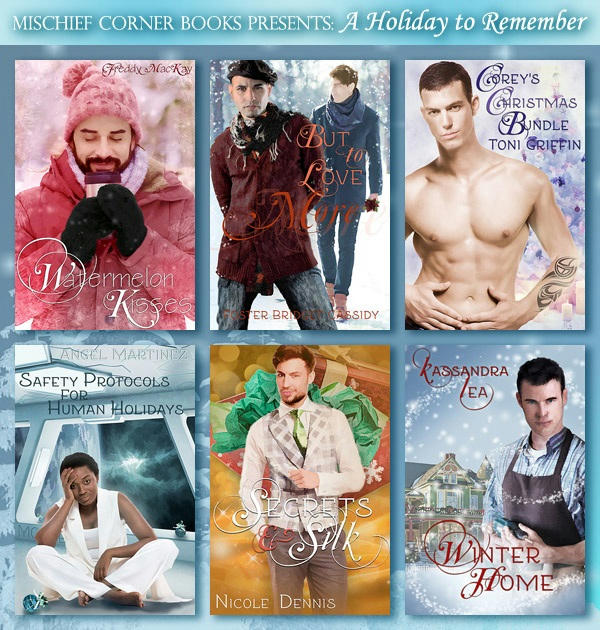 Corey's Christmas Bundle Excerpt!
Prologue
Ethan rolled over and snuggled into the warmth of his mate. Corey always smelled and felt so good first thing in the morning. The sun peeked through the gap in the curtains, but Ethan didn't want to wake up. Instead, he curled in closer to Corey. Corey wrapped his arm around Ethan's back and pulled him in close, sleepily placing a soft kiss on Ethan's forehead.
"Go back to sleep, babe," Corey murmured.
"Hmm. Good idea."
Ethan kissed the warm skin under Corey's chin and settled in. He ran his hand up and down Corey's lightly furred chest.
The blankets twitched where they rested over Corey's groin, and Ethan had to hold back a grin.
"I thought we were going back to sleep?" Corey asked as he finally opened his eyes and stared down at Ethan.
Ethan glanced up at his mate with the most innocent expression on his face he could pull off. "What? I was just getting comfortable."
"Sure you were."
Before Ethan knew what was happening, he was on his back with Corey looming over the top of him, the blankets having fallen aside in the move.
Ethan's cock reacted to his mate's naked body pressed against his own and started to stir. He wiggled around, getting a little extra friction.
Corey growled above him, then leaned in to take his mouth in a hot and heavy kiss. Their lips slid over each other as their tongues dueled for dominance. Ethan happily gave in to his partner and let Corey lead.
Ethan loved feeling Corey inside him, it excited him to no end, and he seriously got off on it. Corey had turned the tables on him the other day, for Ethan's birthday, and they'd switched for the first time. It had been fucking hot. Feeling Corey's body wrapped around his dick as they made love had Ethan eager to experience it again.
Corey broke the kiss and leaned back a little, his expression weird. Ethan couldn't make it out. He reached up and placed his hand on Corey's cheek. "You okay?" he asked, more worried about his mate than what they had been doing.
Corey's expression pinched, and his skin paled.
"Corey?" he asked.
"I think I'm going to be sick." Corey scrambled back and off the bed before he bolted into the bathroom.
The door slammed before Ethan even registered what had happened. He hustled out of bed and raced after his mate. He opened the bathroom door to the sounds of Corey being violently ill over the toilet.
Ethan grabbed the hand towel hanging on the hook and rinsed it under cool water before making his way over to Corey. Ethan leaned over and gently rubbed Corey's back, wiping the cool, damp cloth over Corey's forehead as his mate continued to retch.
When Corey finally calmed down, he sat back on his haunches. Ethan handed him the cloth so Corey could wipe his face.
"You okay?" Ethan asked him, worry lacing his voice as he continued to rub soothing circles on Corey's back.
"I think the chicken we had for dinner must have been a little funky."
"Honey, I ate the chicken, and I'm fine. Plus if it were food poisoning, it would have hit you a lot sooner than now," Ethan said.
"Mmmm. You're probably right. Maybe it's just some twenty-four-hour bug thing."
Ethan chuckled as an idea struck him. It couldn't be that simple, could it? Feeling rather giddy at the prospect of why his mate would be throwing up first thing in the morning, Ethan gave his mate the once-over.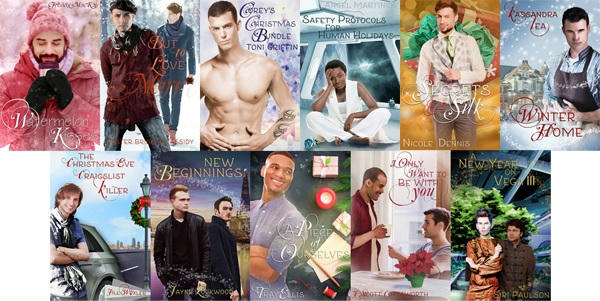 MCB A Holiday to Remember Collection!
Watermelon Kisses
by Freddy MacKay
Life hasn't been easy for Amir since he fled Iran after a brutal imprisonment. The trauma experienced at the hands of the guards left a dark spot on his soul. The one constant in his life since relocating to Chicago has been his lover—now husband—Esmail, whose steadfast love and support has soothed his wounded heart.
​But this Shab-e Yalda, Amir wants to be the one giving his husband something special, because even after the darkest nights, the sun will rise again.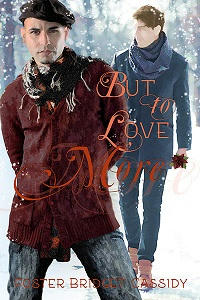 But To Love More
by F.B. Cassidy
Mel finally gets to go home for Christmas. In his absence, his hometown has changed, and Carlos, his best friend's little brother, is all grown up and interested in a relationship. But Carlos has his work cut out for him since Mel's having trouble seeing past the little brother part and his big brother, Aldo's determined to keep them apart.
Buy Links:
Release date: 2nd December 2017
Pre-order: Mischief Corner Books | Amazon US | Amazon UK | iTunes | Kobo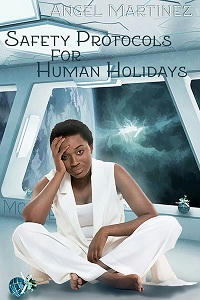 Safety Protocols For Human Holidays
by Angel Martinez
As a security officer on an interspecies ship, Growlan Raskli's experienced in heading off species-specific aberrant behaviors in order to keep the peace. But when her captain asks her to find out what's bothering their sole human crew member, Raskli's out of her depths. She hardly knows anything about humans and she's not a psych doctor.
Something's definitely upset Human Jen, something to do with human holidays. The more time Raskli spends studying humans and interacting with the intriguing Human Jen, the more personal the assignment becomes. Determined to lift the dark cloud from Human Jen, Raskli will do whatever it takes—within safe parameters, of course.
Buy Links:
Release date:
9th December 2017
Pre-order: Mischief Corner Books | Amazon US | Amazon UK | Kobo | iTunes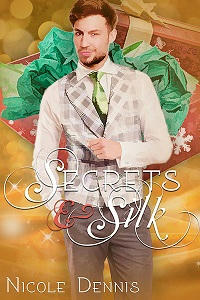 Secrets & Silk
by Nicole Dennis
Quiet, strait-laced David Appleton thinks he's going to have a problem at work. A new co-worker discovered his secret in the locker room. Unable to confront someone, David let him walk away. Now he worries everyone will know his deepest held secret. A secret hidden under his signature vest, tie, and trousers.
Since walking in on his co-worker, CJ O'Connell tries to get a moment to speak with the shy David, but nothing works. His last hope—the Secret Santa Gift Exchange party. Perhaps a special gift can peel away the secrets.
Buy Links:
Release date: 13th December 2017
Pre-order: Mischief Corner Books | Amazon US | Amazon UK | Kobo | iTunes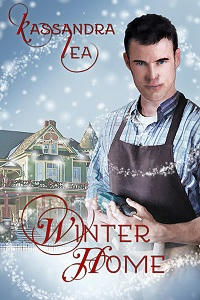 Winter Home
by Kassandra Lea
It's Christmastime and the snow is falling. Restoring an old Victorian manor has been keeping contractor Brett Hawkins busy. The project's meant to be complete by Christmas, but there's no way he can get it done in time, especially with the big day right around the corner.
Meanwhile, his beloved Manuel Aguilar is grappling with depression, and he's consumed by guilt that it's kept him from putting up the decorations. But his biggest concern is that he may be ruining the holiday for Brett. As Manny struggles, unable to recognize his own courage in every small gain, Brett has a surprise that may help break depression's hold.
Buy Links:
Release date: 16th December 2017
Pre-order: Mischief Corner Books | Amazon US | Amazon UK | Kobo | iTunes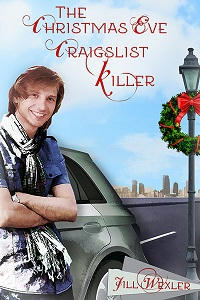 The Christmas Eve Craigslist Killer
by Jill Wexler
The public library's computer geek, aka Travis, is content skirting the edges of social interaction. He's fully committed to being a boring, twenty-something IT guy who likes his office more than people, a guy someone like Connor would never fall for. Connor, who works on the library floor as a page, is outgoing, social, and charming and everything else that stands for "fun."
An interaction between the two at the library on Christmas Eve has Travis accidentally mentioning that he failed to find this year's hottest toy for his nephew. Immediately, Connor goes on a quick hunt online, and finds one. The only problem is that the Craigslist seller is hours away and Travis is sure spending hours in a car with quirky, handsome Connor can only end badly.
Release date: 18th December 2017
Pre-order: Mischief Corner Books | Amazon US | Amazon UK | Kobo | iTunes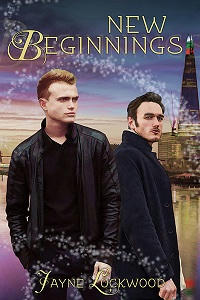 New Beginnings
by Jayne Lockwood
Nick is not looking forward to his second Christmas without Sammi, his gorgeous ex-fiancee. She left him on New Year's Eve, a week after their engagement, and he still doesn't know why.
A chance meeting whilst out Christmas shopping reveals that Sammi is now Sam, a transgender man. As the reasons behind their break-up become clearer, Nick cannot make sense of his new feelings. He is shocked by the deep attraction he still has to Sam, and what that says about himself.
It will take Nick's straight-talking family, and Sam's guiding hand, to help him discover that gender is no barrier to love.
Buy Links:
Release date: 20th December 2017
Pre-order: Mischief Corner Books | Amazon US | Amazon UK | Kobo | iTunes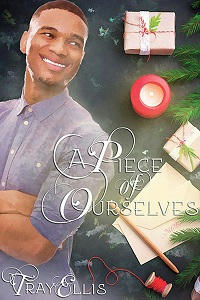 A Piece Of Ourselves
by Tray Ellis
Balancing holidays between two families can make cheerful celebrations into chores. Carson Benedetti's mom has overscheduled the Christmas holidays and she's more than insistent that boyfriend Tynan Harris come into the family fold. There's so much to do Tynan can't find time to bring Carson over to his own family and he feels like they are being left in the dust.
​After dating for nine months, and with their relationship becoming more serious, Tynan's patience is sorely tested by the multitude of Benedetti family traditions keeping them busy. Tynan needs to figure out how to find some breathing room, split their time more fairly, and make Christmas more than just tradition by rote.
Buy Links:
Release date: 23rd December 2017
Pre-order: Mischief Corner Books | Amazon US | Amazon UK | Books2Read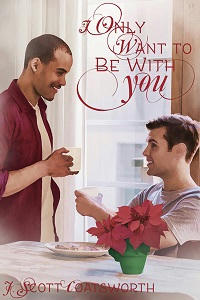 I Only Want to Be With You
by J. Scott Coatsworth
Derrek is dealing with the recent, unexpected death of his mother. He's been alone for five year since his husband Will died, and he's ready to find someone new and to start living again. Ryan lost his partner, David, in an auto accident, and is dating Alex, who doesn't treat him right.
Derrek can't figure out why Ryan won't see what's right in front of his face. Why does Ryan come to him to talk about all his hopes, dreams, and fears, then go home to Alex?
If Derrek can figure that out, they might just have a shot.
Buy Links:
Release date: 27th December 2017
Pre-order: Mischief Corner Books | Amazon US | Amazon UK | Kobo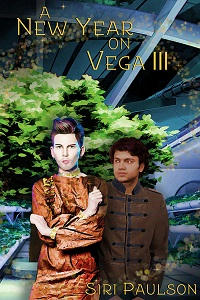 A New Year On Vega III
by Siri Paulson
On the colony planet Vega III, everyone knows Beck—outgoing, fabulous, and genderqueer—and nobody notices Anil, the quiet plant biologist. But when Anil finds Beck hiding in his greenhouse, lonely and missing Earth, it's Anil who is able to comfort Beck by letting them talk about what they miss most—the feeling that comes with celebrating the holidays with loved ones, especially New Year's Eve.
​The two of them are drawn to one another, but both of them are hiding secrets about their sexuality. With trust between them already on shaky ground, Anil's elaborate plans to cheer Beck may well backfire.
Buy Links:
Release date: 30th December 2017
Pre-order: Mischief Corner Books | Amazon US | Amazon UK
About Toni!
Toni Griffin lives in Darwin, the smallest of Australia's capital cities. Born and raised in the state she's a Territorian through and through. Growing up Toni hated English with a passion (as her editors can probably attest to) and found her strength lies with numbers.
Now, though, she loves escaping to the worlds she creates and hopes to continue to do so for many years to come. She's a single mother of one and works full time. When she's not writing you can just about guarantee that she will be reading one of the many MM authors she loves.
Feel free to drop her a line at info@tonigriffin.net anytime.
For more information about Toni's work, please visit:
Giveaway!
Win! Two Mischief Corner Books $25 Gift Cards!
Win! Two Rainbow Beanies!