Hi peeps! We have E.M. Hamill visiting today with her fantastic new genderfluid sci-fi release Dali, we have a brilliant interview with E.M., a great excerpt and a fantastic giveaway, so check out the post guys, enjoy and click that giveaway link! <3 ~Pixie~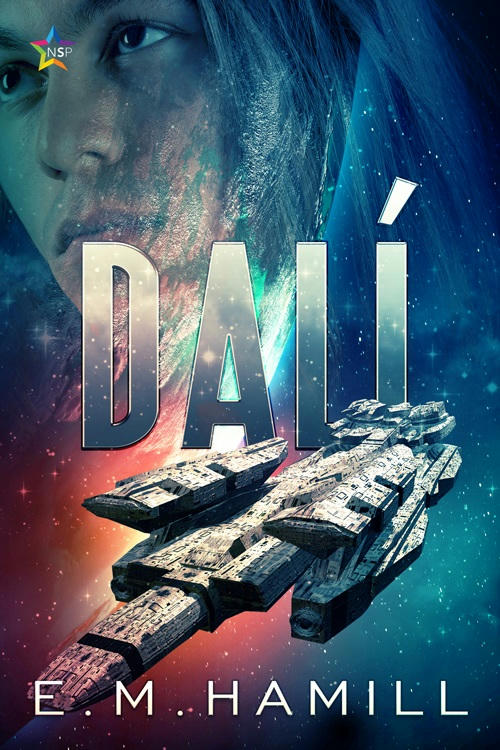 Dali
by
E.M. Hamill
Dalí Tamareia has everything—a young family and a promising career as an Ambassador in the Sol Fed Diplomatic Corps. Dalí's path as a peacemaker seems clear, but when their loved ones are killed in a terrorist attack, grief sends the genderfluid changeling into a spiral of self-destruction.
Fragile Sol Fed balances on the brink of war with a plundering alien race. Their skills with galactic relations are desperately needed to broker a protective alliance, but in mourning, Dalí no longer cares, seeking oblivion at the bottom of a bottle, in the arms of a faceless lover, or at the end of a knife.
The New Puritan Movement is rising to power within the government, preaching strict genetic counseling and galactic isolation to ensure survival of the endangered human race. Third gender citizens like Dalí don't fit the mold of this perfect plan, and the NPM will stop at nothing to make their vision become reality. When Dalí stumbles into a plot threatening changelings like them, a shadow organization called the Penumbra recruits them for a rescue mission full of danger, sex, and intrigue, giving Dalí purpose again.
Risky liaisons with a sexy, charismatic pirate lord could be Dalí's undoing—and the only way to prevent another deadly act of domestic terrorism.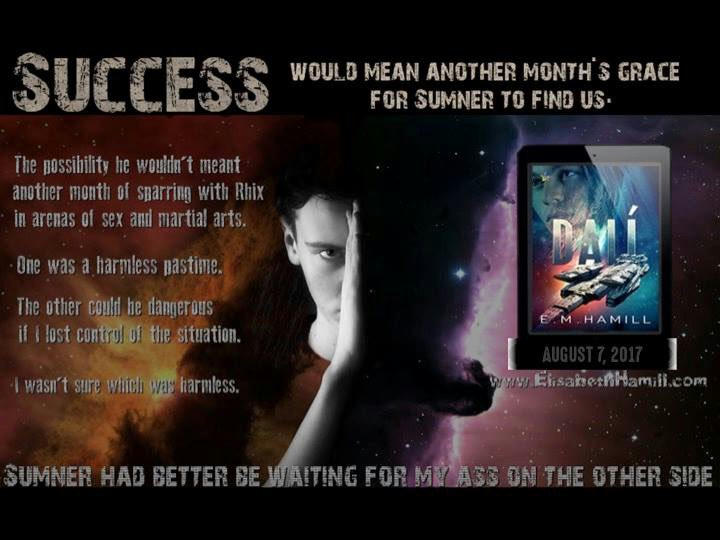 Interview!
When did you write your first story and what was the inspiration for it?
I've been writing since I was about seven, inserting myself into my favorite books way before it was called it "fanfic"! The first original short story/novella I ever finished was in high school: a sci-fi spy adventure featuring a teenaged psychic spy organization. They had alien sidekicks who looked like pets but were fully sentient and able to communicate with them telepathically.
Do you have a writing schedule or do you just write when you can find the time?
Since I'm still a full time nurse, I have to steal time to write whenever I am able. It may mean less than 500 words a week, but as long as the count increases every week, it's all good.
Briefly describe the writing process. Do you create an outline first? Do you seek out inspirational pictures, videos or music? Do you just let the words flow and then go back and try and make some sense out it?
I am a complete seat of the pants writer. I write best when I'm obsessed with a character or an idea. I love those weird flashes of insight and how the characters suddenly tell you who they are, even when they aren't who you thought they were! I do inspiration boards on Pinterest, and I love to listen to some of the YouTube epic and hybrid music compilations as I write, especially The Pandora Journey channel.
Where did the desire to write LGBTQIA+ stories come from?
I have been bisexual all my life, although until fairly recently, it was something I hadn't openly acknowledged to anyone but my closest friends and my spouse. Writing characters who are open in their bisexuality was a way to express that, and it has given me more courage to be myself. I want to write badass characters for whom the gender of people they find attractive or fall in love with is not an issue.
How much research do you do when writing a story and what are the best sources you've found for giving an authentic voice to your characters?
I was fortunate enough to receive the kind assistance of half a dozen individuals who identified as genderfluid for my newest book, since I myself am not. Their responses to my questions were beyond helpful in developing my characters. I also researched the Hijra community in India, which inspired the third-gender community in the book. A lot of that didn't make it past the first draft, but having the foundation made it better.
What's harder, naming your characters, creating the title for your book or the cover design process?
Oh, the cover design! You always have a picture in your head, whether you know it or not. I have a terrible time articulating. Natasha Snow is a certified genius when it comes to cover art, and she created a cover for Dalí I didn't even know I wanted.
How do you answer the question "Oh, you're an author…what do you write?"
Science fiction and fantasy of all flavors.
What does your family think of your writing?
I am so lucky to have the love and support of my family. I started listening again to my writing heart late in life, and they understand my need for solitude and creativity.
Tell us about your current work in process and what you've got planned for the future.
I have two or three different irons in the fire: an urban fantasy I'll be publishing myself in the fall, a sci fi about Dalí's next mission for the Penumbra , and the third and final book in the YA epic fantasy Songmaker series. Plus a bunch of short story ideas. I just need to focus on one!
Do you have any advice for all the aspiring writers out there?
Write. Just write, whenever you can, as much as you can, about anything that inspires you.
If you could travel forward or backward in time, where would you go and why?
I'm not sure. The past is over, and I'd like to see what the future will bring, but I'm a cancer survivor. I'm all about living in the moment. Getting all Kung-Fu Panda: today is a gift- that's why it's called the present.
We've all got a little voyeurism in us right? If you could be a fly on the wall during an intimate encounter (does not need to be sexual) between two characters, not your own, who would they be?
Oh man! I'm a total shipper of a polyamorous relationship between Poe, Finn, and Rey, with Finn being both Rey and Poe's significant other. I think poor Finn would probably spontaneously combust between those two personalities, though.
If I were snooping around your kitchen and looked in your refrigerator right now, what would I find?
Way too many leftovers from this week, Hershey's Chocolate Syrup, and an obscene amount of Diet Coke.
If you could be a superhero, what would you want your superpowers to be?
Healing other people. Flying. Telekinesis.
If you could trade places with one of your characters, who would it be and why?
I would love to be the main character of my YA fantasy novels, who is a bard. She can pick up any instrument and master it, write music, and do magic. I just don't want to be a teenager again.
If you could sequester yourself for a week somewhere and just focus on your writing, where would you go and what would the environment be like?
A cabin in the mountains, where I could write inside by the fire or outside on the porch. A mountain stream rushing over a rocky bed. The scent of clean air and pine.
What's the one thing, you can't live without?
Caffeine.
What internet site do you surf to the most?
Facebook, Twitter, and Google.
If you had your own talk show, who would your first three author guests be and why?
Guy Gavriel Kay, because he wrote my favorite book, "Tigana". Gregory McGuire, because I adore his retelling of the Oz story. Nina Kiriki Hoffman, because her contemporary fantasy speaks to me in a huge way.
When you got your very first manuscript acceptance letter, what was your initial reaction and who was the first person you told?
I was both excited and terrified, because I knew nothing about indie publishers. I think the first person I told was my husband, then probably my mother!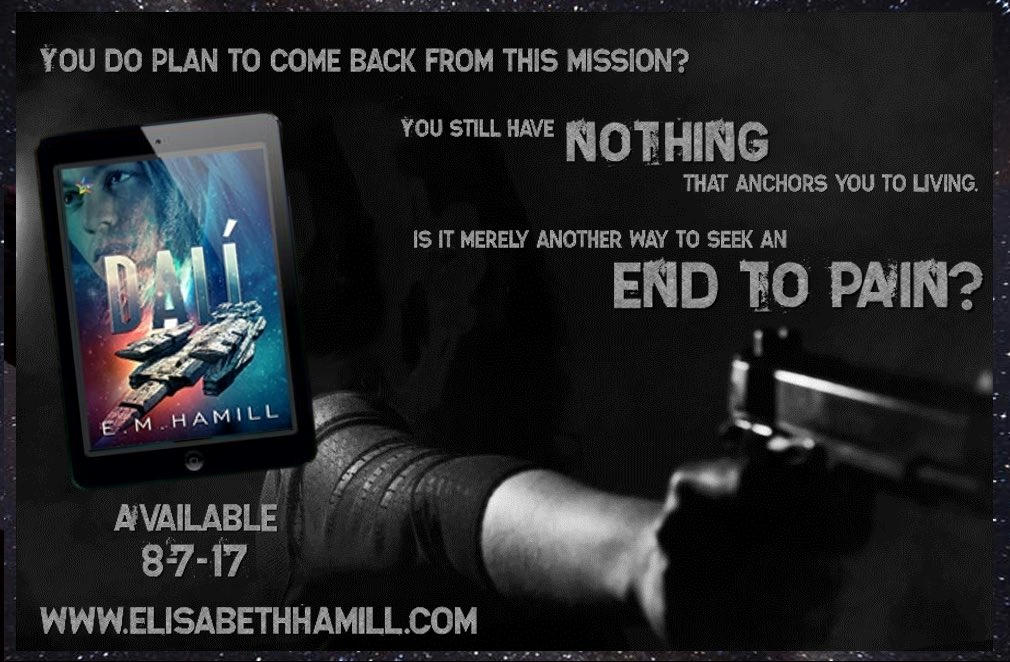 Excerpt!
Dalí, E.M. Hamill © 2017, All Rights Reserved
Chapter One
Human beings are assholes. I should know. I'd become one in the last few months.
You'd think the near extinction of our entire species after the pandemics and global poisoning our last world war inflicted might let us all pull together. Even with galactic war breathing down our necks, when almost everyone realized the human race constituted less of a threat to each other than some of the other things out there, we continued to be dicks.
Those attitudes started problems—in particular, Europan attitudes, of the New Puritan variety. I no longer possessed the self-control or sufficient fucks to avoid adding fuel to their fire.
His voice floated over the excited din of the crowd and the pregame show on the holographic screens above the bar.
"Abomination."
I sighed and turned my head. The Team Europa-jacketed hulk next to me exuded a cloud of loathing against my empathic nets. I raised one eyebrow at him.
"Really? You can't come up with anything more original after fifteen minutes of shit-talking?" The conversation behind me started as a diatribe against the rally for third-gender rights, held outside the arena and glimpsed on the main holo screen. I didn't pay attention to either until the comments got louder and were meant for my ears.
"Faggot."
"How very twentieth century of you." I downed another of the six shots the robotic bartender dispensed in front of me. I wasn't looking for trouble, only anesthetic. Outside, a cluster of media bots interviewing star athletes had driven me into the bar to hide. The presence of mechanized paparazzi still unsettled me. I didn't want them in my face.
The annual Sol Series tournament games between Mars and Europa bordered on legendary for their savagery. No one took rugby as seriously as a gritty Martian colonist or a repressed New Puritan, and the bar overflowed with both, waiting for the station's arena to open. Spectators gathered around us in the bar, drawn by the promise of a fight, glittering eyes fixed on us. My empathic senses drowned in their excitement and fear, even with the numbing effects of synthetic alcohol.
He invaded my personal space and leaned closer, face centimeters from mine. His breath carried a trace of mint and steroid vapors. Great. A huffer, his molecules all hyped-up on testosterone. He stood over a head taller than me, about twenty-five kilos heavier. His fists would do damage. His minions stood at either side, more meat than smarts. Neither spoke. Their mouths hung open while he harassed me, and I expected shuttle flies to crawl out at any time.
"You're nothing but an A-sex freak."
"Better. Still lacks originality." I threw back the last shot. "How about androgynous freak? Hermaphrodite? No, those words are probably too big for you."
The titter of laughter from the crowd only pissed him off. "Go fuck yourself."
"Technically, I can't. But I can fuck anybody else in this room. Can you?"
Shocked laughter rose from the circle of spectators. The guy clenched his fists and flexed his muscles. I continued, "Do I scare you?" I swiveled on the stool to face him and changed posture, crossing my legs in demure modesty. My voice rose into a husky, suggestive alto as I leaned one elbow on the bar. "Or do you want to find out what's under my kilt?"
I hit a nerve. His eyes went blank, black, and his rage flooded over my senses. The crowd gasped and took a step back. Minion One caught his rising fist and spoke. "Jon, don't you know who…"
Jon's lip curled. "It's an atrocity. It should have been killed at birth."
"I prefer the term changeling." I stood, and the circle around us got wider. The potent mix of hormones surged through my bloodstream as they altered my chemical makeup and bulked strategic upper body muscles. I let a cold smile form on my lips and dropped into a Zereid martial arts stance. Jon took half a step back as I became more definitively male in ways he recognized. "Oh, go ahead and hit me, by all means. A good fight is almost as good as sex."
"Break it up."
The crowd parted into nervous brackets with security's arrival. Caniberi lumbered into the midst of the circle with the boneless roll space-born started to get after generations in orbit. He cast a sour eye in my direction.
"Dalí, why is it always you?"
"Just lucky, I guess."
The constable growled at me. He turned to Jon. "You can't play in the tournament if I throw you in the brig for violence. Move out."
Jon stared at me a minute longer. The threat of not getting to beat the hell out of some hedonistic Martians made him reconsider. He and the minions moved away, but he threw one more sentence in my face like a javelin.
"You'll be alone, changeling."
The truth in his words knifed through me all the way to my gut and cut me deeper than any microsteel blade. "I'll be waiting."
Caniberi squinted at me as the crowd began to disperse. "Dalí, do I need to talk with the Captain?"
"No, sir. Leave my father out of this." He'd dealt with enough from me already. My mother was now away on the diplomatic mission I'd been suspiciously—but rightly—deemed unfit to assume. Without Mom there to buffer the uncomfortable presence of my grief between us, Dad was lost.
"One of these days you're going to push the wrong buttons and end up hurt, or worse. Some things the medical officer can't fix." His gaze softened. "Drinking and getting the shit beaten out of you won't bring them back."
"I'm well aware of that, sir." My voice came out sharper than I intended. One of the best officers on the station, Caniberi had known me a little over a decade, and he never hesitated to kick my ass if I deserved it, no matter what gender I chose at the moment. This time, he just stared at me with an odd expression. His pity broke in tepid surges against my senses.
"Get out of here. I don't want to arrest you again."
I turned and left the bar. With the bots still hovering outside, I ducked my head to foil their facial recognition apps and fought my way upstream from the arena.
The shakes hit me in the aftermath of the hormone flood. The synthetic alcohol in my system warred with my normalizing chem levels and sour nausea threatened. I grabbed one of the rails lining the corridor and took several shuddering breaths as my muscles cramped, rearranged, and settled back into the lean, sexless frame where I am most at home.
The crowd jostled around me and headed toward the game. My empathic nets buzzed dully with their anticipation and excitement, but the sense of being watched pushed at the back of my mind. A familiar presence tripped a memory and an emotion.
The watcher knew me.
I turned my head. The Zereid made his way toward me, head and shoulders above everyone else, long, muscular limbs wading with passive grace through a river of human bodies as the crowd shifted for him. An eddy of cautious glances swirled and vanished downstream.
Oily quicksilver eyes without lids narrowed, their shape signifying the equivalent of a smile. His resonant voice buzzed in my ears. "He is the size of a cargo bot, you know. Even the arts we learned can't change gravity. He might kill you."
"I won't let it go that far." I shrugged. I actually hoped I'd bitten off more than I could swallow this time.
But the presence of my childhood friend undid me. A lump rose in my throat, pressure in my head, and I closed the distance between us. He gathered me in against cool flesh. I was locked in arms capable of crushing a human like a piece of foil but which held me with careful tenderness. Against his enormous chest, I felt like a small child, even though in developmental terms, Gor and I are the same age. His concern brushed my mind with affectionate familiarity.
"I see you, Dalí," he murmured. "I mourn with you."
I breathed in the scent of Zereid. Gor smelled of his homeworld—rain and earth and copper clung to his leathery turquoise skin and short, downy fur even in absentia. Homesickness washed over me.
I'd lived on Zereid most of my life. My mother, Marina Urquhart, served as ambassador for fifteen years. Dad's career required he return to Sol Fed, and rather than separate our family, Mom resigned her appointment. My differences were clear, even to my third-gender mother, but there, we were aliens. I wondered what it would be like to have more friends who blinked.
When we got back to our own kind, I found out I was still an alien.
Gor pulled away. In the tarnished silver of his eyes, like antique mirrors, my unkempt reflection stared back at me. His dismay at my mental and physical state, impossible to miss, sighed against my mind.
"How did you hear?" I said.
"Your mother. "
"Of course."
His head cocked. "I tried to come sooner, but the travel permissions into the colonies are daunting."
"No, I understand." I wanted to sit and talk with Gor. I eyed the bar, but couldn't go back in there yet. "Come on. We can go to Dad's quarters. He'll be on the bridge." My own cramped space wouldn't accommodate Gor's height or his bulk.
We squeezed into the private lift and rode up to the command deck. My thumbprint opened the door to the Captain's suite, and Gor made a sound of wonder as he ducked through the port.
Three levels of transparent alloy shielding overlooked the U-curve of Rosetta Station. Shuttles buzzed in and out of bays like honeybees in the hydroponics domes, ferrying passengers to huge starliners docked on the outer limbs.
"An inspiring view." Gor gazed out the window.
Ochre planet-shine from Jupiter's face illuminated the room, the swirling storms in the gas giant's atmosphere familiar to me now. I never found them beautiful, only an echo of the chaos in my head. I dropped into one of the chairs facing the viewport.
Gor eased himself into the seat opposite me. "You're in crisis, Dalí."
I couldn't hide anything from him. Even if I wanted to, he was a telepath; his empathic senses much more attuned than my own modest abilities. Our friendship spanned far too many years, our trust well established. Lying to him would betray our oath of crechemates, a Zereid custom similar to old Earth tradition of blood brothers.
"Today would be the second anniversary of our wedding." I stared at my hands. I still wore a ring on each of them, the ones Gresh and Rasida gave me.
"I remember. The love between you and your mates deserves celebration."
Triad marriages with two members of the same sex and one of the opposite were common. The female population had not rebounded as fast as the male. But mine was the first triad marriage to include a changeling spouse under the new laws we helped to bring about. The legislation was both praised and vilified by hundreds of other citizens while we exchanged vows beneath the domes of the lunar capitol. My parents, Gresh's mother, and Gor celebrated with us. Rasida's mother refused to attend the wedding of her only daughter.
The three of us had been inseparable, invincible. Without them, I staggered, incomplete.
Our child would have been three months old now.
"Don't say it."
Gor's eyes elongated in confusion. "What?"
"That they wouldn't want me to be like this."
"I did not come here to admonish you for grieving."
I gave a short laugh. "What did you come here to scold me for?"
"For ceasing to live. Abandoning the larger destiny for which you trained."
"Ambassador?" I dug a vape out of the pocket of my coat and thumbed the switch, inhaling illegal chemicals deep into my lungs. His gentle reproach against my empathic nets rebuked me without a word.
"You were sure of your calling as a peacemaker six months ago." Zereid reverence toward conciliation is, ironically, unforgiving and unbending.
"I was certain of a lot of things then." I exhaled a cloud of spicy mist. If any of the scent remained, I'd catch hell later for vaping in Dad's quarters.
"There are always those who work against peace, even in their own hearts. As you are doing now."
"I don't know if I believe in peace anymore."
"Because you do not possess it."
"Stop feeding me platitudes, brother."
He spread six-fingered hands wide. "What would you have me do? Tell me. Your pain is mine to share, beloved friend. Allow me to help you. Your rage is fearsome but undirected. You point it at yourself."
"I was supposed to die, not them." I cursed the terrorists who missed their target by eight minutes. When I decided not to address the media bots and chose instead to hold a private farewell with my family, I put myself ahead of schedule. I should have died with them. Even though the bastards failed to kill me, they destroyed me.
"Come home." Gor waited for me to answer. I didn't. He continued. "Madam Ambassador thinks Zereid would be a place of healing for you. You can study at the temple with me again, be teacher and student. This year's crop of younglings is a challenge." His vocal pipes fluted in laughter. "As we were."
"That isn't much of an incentive." A grin tried to tug at the corners of my mouth, stiff and out of practice with the expression. "I'll think about it."
"Will you?" His doubt hovered between us.
The port slid open again and my father thundered in—Captain Paul Tamareia—"The Captain" to everyone on the station, even me at times. I stood at automatic attention, swaying a little. Gor rose too.
"What the hell were you thinking?" he demanded. "And turn that goddamned vape off."
I complied. "A misunderstanding, sir."
"Misunderstanding, my ass. Six shots of the synthetic piss that passes for whiskey says it wasn't." He turned to Gor and bowed. "Welcome aboard Rosetta Station, honored friend. Forgive me for not greeting you first."
"Captain Tamareia." Gor bowed back.
"How long will you be staying? I insist you use my quarters as your own. Stop by the constable's office and he will register you for my door. I'm afraid most of the cabins are small, and we're overcrowded with the tournament."
"My thanks, sir. My travel clearance is good for the next two weeks, and then I must return." Gor nodded at us. "I should collect my belongings now. I will go to your constable on the way back."
"It's good to see you, Gor."
"You as well, Captain." He put one enormous hand on my shoulder. "Dalí, please think about what I said."
Gor let himself out. Dad and I both understood he made a graceful exit so we could shout at each other in peace. Zereids don't carry a whole lot of baggage. They don't wear clothes.
"Did you need to pick a fight with the number eight of the bloody Europan rugby team?" He tossed his personal data device on the table. "Do you even know who he is?"
"Other than a prick, no."
"Jon Batterson. Does the name ring a bell at all?"
"Batterson." I blinked through mental processes made sluggish by the vape. "As in President Batterson?"
"Light dawns. The heir apparent to his self-righteous little robotics empire." He ran both hands through his hair. I inherited my dark-brown waves from him, but Dad's customary high-and-tight showed little hint of curl. Mine now fell to my shoulders in a shaggy, tangled mane. "Do you realize the mess I would have had to clean up if you really let loose on him? Even if he is built like the ass end of a freighter, you could put him on the injured list."
"It wasn't my intent."
"From what Caniberi told me, you were about to unleash hell on him. You sure stirred up some crap. The president is coming to the game tonight. The constable didn't know who he was either, or he might have thrown you in the brig to prove a point." He sat down with a thud on the steel bench and sighed. "Dalí. Come here."
I sat next to him and braced myself.
"It's been six months. Your leave from the diplomatic corps is finished, and if you don't return, you'll be dismissed. This has to stop. When you go back to your life, you're going to encounter people like Batterson on a daily basis. Your reputation and your career are at stake. You can't do this anymore."
"That life's over."
"Don't throw it away. You did so much in so short a time. You have a gift for understanding, and you will be a formidable ambassador. Sol Fed needs you in the negotiation chamber at the Remoliad. Luna is a better place because of your work."
"Because of Gresh's work. Because of Sida and our child. They were my reasons for everything. I'm not sure I feel as strongly for the rest of the human race."
"Then you need to find another way to deal with their deaths. I won't watch you destroy your future. You worked too hard for it."
"Tell me how, sir." My fury rose. "Tell me how I can deal with it because I'm looking for an exit."
He stiffened. "What do you mean?"
"Nothing." I rose and stalked away. He started to call after me, but the communication tones went off.
"Captain Tamareia, report to the bridge. The president's shuttle is incoming."
"On my way. Dalí!"
I ignored him and ducked through the port.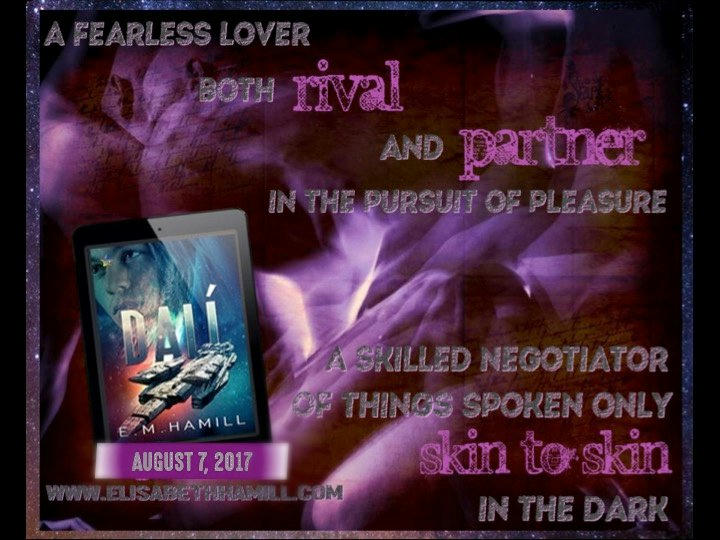 About E.M.!
E.M. Hamill is a nurse by day, sci fi and fantasy novelist by night. She lives in eastern Kansas with her family, where they fend off flying monkey attacks and prep for the zombie apocalypse. She also writes young adult material under the name Elisabeth Hamill. Her first novel, SONG MAGICK, won first place for YA fantasy in the 2014 Dante Rossetti Awards for Young Adult Fiction.
Author Links
Website | Facebook | Twitter | Blog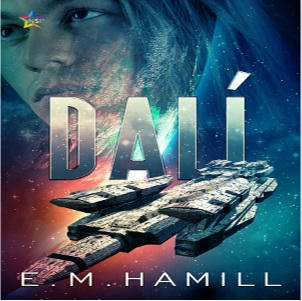 Giveaway!
One lucky winner will receive an ebook of their choice from NineStar Press
(Just click the link below)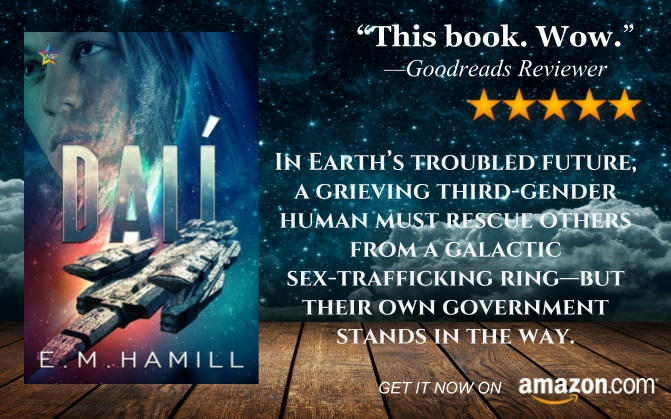 Check out the other blogs on the blog tour!