Hi guys! We have E.J. Russell popping in today with her upcoming release Devouring Flame, we have a short intro from E.J., a great exclusive excerpt and a awesome giveaway, so check out the post and enter the giveaway! ❤ ~Pixie~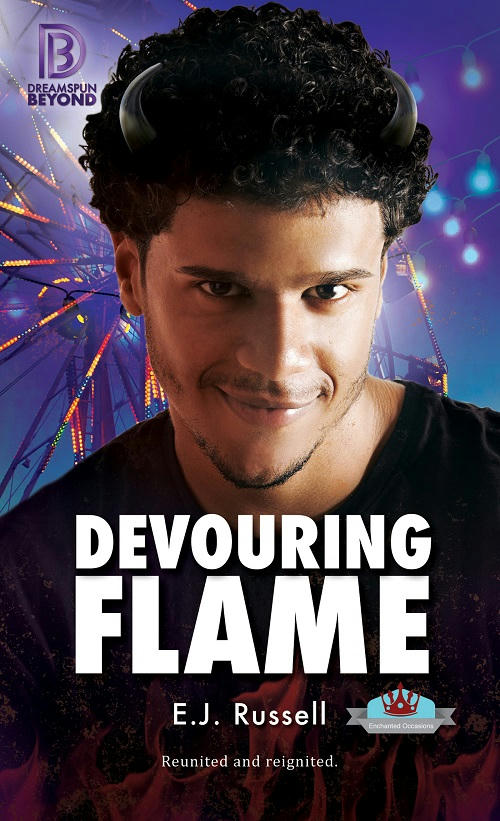 Devouring Flame
(Dreamspun Desire 35 / Enchanted Occasions 02)
by
E.J. Russell
Reunited and reignited.
While cutting through the Interstices—the post-creation gap between realms—Smith, half-demon tech specialist for Enchanted Occasions Event Planning, spies the person he yearns for daily but dreads seeing again: the ifrit, Hashim of the Windrider clan.
On their one literally smoldering night together, Smith, stupidly besotted, revealed his true name—a demon's greatest vulnerability. When Hashim didn't return the favor, then split the next morning with no word? Message received, loud and clear: Thanks but no, thanks.
Although Hashim had burned to return Smith's trust, it was impossible. The wizard who conjured him holds his true name in secret, and unless Hashim discovers it, he'll never be free.
When their attraction sparks once more, the two unite to search for Hashim's hidden name—which would be a hell of a lot easier if they didn't have to contend with a convention full of food-crazed vampires on the one day out of the century they can consume something other than blood.
But if they fail, Hashim will be doomed to eternal slavery, and their reignited love will collapse in the ashes.
Luckily Smith is the guy who gets shit done. And Hashim is never afraid to heat things up.

Intro & Exclusive Excerpt!
Devouring Flame is the second book in my series centered around the employees of Enchanted Occasions Event Planning, where the word "enchanted" is quite literally, er, literal. The EO staff are all outcast from their supernatural home realms, most of them because they're aitchers (short for half-and-half), part human and part other, and discriminated against by Pures of all races. But they've found a community with their EO co-workers, and job satisfaction staging magical events for their clients.
Of course, sometimes those events get… complicated.
~~~~
As Smith disconnected the call, a figure in loose-fitting white pants and an abbreviated vest burst out of the sideshow tent. Hashim. Smith's heart did a stupid sideways bump, and he told it to settle the fuck down.
The vampires trailed after Hashim, calling something Smith couldn't make out, like a bunch of jocks baiting the class nerd. Where are the fucking security trolls? Smith growled and picked up his pace. He'd had more than enough of that kind of bullying in his life, usually from Pures who thought aitcher-baiting was the height of amusement.
Then Hashim turned with a snarl, and the vampires laughed and sauntered off. Hashim resumed his determined stride, his hair floating in the wind, his fists clenched by his sides. Not good. I knew vampires were trouble. If they were harassing the Carnival employees before the convention even started, what would they be like hopped up on once-a-century cocktails and canapés?
Smith checked on the vampires, who were plucking at the threadbare velvet rope across the labyrinth entrance, but decided that even if they snuck inside before the door was repaired, there wasn't much they could do to a stone maze.
He took off across the grounds after Hashim. Even though Hashim had betrayed him, Smith didn't want him to be abused.
He trotted to catch up. "Hey."
Hashim whirled, fist raised and teeth bared. "Oh." He dropped his fist. "It's you."
"Yeah." Smith adjusted his cap. "Listen, were those guys bothering you?"
Hashim glanced back the way he'd come. "It hardly matters."
"Yeah, it does. They're our clients, but that doesn't mean they can behave like assholes to the staff."
Hashim raised an eyebrow. "'Staff?' Is that what I am now? Your minion?"
Smith frowned, his belly lurching as if the ground had shifted beneath his feet. "Of course not. We're subcontracting the Carnival for the duration of the convention and naturally we'd like the entertainments to be the same, but you're not required to do anything other than your usual job."
Hashim's expression was still wary, his eyes narrowing slightly. "Business as usual, is that it?"
"Well, business as usual in a less seedy environment." He gestured to one of Hazel's brownie crew, scuttling by with another load of dust in a wheelbarrow. "We're working on that, and your boss is supposed to be doing the same."
"He's doing something," Hashim muttered, "but I wouldn't call it business as usual." He glared at Smith. "I suppose I have you to thank for that too."
Smith blinked in surprise. "For what? I can't help it if you work for a douchebag. You had other options." Suddenly, the hurt and anger boiled up and over. "But you chose this instead of—"
Hashim held up his wrists, with their decorative cuffs. "You think this is my choice?"
"Well, it sure wasn't mine. If you don't like it, quit and do something else."
"That's all you know," Hashim said, his lips twisted in a sneer.
"Listen, the only thing I know is what I see, what you tell me, or what I find out despite your less-than-stellar communication skills." He stepped closer. Hashim didn't flinch or move away. Good. "You smuggled a gods-bedamned fire gem into the Consort Race. You gonna tell me that was a mistake?"
"If I did, would you believe me?"
"Why should I? You—" Another vampire sauntered by, looking them both up and down and licking his lips. In your dreams, pal. "Let's go somewhere where we can talk." He took Hashim's elbow.
Hashim jerked it away. "Fine, but don't touch me."
Smith held up his hands. "Still your choice."
Hashim glanced around. "This way." He led Smith to a nearly invisible door on the side of the labyrinth and passed his cuff over the lock. The door clicked open, and he slipped inside, Smith following before the door clished shut behind them.
They stood in an industrial-style corridor that could be anywhere with its fluorescent lights and concrete floors.
Hashim whirled and propped himself against the institutional green wall, crossing his arms. "You want to have this out here? Now? Fine. Yes, I brought the fire gem, but it wasn't my choice."
"No? Only following orders, were you?"
"I'm a conjured ifrit, you arrogant swine. I have to follow orders."
Smith frowned. "Conjured ifrit? What does that mean? Aren't you spawned like any other demon?"
"Ifrits are smoke and fire made flesh. Something—or rather someone has to do the making. Sometimes—very rarely—it's spontaneous. But a wizard who learns the ancient spell can conjure an ifrit from the djinn crèche. A wizard who names us, controls us. Like any other demon, our names are our weakness."
Smith's anger didn't subside, but it veered in a different direction. "You mean you're slaves."
"No. We enter into a bargain with the wizard, to do his will in exchange for our chance at body and mind."
Smith frowned. "So you were forced to use the fire gem?"
"I was forced to bring it with me. To deploy it. But I was supposed to sleep with the prince and use the fire gem to capture his soul, enslave him to Yashar's will. But I was weak." Flames leaped in the depths of Hashim's near-black eyes. "I didn't sleep with the prince."
Smith struggled to swallow, feeling as if ice coated his throat. "You slept with me."
Hashim nodded. "Yes."
"So you tried to use my true name to capture my soul, enslave me?"
"No, I explicitly did not try to capture your soul. Why do you think I left, you asshole?"
"I notice you didn't tell me your name."
"I couldn't." Hashim shrugged. "I don't know what it is."
Smith rubbed his temples, a headache starting to build from the base of his horns. "But when he conjured you—"
"He named me, but he enclosed my name in an artifact—what, I still don't know. For the pact to remain intact, he must keep it hidden from me because if I should ever learn my name, I would be—"
"Free?"
Hashim smiled wryly, shaking his head. "Loose. At large. Subject to the ILE laws regarding rogue demons."
"Okay, yeah. That sucks. But why in blazes didn't you tell me about the fire gem before I told you my name?"
"I didn't ask you for your name. If you'd kept your mouth shut, the gem wouldn't have activated."
"You—" Smith scrubbed his hands over his face. "Okay, that's fair. But you still should have told me about the fucking gem."
"I… forgot."
"You forgot?"
Hashim pushed himself off the wall, glaring at Smith. "How was I expected to think when you were doing… you know."
Heat flared in Smith's chest, and he could tell it reached his eyes because Hashim's breath caught, just as it had that night. "I'm not sure I do know. Maybe you should refresh my memory."
About E.J.!
E.J. Russell–grace, mother of three, recovering actor–writes romance in a rainbow of flavors. Count on high snark, low angst and happy endings. 
Reality? Eh, not so much.
E.J.'s paranormal romantic comedy, The Druid Next Door, was a 2018 RITA® finalist. She's married to Curmudgeonly Husband, a man who cares even less about sports than she does. Luckily, C.H. also loves to cook, or all three of their children (Lovely Daughter and Darling Sons A and B) would have survived on nothing but Cheerios, beef jerky, and Satsuma mandarins (the extent of E.J.'s culinary skill set).
E.J. lives in rural Oregon, enjoys visits from her wonderful adult children, and indulges in good books, red wine, and the occasional hyperbole.
Connect with E.J.: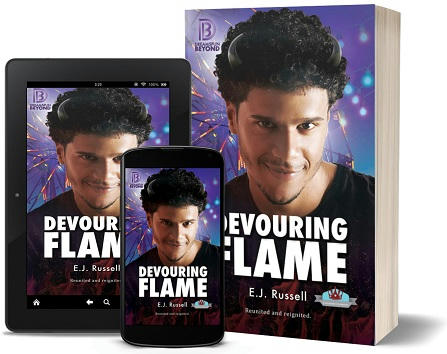 Giveaway!
Win a $25 Dreamspinner gift card plus one of E.J.s backlist titles!
(Just leave a comment on this post)
Winner will be one commenter (chosen at random across all the tour posts) at the end of the tour.