Hi guys! We have M.A. Church popping in today with her upcoming release Dragon's Hoard, we have a short guest post from M.A. and a great excerpt, so check out the post and enjoy! <3 ~Pixie~
Dragon's Hoard
by
M.A. Church
To be loved by a dragon is to be treasured.
A hundred years ago, werewolf Alpha Montgomery took a risk driven by desperation—he borrowed money from the ancient dragon Warwick Ehecatl, putting up the pack lands as collateral. Now the debt is due, and dragons don't forget— Or forgive. Warwick demands Montgomery's son, Avery, and three businesses as compensation. As an Omega, Avery knows he is basically useless to his pack, so he might as well agree. He soon has second thoughts, though. Warwick is fearsome, and he's free to do as he likes with Avery.
Warwick knows his race's reputation, and he even admits some of it is deserved. But he'd rather cut off his tail than let his innocent mate's light go out. It won't be easy, but buried deep, there's something between them worth safeguarding.
M.A. Church!
Hey everyone! I'm M. A. Church, and I'm here to talk about my latest release, Dragon's Hoard from the Dreamspun Beyond line at Dreamspinner Press. When I first heard Dreamspinner was opening a new house line featuring paranormal themes, I was beyond excited, lol. Paranormal and science fiction is what I normally write, and, after reading the guidelines, I knew I had to do this.
But what to write posed a bigger question. It wasn't long before an idea blossomed. I love shifters but also wanted to tackle something I hadn't done before: dragons. Dragon's Hoard is a combination of a couple of themes I love, but Beast and the Beast is of the main ones. Avery, in his werewolf form, is simply gorgeous. But as an Omega with a talent that is basically useless, what good is beauty? Warwick, on the other hand, is fearsome to behold… and he knows it. But as a species who is known to be arrogant, egotistical, and cold, what good is his hoard of money when it comes to matters of the heart?
I had a blast writing these two, especially since they were determined to toss preconceived notions out the window!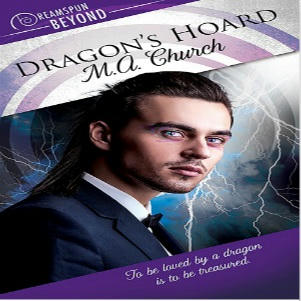 Excerpt!
"By all the gods, is that a—?"
Avery frowned. A what? Then someone screamed and he jumped. The increased heartbeats of his fellow pack members inside the parlor hammered relentlessly at him. Okay, that was a little disconcerting. Then the tinny stench of fear drifted out to him. Fear? Forget disconcerting. Now he was flat-out worried. There was very little werewolves feared. Broken pieces of conversations, anger, and waves of distress overwhelmed him. Maybe he should get back in there, although he wasn't sure what he could do to help—not that he would be allowed to anyway.
"Silence!"
The roar hit him like a sonic boom. His knees went weak, and he grasped the deck railing to keep himself up. Power, unlike any he'd ever felt, rolled over him. Oh gods. He closed his eyes, trying to rein himself in.
As he adjusted, he noticed something else. That roar—so masculine, low, and growly. It sank into his very bones. His cock perked up and his claws came out, digging into the wood of the railing he so desperately held.
He pried his eyes open. Confusion hit him. His breathing spiked. This wasn't a weaker wolf reacting to one more powerful. No, it was something else. Something he'd never experienced before. Didn't matter, though. He wrestled his body under control. He refused to be the weak-willed Omega everybody assumed he was.
Once his breathing leveled out, he noticed the silence. The nighttime sounds he was so familiar with were glaringly absent. There was no prey scuttling across the dead grass and decaying leaves. No predator stalked on stealthy feet. There was nothing.
About M.A.!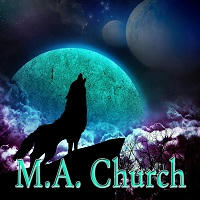 M.A. Church is a true Southern belle who spent many years in the elementary education sector. Now she spends her days lost in fantasy worlds, arguing with hardheaded aliens on far-off planets, herding her numerous shifters, or trying to tempt her country boys away from their fishing poles. It's a full time job, but hey, someone's gotta do it!
When not writing, she's on the back porch tending to the demanding wildlife around the pond in the backyard. The ducks are very outspoken. She's married to her high school sweetheart, and they have two grown children.
She is a member of Science Fiction and Fantasy Writers of America.
:: Blog :: Facebook :: Facebook Page :: Twitter :: Amazon Page ::