Hi guys! We have Andrew Grey popping in today with his upcoming release Fire and Flint, we have a short guest post from Andrew and a great excerpt so check out the post and enjoy! <3 ~Pixie~
Fire and Flint
by
Andrew Grey
Jordan Erichsohn suspects something is rotten about his boss, Judge Crawford. Unfortunately he has nowhere to turn and doubts anyone will believe his claims—least of all the handsome deputy, Pierre Ravelle, who has been assigned to protect the judge receiving the threatening letters. The judge has a long reach, and if he finds out Jordan's turned on him, he might impede Jordan adopting his son, Jeremiah.
When Jordan can no longer stay silent, he gathers his courage and tells Pierre what he knows. To his surprise and relief, Pierre believes him, and Jordan finds an ally… and maybe more. Pierre vows to do what it takes to protect Jordan and Jeremiah and see justice done. He's willing to fight for the man he's growing to love and the family he's starting to think of as his own. But Crawford is a powerful and dangerous enemy, and he's not above ripping apart everything Jordan and Pierre are trying to build in order to save himself….
Will their fledgling romance dissipate like fog in the sun before it has a chance to burn bright?
Andrew Grey!
I don't really know where the inspiration for Fire and Flint came from because I don't really know.  Sometimes a story just comes to me and I have to hold on tightly when it does.  This is one of those stories.  I was talking to my editor on the phone and she asked me what was next. I had no idea so I started talking and within half an hour, Fire and Flint had come to me.  Just like that, I'd talked myself in a great story.  This is the first in a Carlisle Cops spinoff series, Carlisle Deputies.   You'll see many familiar faces and meet some amazing new ones. 
Dominic once told me that I seemed to have a well of stories inside me, but I prefer to think of it as a spring.  Stories bubble up and take form and life in the light of day and sometimes it just takes a conversation… and sometimes a little pressure… for them to see the light of day and then my job really begins, shaping and writing it down. 
Excerpt!
The last place Jordan wanted to be was sitting at his desk outside Judge Crawford's chambers, but there he was. He'd taken Jeremiah to his mom's and kissed his still-warm forehead before leaving. His fever had spiked once during the night, and then he'd thankfully cooled off after a little while and slept through the rest of the night. This morning he'd said he was hungry, so that was a good sign. Still, Jordan would rather be with Jeremiah than here. But there was no way he could do anything out of the ordinary. There was way too much at stake.
"How's Jeremiah?" Pierre asked as he came in, causing Jordan to jump nearly a mile.
He took a deep breath to try to cover it. "He's doing better." Jordan smiled and looked up from the file he was printing. He needed to make sure everything was set and on his desk for the day. Jordan's fingers shook a little as he typed, and he glanced over at Pierre. "Shouldn't you check out the room and make sure everything is safe… or something?" God, all he wanted was for Pierre to not be standing there looking at him or he'd start to sweat. First, because Pierre was hot as hell and just looking at him sent ripples of heat racing up and down his spine. Secondly, he liked Pierre. He was a nice guy who had come to his rescue last night, taking him and Jeremiah to the hospital and making sure they were okay. But third, he was freaking out, and that trumped everything.
Jordan wasn't sure who he could trust. He needed this job, and he needed to not rock the boat so he could get Judge Taylor to finalize Jeremiah's adoption. Nothing else mattered other than making sure the little boy who had taken up residency in his heart and home got to stay there.
"There's no need to be nervous or anything," Pierre said, watching him intently.
"I'm…." Jordan pushed back his chair. "Hell, I don't know what's going on, okay? I just need to get this done before the judge gets in. I don't know anything, and I'm not involved in anything." God, he had suddenly become infected with a case of verbal diarrhea. He needed to shut the hell up and get back to work.
Heavy footsteps sounded outside the door, and Jordan returned his attention to his computer and printed the last of the case documents. Somehow he managed to get the documents together and on his desk just as the judge walked in.
About Andrew!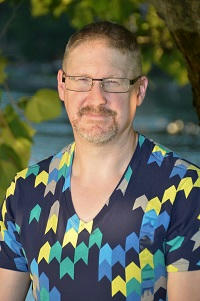 Andrew grew up in western Michigan with a father who loved to tell stories and a mother who loved to read them. Since then he has lived throughout the country and traveled throughout the world. He has a master's degree from the University of Wisconsin-Milwaukee and works in information systems for a large corporation.
Andrew's hobbies include collecting antiques, gardening, and leaving his dirty dishes anywhere but in the sink (particularly when writing)  He considers himself blessed with an accepting family, fantastic friends, and the world's most supportive and loving partner. Andrew currently lives in beautiful, historic Carlisle, Pennsylvania.
Author Links
Amazon Author Page | Barnes and Noble Page | Dreamspinner Press | Facebook | Facebook Group All the Way with Andrew Grey | Goodreads | Twitter  | Website