Hi guys! We have Kelly Haworth popping in today with her new release Gotta Catch Her, we have a great excerpt and a brilliant $10 NineStar GC giveaway so check out the post and enter the giveaway! ❤ ~Pixie~
Gotta Catch Her
by
Kelly Haworth
Who says phone games are only for kids? Sometimes they give just the respite you need from a hectic life. At least, that's the way Ann feels about Ani-min Move, an AR mobile game full of cartoon animals caught with nets. Legendary raids have just launched, and Ann arrives at a nearby park to find it full of people of all ages playing the game, including Rachael, a kind, attractive single mom. And sweet! Rachael is more than willing to teach Ann the proper way to spin her nets to snag the raid boss.
Back in reality, Ann has a lot on her plate: a full workload as a project manager, finding the energy to walk her dog, Franny, and now trying to figure out if Rachael is queer. And how does Ann converse with Rachael about her six-year-old son when she doesn't know a thing about parenting?
Ann is lost as to how to proceed until Rachael takes the guesswork out of the equation by proclaiming she's bi—right when Ann gets a massive work assignment that consumes way too much of her time. Life/work balance was never Ann's forte, but between caring for her sweetheart dog and figuring out how to navigate a relationship with a single parent, Ann's determined to make it work, especially before Rachael gets cold feet and leaves Ann playing by herself.
So, collect those ultra-nets, Ann. Can you catch her?

Excerpt!
Gotta Catch Her, Kelly Haworth © 2019, All Rights Reserved
Why did Ani-min Move have to launch new features on a weekday? The last thing I wanted to do when I got home from the office was immediately drag my ass back outdoors.
"I'm tired, Franny," I said, putting my feet onto the coffee table, relieved to have them out of the little heels that were the curse of business casual. Frances cocked her head at me, her fluffy ears going askew. "But it looks like they're launching legendary raids, and I am not missing that."
After starting the update to my Ani-min Move app, I put down my phone while the update installed. Franny lowered her head to her paws and whined.
"I know, I know. A walk would be better than the apartment's dog yard."
Who knew eight hours at a desk would be so exhausting? But doing the same thing every day really grated on a person. Make sure this client has their order placed correctly. Keep that project running on time. Figure out why supplies are delayed. So much communication, so much organization, so much waiting.
I ran my fingers through my brunette hair, scratching my scalp and enjoying the ten seconds of silence.
At least, until Franny barked.
"Okay, honey. Let me get out of these slacks."
I pushed myself to my feet and strode across the living room, wincing at the tumbleweeds of golden retriever fur under the kitchen table. This is why I'm single, I berated myself. Not that there'd be anyone datable over to see it, especially with my reluctance to use dating apps. And Sacramento was a big city, but dating was intimidating enough for me to hesitate in visiting downtown's gay clubs. Besides, what would I wear?
I stripped out of my slacks and blouse, tossing them into the pile slowly accumulating on one side of my bedroom, and pulled on my comfy stretch pants and a bright pink tank top.
Oh, it was so tempting to collapse onto my side of the bed—avoiding the piles of fur where Franny slept on her side—and browse the internet or read until I fell asleep.
But that was one of the many reasons why I had Frances. Personal accountability. She got me out of the house every day, kept me walking and breathing fresh air.
"Okay girl, where's your leash?"
The scramble of nails on the fake hardwood floors echoed down the hall as Franny dashed into the kitchen where she likely took position expectantly beneath the row of hooks for her leashes. I pushed feet into worn tennis shoes and picked up my phone. The update was complete, and I reopened my app, tapping past the screen welcoming me and advertising the new raids. The legendary cat Felesana would show up at local parks for me to battle with my friends! Yes, I got it. Show me where the closest one is. I brought up the augmented reality map, my character standing in the middle of the block my apartment complex resided on, and I tabbed over to the nearby raid window.
Franny let out a whine to remind me I hadn't put on her leash yet, so I obliged her and giggled as her excitement ramped up from an eight to a twenty, all wagging tail and lolling tongue and shivering with eagerness.
"Honey, I'm so glad it's this easy to make you happy."
Heaven knew how hard it was to make people happy. "Where's the product I ordered"—"Annabel, your surveys have come back less than perfect"—"I'm sorry, I can't date a lesbian who used to date men"—
Yeah. I loved Franny. Dogs were woman's best friend too. Not just man's.
I grabbed my phone and my keys and gave Frances a pat.
"Looks like one of these big kitties is at the park three blocks away. Let's go do our first legendary raid, girl."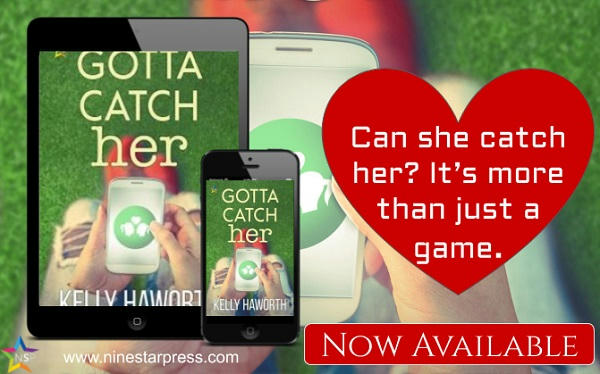 About Kelly!
Kelly Haworth grew up in San Francisco and has been reading science fiction and fantasy classics since she was a kid. She has way too active an imagination, thus she channels it into writing. Kelly is genderfluid and pansexual, and loves to write LGBTQIA characters into her work. In fact, she doesn't know if she's ever going to be able to write an allo-cishet couple again. Kelly has degrees in both genetics and psychology, and works as a project manager at a genetics lab. When not working or writing, she can be found wrangling her two toddlers, working on cosplay, or curled up on the couch with a good TV show or book.
Connect with Kelly:
Website | Twitter | Facebook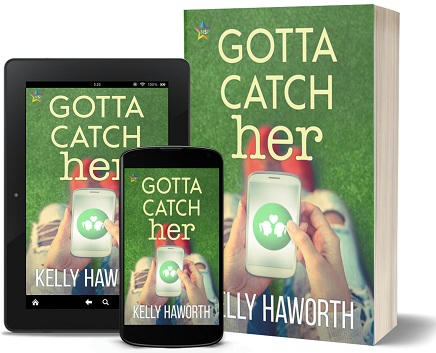 Giveaway!
One lucky winner will receive a $10.00 NineStar Press Gift Code!