Hi guys! We have G.R. Lyons stopping in today with the tour for his new release Ice On Fire, we have a brilliant guest post, a great excerpt and a fantastic giveaway so check out the post and enter the giveaway!  ❤ ~Pixie~
Ice On Fire
(Treble and the Lost Boys 01)
by
G.R. Lyons
Zac Cinder is on the verge of making his dream come true. His punk rock band, Inferno, might have a shot at an audition for a record deal. Fame and fortune would mean he could finally help his parents. They'd raised eight kids in a loving household while barely scraping by, so Zac is determined to give back in any way he can.
Keeping Inferno together, though, means keeping his biggest secret. His bigoted bandmates would drop him in an instant if they found out Zac was gay.
Then he meets Adrian Frost, and Zac can't resist the shy man. Adrian gives up everything to be with Zac, but Zac can't bring himself to do the same. He doesn't want to lose Adrian, but he can't give up Inferno, either. Not when he's so close to realizing his dream.
When one cruel decision rips Adrian from his life, Zac will have to decide if ambition is worth the price of the greatest happiness he's ever known.
(Note: This story takes place in a fictional world, the same as in the Shifting Isles Series. There are multiple gods, different names for the days of the week, etc. A glossary is included.)
WARNING: Contains scenes of self-harm that may be disturbing for some readers.
G.R. Lyons!
Building My Own World
When I decided that writing within the real world was too confining and decided to create my own fictional world, I had no idea what I was in for. The prospect of just making it all up sounded so exciting and freeing. And it still is.
But I was completely blindsided by just how much work it requires.
Countries. Governments (or lack thereof). Customs. Religions. Holidays. Clothing (or lack thereof—a tropical culture in my world was pretty much screaming for nudity). Technology. Patterns of speech. Geography. Architecture. The list goes on and on. So many little details, and though I'm already thirteen books into the Shifting Isles world, there are still parts of it that I'm making up as I go.
Which was my first mistake. I should have sat down and put together a Series Bible a long time ago in order to pin down specifics of the world, as well as a more thorough timeline and family trees. Doing that now is an exercise in extreme patience, playing catch-up, as it were, having to go back and make sure I haven't contradicted myself anywhere. Slowly but surely, I'm putting together character family trees, a proper record of the world's timeline, and even trying to flesh out a sort of wiki so that I can keep everything organized and connected. Thanks to a local fan, I may even have a world map in the works, which would be really exciting. I could finally see my little world take shape.
Another problem was that I got so absorbed in my own fictional world that I didn't consider how much would need to be explained when it came to side projects that cater to a different audience.
When I wrote and released the Matchmakers trilogy (m/m romances set in the Shifting Isles world) in 2016, it never occurred to me until it was too late that the m/m audience would not necessarily have read my main Shifting Isles series, and that trilogy only had hints of worldbuilding in it, so it left people confused. Understandably so. For the most part, Matchmakers reads very contemporary because the cities in which it is set are very similar to our modern world, with only small details here and there to indicate the story takes place anywhere other than the real world, particularly: certain technologies (such as advanced medical scanners and autopilot cars), Elliden Crawford's paranormal abilities, and Bryan Landry's immunity to all STDs thanks to his genetic makeup.
Lesson learned, I wanted to make sure that, with my new trilogy, Treble and the Lost Boys, the worldbuilding was more prominent in the stories. So, without further ado, here is a sample of that with an excerpt from Ice on Fire (Treble and the Lost Boys, Book 1).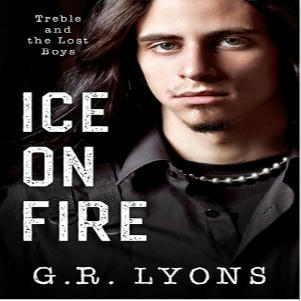 Excerpt!
Zac alternately tapped on the steering wheel and ran through some vocal exercises while he drove, hoping to help the time go by faster. His fusion group, Treble, had a standing performance every other week at Underground, a swanky lounge in an upscale apartment building that the rich, famous, and aspiring citizens of Morbran City called home.
Of course, it was difficult to call Frost Estates a building, per se. Sure, there was the elegant two-storey structure above ground, containing various apartments. The level below ground, in what would traditionally be considered the basement, was taken up by the building's service staff and supplies—maintenance, maids, and whatnot—as well as Underground, the lounge offering entertainment, drinks, and meals, the latter of which could be ordered by and delivered to the building's residents.
But the real marvel of the structure went farther down.
Over six-hundred years ago, before the Breaking of the World, the land on which Frost Estates currently sat had been Ceynesian farmland, part of an estate belonging to Gabriel Morbran, Viscount Denmer. When the gods broke the world, though, and the single, original landmass was split into the eight Isles that currently existed, the viscount's land was divided in two. One half remained part of Ceynes, while the other—the half on which the viscount had been during the Breaking—became part of the new Isle of Agoran, leaving a sheer cliff as the new northern border of his property.
Rumor had it that Morbran Hall, the viscount's residence, had been severely damaged in the Breaking, and that Frost Estates was built onto the Hall's original foundations, putting the structure right at land's end, giving the north-facing apartments an expansive ocean view.
But the apartments below Underground were even better.
Built out from the face of the cliff and accessible only by an elevator that traveled down the distance of ten floors, individual and entirely unconnected apartments boasted incredible views along with total privacy. Sharing neither walls nor floors and ceilings, the city's elite could enjoy glamorous living without ever being aware of their neighbors. In a twist from the norm, it wasn't the highest floor but the lowest that commanded the greatest rent and prestige. Living in the lowest apartment down the cliff face was supposed to be like living directly on the water, the floor-to-ceiling windows allowing not just ocean views but the soothing sound of the waves when the windows were open.
Those cliff-face apartments were the only structures in Morbran City that didn't strictly follow the original Ceynesian architecture of the town. The engineering marvel utilized more sleek, modern design. Sharp lines. Lots of windows. Nothing like the storybook, old-time feel of the rest of the town, which boasted cobblestone streets, vibrant gardens, and not a single structure over three storeys tall. The whole city seemed almost magical in a way, maintaining an Old World feel while still playing home to some of the Isle's most advanced technologies, courtesy of its brightest and wealthiest residents, many of whom lived right there in Frost Estates.
Zac couldn't even dream of ever owning one of the glamorous apartments in that building, but he didn't care. He was doing what he loved, and that was enough. Just being able to have his talent appreciated was better than any riches he could imagine.
If he could have a little more money, though—at least enough that he could afford to help his parents—that would be something.
About G.R!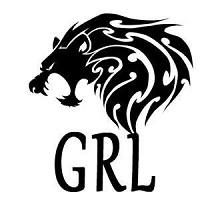 While daylighting as office manager for the family auto repair business, G.R. Lyons can often be found working on one of multiple manuscripts or desperately trying to keep up with the TBR pile.
Anarcho-capitalist, quietly 'out' trans guy, former belly dancer, coffee guzzler, highly-sensitive introvert, CrossFit enthusiast, and lover of m/m romantic fiction.
.
Facebook | Twitter | Goodreads | Pinterest | Amazon | Email: grlyons@grlyonsauthor.com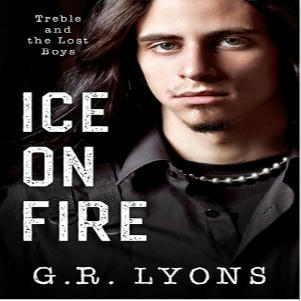 Giveaway!
Win a Ebook of Ice On Fire!

Check out the other blogs on the tour!