Hi guys! We have two authors and their books to introduce today as NineStar Press begins their Halloween Collection so first up is Mark Lesney and his new release Interview with the Kevin, we also have Sydney Blackburn and her new release Trick or Treat, we also have excerpts from both releases and there's a fantastic giveaway! So guys check out the post and enter the giveaway! <3 ~Pixie~
Interview With The Kevin
by
Mark Lesney
Danton is a 1200-year old vampire, blinded by the Medieval Church, who makes his life as a paranormal romance novelist. He writes about a vampire detective and "pretends" to his fans to be a vampire himself. But book sales are down because he has been without love for over 30 years and just doesn't have that spark of romance left in him. Until he meets Kevin, a disbelieving young man, desperate for a job, who is brought in by Danton's agent to try to lighten up his life and heat up his prose.
Trick or Treat
by
Sydney Blackburn
Drew hates labels, but loves Halloween and he wants a trick-or-treat of his own. At his mother's​ to deliver emergency candy, she has him get the door in his gender-bending costume. The handsome man with the little trick-or-treater would be Drew's perfect treat.
David's attraction to Drew is no trick. He wants the whole Drew, in all his unlabeled glory, making Drew think this could be a treat that lasts long past the holiday.
Excerpts!
Interview with the Kevin, Mark Lesney © 2017, All Rights Reserved
"I'm immortal. It's something to do," I said.
I felt the vibration of it in the room, as well as heard Diana's exaggerated sigh. "In a way, that's what I have to talk to you about," she said.
"You're not trying to fix me up again with the blood of another damned 'twink' as you called it! Crystal meth and marijuana! Gag!"
"You know this isn't going to work. At least that otter or was it bear creature's blood you brought over tasted fresh and pure. But that pint they drained for me from that 'muscle jock' was bitter. The aftertaste of steroids and EPO stayed with me for days. Like saccharin in my tea!"
What I didn't tell her was that, in both cases, the simple taste of the blood from a human male, even drunk through a tube from a plastic donation bag, gave me a raging hard-on. Something I hadn't otherwise felt, except in dreams, for over thirty years. I was suspicious that she knew the effect it would have on me, and that's why she insisted I try drinking blood from men again. For research purposes…she said. Just to see if it would help inspire me.
Well, I didn't want to be inspired that way anymore. I'd had enough.
"Well, at least the blood was all HIV negative. You didn't have to taste a cocktail or Truvada in their blood."
She stood back startled as I leaped from my chair before I even realized it. Years of practice, the warmth of her perfume, the double mocha latte on her breath made her perfectly "visible" to my sense of smell and taste as I placed my face exactly two inches from her own. And grinned with fangs.
"I bless the cocktails, for their sakes," I said in a hollow voice, almost quivering with anger. "You will not speak against them." I was fully my intimidating best.
She only sighed again. "I really am sorry, Dan. I can't imagine how horrible it was for you. I don't like to think about what you and mother have told me about that time."
So much for trying the big bad vampire routine on her… I backed away from the discourtesy of my looming over her and bumped backward into my desk. I wasn't paying attention to anything but her now and my memories.
"Stick to Danton," I said, "even when we're alone. If I'm going to be the grand vampire romance novelist, then I have to keep up the part." Besides, I hated being called "Dan." It was too close to Danny…Danny Boy. That's what Eddie had always called me. After that stupid song.
"All right, Danton. But really, no one knows, much less believes, you're a real vampire. Except maybe that small cadre of mad fans. The rest all think it's just shtick for the book conventions and the signings."
"It's served me well," I said, glad that most people didn't really believe I had served in the court of Charlemagne. Who was an asshole, by the way, in case you were wondering. That was the only thing that the musical Pippin got right.
"My persona is a perfect aspect of my craft," I insisted. "Your mother and I honed it to perfection." And being a vampire novelist had allowed me, for the first time in several centuries, to revert to my real name. And go out in daylight. Or rather public. I did dislike the daylight.
Skin rashes. Easy sunburn. Easily dehydrated and overheated. But none of that bursting into flames. Though that one weekend at a tropical beach vacation in Fort Lauderdale that Eddie had insisted upon made me wish I could catch fire and just get it over with. Ah. The itching… You'd think it would heal almost instantly like everything else…but…no.
"Your vampire persona may have served you well before, but not so much anymore. We made a mistake."
"What mistake?"
"Your books aren't selling. At least not the new ones. I…I could only get a straight to eBook deal with this last one. A print run only if it sells enough to make it worth the gamble…"
"What!" My fury echoed through the house and the sixteenth-century porcelain figurines on my mantelpiece rattled with the volume. I might not need to breathe, except to talk, but I did have a supernatural set of lungs and larynx.
"It was a mistake—thinking we'd have you get all young again and let it leak that the original Danton had retired and that you were now his son taking over the reins. Nobody likes an old vampire, do they?"
Trick or Treat, Sydney Blackburn © 2017, All Rights Reserved
I wasn't as confident as the precise click-click of my heels on the floor of the almost empty store suggested. It wasn't that I was uncomfortable being nearly naked in general—as a part-time model I'd lost whatever self-consciousness I might have had. It was because, along with the sassy black stilettos, I was wearing a pink-and-white calf-length tutu, cheap green fishnet stockings plucked from the dollar store shelves for just this occasion, and not a stitch more below the waist. The underbust corset I was wearing just seemed to make my bare chest more obviously masculine, though it was cold enough I had thrown on a jacket—a horrendously shaggy jacket of six-inch long fake fur dyed muddy pink and nicotine yellow.
Halloween was a free pass for tacky and tasteless outfits, granted, but this was a little much for the PharmaSave in suburban Stellarton.
I had been deciding what to wear to the Numbers Halloween party and this, of the many options strewn on my bed, was what I'd been wearing when my mother called for an emergency candy run. I wasn't sure this would be my costume for the night, but Mom still lived in Royton Park, which used to be a separate community. If I was going to be at the club early tonight to get first dibs on any hot deliciousness, I might not have time to go back home and change. At least the tutu and the dusky pink silk brocade of the corset didn't clash with the candy-floss pink and pearlescent white swirls of the nail polish on my fingers and toes.
Casual hookups weren't my style as a rule, but my last relationship had broken up after barely six months and I was feeling unloved and unwanted. Tonight, my most favourite night of the year, I wanted to feel special.
The candy shelves had been ravaged to near emptiness, and I just grabbed what they had left. Served Mom right, sending me out last minute like this. The woman behind the cash register had a weathered face and a full head of short gray hair.
She gave me a double take, and then a third as she rang up the candy. "What are you supposed to be?" she asked, as if she didn't really want to know but couldn't stop herself from asking.
I grinned. "Can't you tell? I'm a fairy." I grabbed some tulle—carefully—and dropped a curtsey.
A laugh escaped her as she put the receipt in the bag. "This is for you," she said, handing me a miniature Kit Kat. "I kinda love the tutu."
I was still smiling when I got my car. Making sure all the tulle was inside, I pulled the door closed. "I hope you appreciate how much I love you, Mom."
I'd been lucky, growing up. I'd never had to come out as I'd never really been in, thanks to her. She called me Drew, like everyone else, most of the time, unless she was angry. Then I was Andrew Lewis Urquhart, with an exclamation point. Or if she was feeling silly and I was looking particularly feminine, she'd call me Andrea in a teasing voice. The only label I'd grown up with was "freak" from my beloved school peers. I knew that was a privilege few others had.
I was feeling the nostalgia when I pulled into the driveway. Halloween was Mom's favourite time of the year, too. She let me pick my costume every time. Oh for the days when there were no differences between girl bodies and boy bodies, and I could be Wonder Woman without radical sewing modifications. Although growing up with a fondness for wearing women's clothes had taught me to sew, which in turn led me to where I was now.
Apprenticed at the Design Collective, I mean, not my mother's driveway.
Since there were no kids there at the moment, I grabbed the bag and walked up to the front door. I knocked and called, "Delivery!"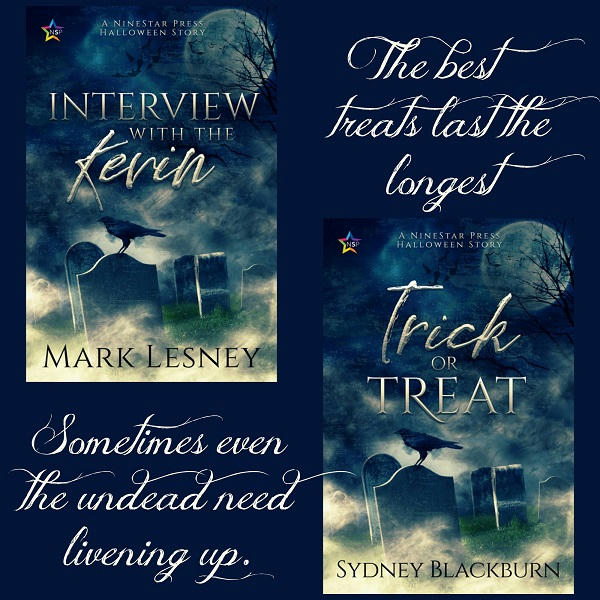 About Mark!
I am a single gay man of a certain age, living with the obligatory cat. My only fiction credential before "Interview with the Kevin" is a semi-comic steampunk M/M romance novelette, "The Golden Goose," published in the "Steamed Up" anthology, sadly now out of print. My non-fiction writing credits, however, are extensive. Currently, I am the managing editor of two medical newspapers, for which I also write routinely. For over 6 years my science and history articles appeared monthly in two newsmagazines, for which I was a writer/editor at the American Chemical Society. My credits also include science articles published in Analog Science Fiction/Science Fact. I have a PhD in plant pathology and a second PhD in the history of science. I have worked as a research scientist and university professor. But my love has always been reading and writing fiction—with science fiction/fantasy, mystery, paranormal romance, and historicals all grappling for my affections. I am now determined to pursue that dream intensely.
About Sydney!
Sydney Blackburn is a binary star system. Always a voracious reader, she began to write when she couldn't find the stories she wanted to read. She likes candlelit dinners and long walks on the beach… Oh wait, wrong profile. She's a snarky introvert and admits to having a past full of casual sex and dubious hookups, which she uses for her stories.
She likes word play and puns and science-y things. And green curry.
Her dislikes include talking on the phone, people trying to talk to her before she's had coffee, and filling out the "about me" fields in social media.
Besides writing, she also designs book covers for poor people.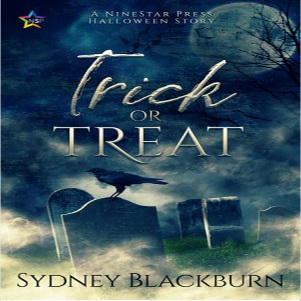 Giveaway!
One lucky winner will receive the complete ebook collection of Halloween stories from NineStar Press!