Hi peeps! We have Lane Hayes popping in today with her new release Leaning Into Touch, we have a brilliant guest post, a great excerpt and a fantastic giveaway so check out the post and enter the giveaway! <3 ~Pixie~
Leaning Into Touch
by
Lane Hayes
Josh Sheehan is unlucky in love and now… newly unemployed. He's not sure what to do next, but he's sure he should give up on romance. Especially after last time. His friends warned him that falling for the hunky Irishman was a bad idea. Josh can't help feeling torn even though he knows it's best to move on. But when an unexpected dose of family drama blindsides him, Josh finds himself leaning on the one man he's supposed to forget.
Finn Gallagher is driven by success. He makes no secret that building a name for his tech company is his number one goal. Finn left home a decade ago with a ton of regret, a heavy heart, and a vow to never repeat the same mistake twice. However, there is something undeniably appealing about the self-deprecating man with the silly sense of humor that makes it difficult for Finn to remember why falling for Josh is a bad idea. It soon becomes clear they're both in deeper than they intended. There is no way to remain untouched. And there is so much to gain, if they're brave enough to lean in.
Lane Hayes!
Leaning Into Touch is finally here! I can't tell you how excited I am to introduce more stories for my San Francisco boys. My newest series explores the lives of a tight-knit group of college friends living in the city. This one belongs to Josh who's at a low point when he loses the job he loves on the same day he runs into the man he'd hoped was "the one" a year after they'd parted ways. The sexy Irishman is funny, kind but he has secrets he guards well. When they meet again, the attraction is stronger than ever but this time, the walls are a bit shaky. One shared secret begins a new journey toward a second chance.
Josh and Finn's story explores friendships, family and forging a new path with humor and sometimes tears. There's something about the juxtaposition of strength and vulnerability I find appealing as a reader and a writer. They are multi-faceted aspects of human nature that draw us in or make us cautious to approach. We can have relationships with people, but restrict access to the pieces we don't want them to touch. We all do it to some degree. So how very special it is to find someone you trust with every little detail?
Some characters are easier to access for an author than others. Josh is so real to me. He's silly, self-deprecating but smart as hell. And he has the biggest heart. He loves his friends and family with a ferocity I can't help but admire. Even when they shock him and reveal pieces of themselves that leave him feeling unsure, he finds a way to learn and grow and if possible, to love even more. Ultimately, it's what makes him the perfect match for Finn. *Cue dreamy sigh…
Leaning Into Touch is Book 4 in the series. The first two are short stories and the next two, including this one, are full-length. They are all standalones so don't worry if you read them out of order. Hopefully, it'll just make you curious about the other boys!
Thank you so much for having me here today!
Happy Reading,
Lane Hayes xo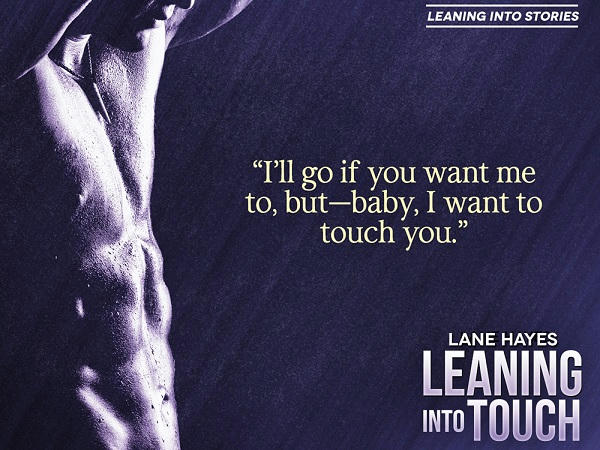 Excerpt!
Finn smiled and fell into step beside me. It seemed quieter on the street than it was earlier; there wasn't as much foot traffic. Typical for midweek, I supposed. I breathed in the refreshing night air, loving the faint smell of the ocean. I shivered and crossed my arms. So much for enjoying a leisurely stroll. It was cold as fuck out here. I picked up my pace, but Finn pulled at my elbow to stop me.
"Are you daft? Where's your coat?"
"I f-forgot it at the last bar. It's okay. I'm cl-close." I visibly shook when the wind whipped up the sidewalk, sending a scrap of newspaper flying by us like a paper airplane.
"Let's go back and get it."
"No, my friend will give it to me later. Or her friend will. I'm almost h-home so—what are you doing?"
"Put this on, then."
Finn shrugged his suit coat off and set it over my shoulders like a cape or a cloak. He was two inches taller than me and far more muscular. It was like being wrapped in his warm, cologne-scented embrace. The gesture was so chivalrous, it left me speechless for a moment. I knew he was just being kind, but I couldn't contain my smile.
"Thank you," I said. "Are you sure you won't be too cold?"
"Where I'm from, this is a summer breeze. You need it more than I do. Now tell me about your mates. I'm relieved to know you weren't out drowning your sorrows on your own tonight."
I snickered at his paternal tone. "I'm not above it, that's for sure, but no…I was with my work crew for one last happy hour. Marley insisted. She was the redhead with the awesome curls I was with this morning at the museum."
"I remember. She's the one holding your jacket for ransom, eh?"
"Yeah. She's on a mission to find the perfect man for me," I huffed, making sure he saw my eye roll before we turned the corner to my street.
"Has she ruled out women? You're bi, aren't you?"
"Honestly, I don't know what I am anymore. I had girlfriends in high school and even in college but after the first time I was with a man, I haven't been interested in anything but dick."
Finn laughed. "Good to know."
"What about you?" I asked, leading him down a brick path and up a short flight of stairs.
I leaned against the bright red door as I fumbled for the house key in my front pocket. In my head, I was planning a cinematic-worthy good-bye. Something lighthearted but sincere before we parted for the last time. It would have been a helluva lot easier to concentrate if he wasn't standing so close and looking at me like I was the last brownie on the buffet table. I cocked my head and waited for him to break the spell.
"I like it too," he said in a husky voice I hadn't heard in far too long.
I gulped and licked my bottom lip as he moved in, bending slightly to brush his nose against mine. He surrounded me in every possible way. The heat of his body and the warmth of his coat draped me in a seductive cocoon. I felt woozy with a rush of desire so intense, I would've swayed on my feet if he hadn't been standing so close. I set my right hand on his hip to steady myself and leaned in…just as he pushed away.
Finn let out a ragged breath and swiped his hand over his stubbled chin. "Fuck. I forgot how bloody difficult it is to walk away from you."
"Then don't."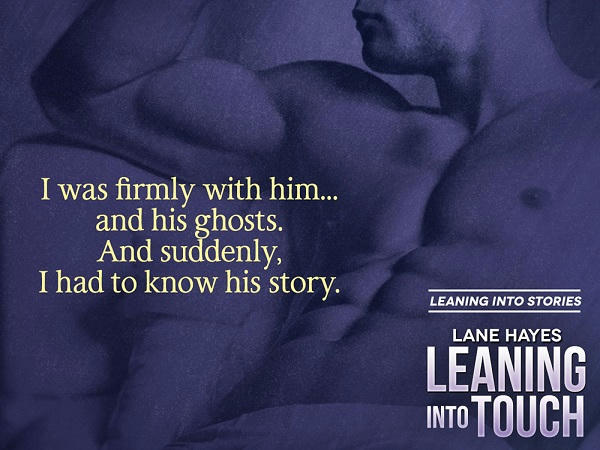 About Lane!
Lane Hayes is grateful to finally be doing what she loves best. Writing full-time! It's no secret Lane loves a good romance novel. An avid reader from an early age, she has always been drawn to well-told love story with beautifully written characters. These days she prefers the leading roles to both be men. Lane discovered the M/M genre a few years ago and was instantly hooked. Her debut novel was a 2013 Rainbow Award finalist and subsequent books have received Honorable Mentions, and were winners in the 2016 Rainbow Awards. She loves red wine, chocolate and travel (in no particular order). Lane lives in Southern California with her amazing husband in an almost empty nest.
Books by Lane Hayes:
Better Than Good, Better Than Chance, Better Than Friends, Better Than Safe, The Right Words, The Wrong Man & The Right Time, A Kind Of Truth, A Kind of Romance, A Kind of Honesty, A Kind of Home, A Way with Words, Leaning Into Love, Leaning Into Always, Leaning Into the Fall, Leaning Into Touch
Coming Soon: Leaning Into the Look
Author Links
Website | Facebook | Twitter | Goodreads | Instagram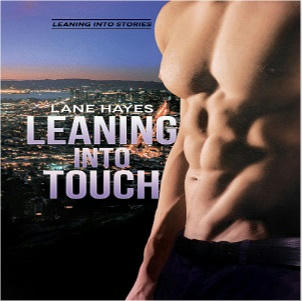 Giveaway!
Win a $25.00 Amazon Gift Card!

Check out the other blogs on the tour!