Like the First Moon Landing
Series: Roche Limit, Book One
Author: Matthew J. Metzger
Publisher: NineStar Press
Release Date: April 13, 2020
Heat Level: 1 – No Sex
Pairing: Female/Female
Length: 44800
Genre: Science Fiction, LGBTQIA+, science fiction, lesbian, intersex, trans, discrimination, mystery
Synopsis
Stranded and injured in deep space, Maggie McLean has one chance at survival—the ship drifting off her starboard side, refusing to answer her distress calls. The ship the whole universe has been looking for.
Maggie most of all.
The Swift vanished without so much as a cry for help. There have been endless conspiracy theories, from aliens to government corruption to wormholes leading to other dimensions, but one thing was certain. She was gone, with all two hundred and thirty-six crew members on board. Including Maggie's wife.
Maggie's going to figure out what happened come hell or high water—but she might not like what she finds.
Excerpt
Like the First Moon Landing
Matthew J. Metzger © 2020
All Rights Reserved
Pain.
It was the first thing Maggie knew. A dull throbbing, starting in the fat weight of her brain at the base of her skull and rippling outwards like stones into still water. There was a stabbing sensation in her shoulder, and when she opened up her lungs to breathe, they spasmed and choked.
Everything hurt.
But pain was good, as Ma used to say. Pain was proof of life.
"You and me, we're like the first moon landing."
Maggie ran through the rest of Ma's wisdom. She flexed her toes in her boots. Fingers in her gloves. Gingerly tensed her neck, and roll—
She stopped dead at the wave of intense nausea and took a moment to just breathe through her nose. Don't be sick. Don't be sick. When her stomach eased from a violent jerking to a sluggish, sinister churn, she carefully eased her hips and chest over, perfectly in line with one another, and eased into a recovery position on the metal grating.
The grating.
Urgh, no wonder she hurt. She'd been in the pilot's seat when the asteroid—or whatever it was—had hit. And belted in too.
"You'll touch down to feel a little rough ground…"
Her lungs still didn't want to breathe. The band around her diaphragm was only getting tighter. There was nothing else for it—she needed the drugs. And her medical kit was in the top drawer under the console, so she'd have to get up. Sooner rather than later.
Maggie reached up with her left arm. It was like moving through water or sludge, and her body felt almost drunk on the chaos of clamouring nerves all bidding for her attention first. She didn't dare open her eyes just yet, so groped blindly above her head. She found the bunk frame. Hell. She'd been thrown from the pilot's chair to the gap under the bunk, and she was still alive to know it. Suddenly, the pain didn't seem so bad. Better than a broken neck.
"Pain is proof of life."
She grunted and turned her boots towards the wall. Braced her feet there and swallowed against the vomit rising up through her chest and neck.
"Pain. Proof."
She pushed.
The sound of her body sliding out from under the bunk was like a landslide off Mount Olympus. The nausea won out, and Maggie shoved herself up on shaking hands just in time to throw up a gutful of stringy, pink-tinged bile onto the grating. Her stomach punched into her diaphragm like a living thing, furious and intent on revenge, and her head burst like a firework.
"—I'm…here…"
The next thing she knew, the smell of sick was in her hair and nose, and there was a damp patch on her cheek.
"Fuck," Maggie hissed and pushed away from the pool.
The blackout must have been a little while. The pain was worse, but the puddle of sick cold. The fog in her head had eased a little. She could think better. And breathe better too—mostly.
"Get it together," she muttered and cracked open her eyes.
It was dark. Blissfully, soothingly dark. The emergency lighting was a low blur of soft blue, almost comfortable, like a hot-water bottle on cold winter nights. Maggie fought to control her quivering limbs and sat down on the bunk with a thump. It jarred, a shock of pain bouncing up her spine, and she leaned forward, opening her mouth, and spat another mouthful of pink vomit into the gap between her boots.
"And you're out looking for worlds unseen."
First things first.
She was injured. That much was obvious. But no broken limbs or ribs. There might be an internal bleed in her stomach, but if there was, there wasn't anything Maggie could do about it. Her head felt like a mess though. Gingerly, she reached up and patted her hair. She had shaved her head when she'd gotten her first shutter job, and never grown it out to more than an inch or two of tight, springy curls since. Which made it easy to find the savage cut, the knotted wad of wet hair keeping a lid on it, and the near-dry fountain of blood that had gushed down the back of her neck and shoulders.
"Great," she muttered, but at least it explained the pain. Her skull felt intact. Lucky, if she'd met the bulkhead head first.
Her neck was stiffening rapidly. Whiplash. A starburst of pain kept reappearing in her shoulder joint—she'd probably briefly dislocated it when the belt had snapped and flung her across the cockpit—and she could feel, even if she couldn't see, the violent bruising all across her right side. But just bruises. A bit of bleeding. Nothing that wouldn't fix itself, given enough time.
All in all, she'd live. Probably.
"You and me, we're like the first moon landing."
So, on to the second point. Would her ship live?
Maggie was a shutter. The space equivalent to long-haul truck drivers. She piloted single-crewed transport and haulage ships between stations and colonies, on the move for weeks at a time—but at least the antisocial lifestyle attracted good pay, especially for someone without the proper papers like Maggie. She only had a B license, so she wasn't qualified to land on moons and planets yet, but she'd done her theory and was booked in for her tests on Barrane when she got back from this run. It was a lonely but very well-paid job—and lonely and well-paid was just what Maggie had wanted when she'd applied in the first place.
But lonely in space could be fatal.
Especially lonely in space on a shortcut.
If the ship was damaged beyond her ability to repair it, or she couldn't get back to the proper trade route, then she would die out here. The delivery wasn't due for another two months. And she'd been taking a shortcut through uncharted territory to make it in time after having to replace two of the solar batteries at Barrane. One more late delivery and Maggie would be fired. And she was a good pilot. She'd been flying for years on her own without any incidents at all. She could handle a measly shortcut, right?
Apparently not.
Right now, going on the credit seemed like a much better idea than this stupid shortcut. Maggie had been regretting it from that first crackling comms call.
"You'll touch down to feel a little rough ground…"
She squinted across the cockpit at her pilot's chair. The top half of the belt was still attached, the bottom half missing. The chair was crooked, but upright. All the lights on the console were flashing in random patterns, and the viewscreen was out. The comms system was blinking, waiting for her reply.
Most insultingly, the fluffy dice Sam had bought her as a joke when she'd gotten her license were gone.
"Fix it. Fix it, then find the dice."
She lurched up from the bed.
The grating spun underneath her. The cockpit was barely ten feet of space between bunk and chair, but she fell most of it. She caught at the chair with both hands, and her knees collapsed as the whiplash reminded her that falling in any way was an intolerably bad idea.
When she managed to open her eyes again, a red mist clouded her vision, and the sharp taste of iron lingered on her tongue. Her chest tightened, and the black spots of panic and oxygen deprivation clustered around the edges of her eyes.
The drawer was right there.
"…but I'm right here where I've always been…"
She dropped into the chair just as her fingers closed around the plastic tube on top of her medical kit, and that first spray in her mouth and throat tasted like foul ambrosia. At the second, she aspirated it properly and felt her chest beginning to open up again.
"…and you're out looking for—"
With a smirk, Maggie cancelled the stereo. Silence swept in, as soothing as the low light. Trust the damn stereo to keep playing even through—whatever that had been.
Purchase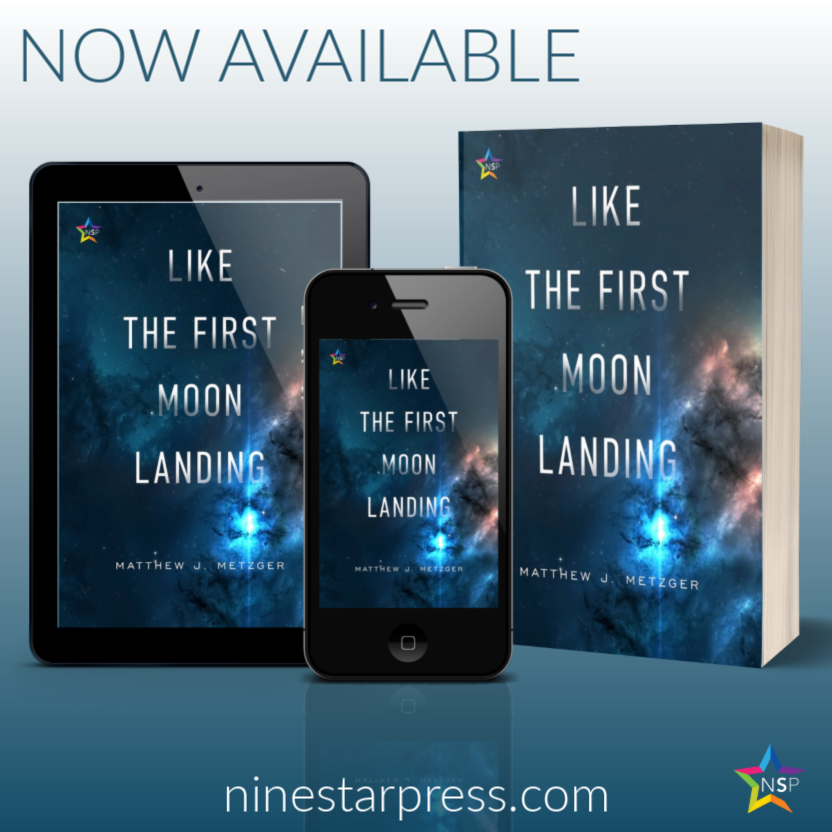 Meet the Author



Matthew J. Metzger is an ace, trans author posing as a functional human being in the wilds of Yorkshire, England. Although mainly a writer of contemporary, working-class romance, he also strays into fantasy when the mood strikes. Whatever the genre, the focus is inevitably on queer characters and their relationships, be they familial, platonic, sexual, or romantic.
When not crunching numbers at his day job, or writing books by night, Matthew can be found tweeting from the gym, being used as a pillow by his cat, or trying to keep his website in some semblance of order. You can find Matthew on Twitter.
Giveaway