Hi guys, we have V.L. Locey popping by today with the tour for her new release Lost In Indigo, we have a great excerpt and a brilliant giveaway, so check out the post and enter the giveaway! ❤ ~Pixie~
Lost In Indigo
by
V.L. Locey
Mathieu Beresford was so close to seeing his dream come true.
The thirty-eight-year-old captain of the Buffalo Surge had led his team to the final round of the playoffs with his aggressive defensive play and leadership. During the first game of the championship series, he was taken down, and his leg snapped upon impact with the boards. From his hospital bed, Mathieu watched his team go on to win it all.
Adrift in anger, resentment, and the new direction of his life, he returns to his mansion along the St. Lawrence River. Alone and sulking, Mathieu is not prepared for Indigo Neu to enter his life. The genderflux twenty-year-old botany major signs on to play nursemaid, confidant, and groundskeeper over the summer and slowly leads Mathieu out of his confusion––one tender smile and touch at a time.
The deeper Mathieu falls, the more he wonders if being lost might not be so bad after all.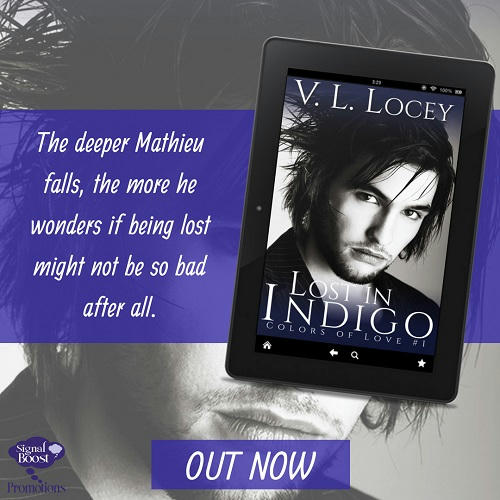 Excerpt!
WE'D ARRIVED IN ONTARIO. OR SO ARN HAD INFORMED ME. The last pill I had taken before leaving the hospital was working well. My leg barely hurt at all. I blinked away the remnants of sleep, still feeling a little loose, and looked around the plane, trying to bring reality into focus.
"We're at the airport." Arn told me again. I nodded and sloppily pawed at my face. "I wiped the drool off your chin."
"Thanks." Trying to stand was a major spectacle.
Thankfully my agent and a friendly flight attendant got me up onto the crutches I'd been given upon leaving the hospital. With Arn right behind me, I clumped along, bumping into arms and legs. I apologized two dozen times before I got to the open door of the jet. Then I looked down the stairs and groaned aloud.
"We'll get you down safely, no need to worry, Mr. Beresford," the adorable fellow at my left said. He looked precious in his little blue vest.
"You are very cute." I told him. He blushed.
"Painkillers." Arn quickly interjected into the conversation. Did I think he was cute because of the Percocet?
"Can I get a scotch and water?" I asked the cute flight attendant over my shoulder. My mouth was dry as a desert.
"I'm not sure you should be having alcohol," the flight attendant replied then joined in the clusterfuck that was getting me down the rolling stairs in one piece.
"I hate crutches." I snarled while hobbling along at a snail's pace, with Arn right beside me and my carry-on bag resting on his shoulder.
"You'd rather I get a wheelchair?"
"God no." I glanced back. "Where did the cute guy go? I like cute guys."
Arn snorted. "You really do not do well with meds.
When I tell you how you were flirting with a male flight attendant, you're going to die."
Some kid ran past, screaming for his mother, nearly knocking my stupid crutch out from under my arm. I called him something bad in French, but it sounded wrong to me.
"Did I say that right?" I asked Arn.
"Not a clue. I don't speak French. My native tongue is Detroit, remember?"
"Ah yes, you speak fluent Motor City!" I laughed aloud for some bizarre reason.
Arn chuckled the entire way to the baggage claim, which is where I first saw the grown-up version of Indigo Neu. Maybe it was the painkiller still clouding my brain, but I don't truly think it was. Indigo was the most compelling, attractive, outlandish man I had ever seen. That cute flight attendant? He was a slug in comparison to Indigo Neu. The kid had grown up well. Tall as me but much leaner, he stood beside Montclair, and while you could see the father in the son, the similarity in chins and the ebony hair were immediately cannonballed by the huge difference in appearance.
Montclair was all sturdy and a dependable workman with short black hair dressed in jeans, short-sleeved cotton shirt, and work boots. Indigo was…well, I wasn't sure what he was trying to say with his clothes or makeup. I could see he'd put on eyeliner and colored his lips. Maybe they were just outlined and that deep pink color was natural. Kissing him would reveal the truth. Suddenly I needed to plant my lips to his more than I needed to suck in another breath.
Arn said something. The guy beside him laughed. I stared.
Indigo's hair was spiked up around a small black hat. A derby I think they're called. This one had a blue-and-black checkered band that reminded me of hats the British police wear. His shirt was kind of a dress. I mean, of course it wasn't a dress because men don't wear dresses, but it sure looked like one. It was checkered like the band of his hat and hung to his knees. I had once owned a coat with that same pattern. Flannel it was. Warm. Soft. Probably like his lips…
Christ above but his mouth was perfection. I shook free of the spell his mouth held me in but fell right back into the lure of Indigo as my eyes continued touching him. There were no sleeves on his jumper dress thing, so his bronze arms were exposed. Nice arms they were, well-toned. I balanced on my crutches staring at his biceps for ages. Arn was talking to someone beside me as bags moved past.
My eyes got dry. I blinked and ran my gaze from Indigo's arms to his legs. I love nice long legs on a man and even that part of the kid didn't disappoint. His black legging shorts stopped mid-calf. He wore blue combat boots with black laces. Not getting enough info, my sight roamed back up his body and settled on his mouth. He wet his lips and a rush of pure lust hit me in the groin. I must have made a sound because Arn was now talking at me.
"Why don't you go sit down?" Arn suggested.
Montclair weaved around the throngs of people trying to find their luggage. I teetered around on my crutches, gazing at Indigo as he followed his father with a little smile dancing on those incredibly kissable lips. The closer Indigo got, the hotter the baggage claim area grew.
"Mr. Beresford, you want the boy to go get a wheelchair?" Montclair asked, his brown eyes worried. "You remember my son, yes?"
I shook then nodded my head confusing everyone as well as me. "You're cute," I said to Indigo when he arrived beside his father. A cloud of scent arrived with the youngest Neu. It was flowery like a hidden garden. I wobbled a bit as I tried to lean closer to the young man and inhale more of him into my lungs.
"Ignore him, he just said the same thing to the flight attendant. It's the pain meds," Arn said as he handed my checked bags to Montclair. I could have sworn those soulful dark eyes of Indigo's flashed with disappointment. I wanted to tell him that he was much cuter than that flight guy, but Montclair was pushing my bag at Indigo.

About V.L. Locey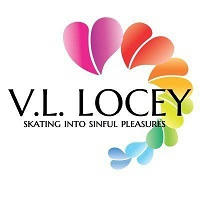 V.L. Locey loves worn jeans, yoga, belly laughs, Dr. Who, Torchwood, walking, reading and writing lusty tales, Greek mythology, the New York Rangers, comic books, and coffee. (Not necessarily in that order.) She shares her life with her husband, her daughter, one dog, two cats, two Jersey steers and a flock of assorted domestic fowl.
When not writing lusty tales, she can be found enjoying her day with her menagerie in the rolling hills of Pennsylvania with a cup of fresh java in hand.
Website | Blog | Facebook | Twitter | Pinterest | Goodreads | tsú
Giveaway!
Win a Backlist Ebook From V.L. Locey!

Check out the other blogs on the tour!