Hi guys! We have Jeanne G'Fellers stopping by today with the tour for her new release Mama, Me, and the Holiday Tree, we have a great exclusive excerpt and a brilliant giveaway so check out the post and enter the giveaway! ❤ ~Pixie~
Mama, Me, and the Holiday Tree
(Appalachian Elementals 01.5)
by
Jeanne G'Fellers
A dozen handmade holiday ornaments, that's all, but it might be an impossible task.
Centenary Rhodes and her mother are at constant odds. It's one of the many reasons Cent left home when she was eighteen. Mama's difficult for anyone to manage, but now that Cent's back home, she has to try. Mama, however, won't acknowledge who Cent's become, even though she's repeatedly been shown the truth.
It'll take more than popcorn strings and paper snowflakes to heal the rift that's formed between Cent and Mama. It's going to take bushels of patience, heaps of magic, and assistance from everyone on both sides of Embreeville Mountain to reset the Balance between them.
But with Yule and Christmas just around the corner, it might already be too late.
Join Cent and her Mother for a heart-warming, magic-filled holiday tale of acceptance, family of choice, family of blood, love, magic, and patience all served with a queer Appalachian twist.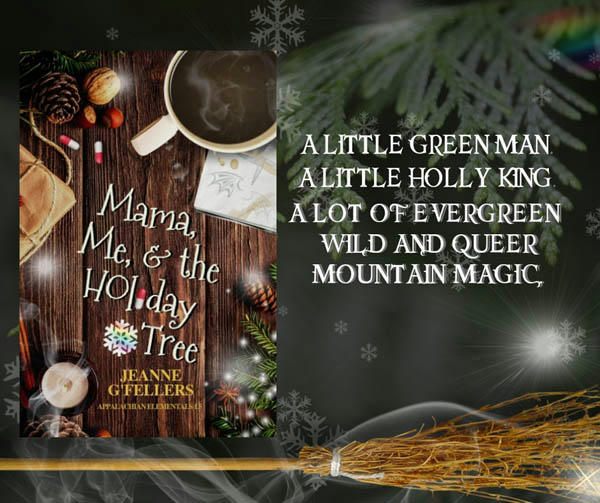 Exclusive Excerpt!
I trudge through the forest, Mama's coat tucked under my arm. I've tracked her past Rayne's pool, around the ritual circle, and toward Stowne's cavern above that. Her tracks meander through the trees, lost, judging by their unsteady gait, but I know she's not lost, at least not physically. See, that's the thing about Mama. She never settles, is never content for more than a moment or two. In fact, Ivan's the first one who wanted to marry her. He says it's his job to help her find peace, and that he's here to stay. Goodness knows none of her previous boyfriends stuck around, and neither did my father, whoever he is or was. Mama says she was too drunk that night to remember, which makes me feel so good about my conception.
My steps become heavier as I think about this, about being pulled from pillar-to-post through my childhood, about… I startle when I realize where Mama's tracks are leading. There's a small cemetery along the ridge, one Stowne carefully tends. I've been there many times, at least once per life, to see where my former bodies are buried.
I'm not the only one there. Past pets. Relatives. This property has slipped in and out of my family for generations. It's technically on National Forest land, but we've retained the right to bury here until our family line dies out or the cemetery's full, whichever comes first.
A past me is responsible for that, and I'm proud of the fact.
I stop between a set of twin pines to catch my wind, peering up the mountainside to the cemetery, breathing an audible sigh when I see Mama sitting on her knees between the graves of my last two lives.
She looks like she's praying, but about what? Mama didn't know my past forms, so why… Exan's perched on one of my gravestones, watching over her. I take no offense at that. That headstone's a boulder, and I've sat on it myself. Besides, what it marks is nothing but crumbling bones. Stowne tends this cemetery because they love me and the other occupants. They've memories here. Some sad, but Stowne says coming here helps them think of happy times, of how we've moved on, and some, like me, have returned.
"Having a party without me. I see how it is." I pause at the cemetery's wooden fence, silently asking for entrance though I know I don't need permission.
"Come, child." Exan motions me in, and I abide, uncertain what to expect. "You're mother's confused."
Oh, boy. That explains why she took off like she did and why her denim skirt is so dirty. "Mama?"
Mama fiddles with her hands then pulls them apart, placing one on each grave she sits between. "My girl."
"No, Mama. I'm right here."
Mama looks up at me with a tear-streaked face. "You." She pats the grave to her right, the one from my last life. "You died before I was born. You hurt so much. You couldn't breathe." Mama bursts into tears. "My girl!" She's looking at me but not, hollow-eyed and… She gasps, sits up, and leans left, over the grave of my life two times back. "My, my…" Her face clouds even more.
"You can say it, Mama. I was a man that life. I was gay."
"Oh, oh." Mama drapes over that grave, crying harder. "Such a kind soul. Dancing with Stowne under the moon. Helping others."
I also made moonshine and hid escaped slaves. "Yeah, I was a real law-abider."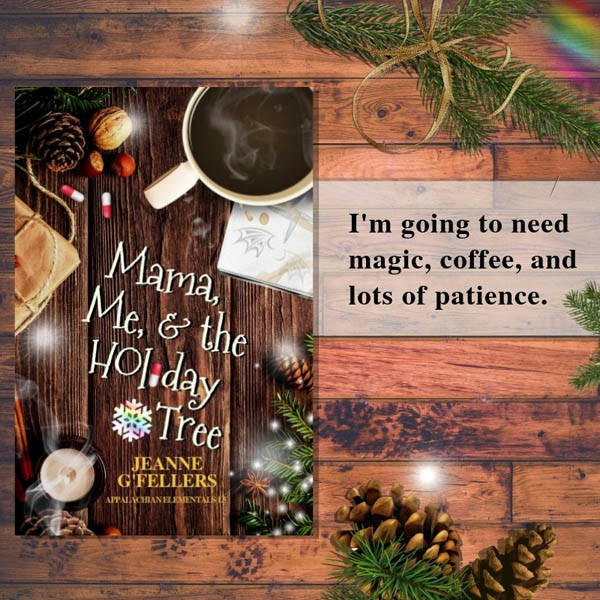 About Jeanne!
Born and raised in the foothills of the Appalachian Mountains, Science Fiction and Fantasy author Jeanne G'Fellers' early memories include watching the original Star Trek series with her father and reading the books her librarian mother brought home. Jeanne's writing influences include Anne McCaffrey, Ursula K. LeGuin, Octavia Butler, Isaac Asimov, and Frank Herbert.
Jeanne lives in Northeast Tennessee with her spouse and their five crazy felines. Their home is tucked against a small woodland where they regularly see deer, turkeys, raccoons, and experience the magic of the natural world.
Website | Facebook | Twitter | QueeRomance Ink | Goodreads | Amazon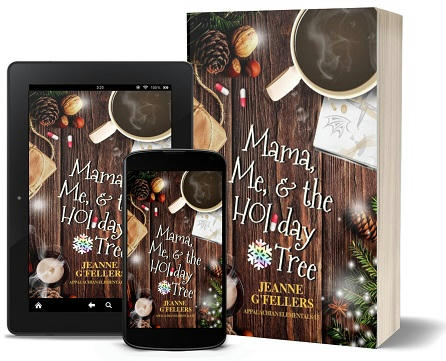 Giveaway!
Win! 2 eBook copies of Cleaning House (first book in the series)!