Hi guys! We have Martin Delacroix stopping by today with his new re-release Maui, we have a great excerpt and a fantastic $10 NineStar gift code giveaway, so guys, check out the post and enter that giveaway! <3 ~Pixie~
Maui
by
Martin Delacroix
When Ishmael Fanning is dumped by his Florida boyfriend, he relocates to the Hawaiian island of Maui. To heal his heart. There he quickly finds himself involved with two young men: Spencer, who works in a skateboard shop, and Corey, a professional surfer. Spencer is sensitive and a bit needy, while Corey is supremely confidant and could be mistaken for a fashion model. At some point, Ishmael will have to choose between the two, but it's not an easy decision for him to make.
3rd Edition
Excerpt!
Maui, Martin Delacroix © 2018, All Rights Reserved
Chapter One
I came to Maui to heal my heart.
My partner of seven years, Christian, a pediatrician, had left me for another guy, a professional tennis player who earned ten times my teacher's salary and looked like a fashion model. The breakup was nasty, too. We owned our home and bank accounts jointly, our investments as well, and the whole thing ended up in court, an embarrassment for us both. I walked away with a five-figure check, my financed car, some clothing and books, and little else. After all, as the judge pointed out, Christian had been the moneymaker in our household.
I couldn't stay in Melbourne Beach, or anywhere in Florida, really. Too many memories lurked there, and I'd be close to Christian and his tennis player, something I couldn't handle.
I'd surfed since I was a kid, and a friend and fellow shredder, Andy Barnes, told me about Maui. "All kinds of breaks," he said, "from gentle to monster barrels, and the island's a freaking paradise."
I did Internet research on Maui. With a population of ten thousand, the town of Lahaina seemed my best choice. There were two public elementary schools and a Catholic academy. And if I couldn't find a teaching job, I could wait tables at one of the town's many restaurants.
My folks weren't happy with my decision.
"Ishmael," my mom said, "it's so far away. We'll only see you at Christmas."
But I had to leave.
Losing Christian had devastated me.
I'd met him at age twenty-two, shortly after I came out of the closet, and he was my first boyfriend. Five years my senior, he seemed wise and stable, just the sort of guy I wanted for a partner. And sex with him was unlike anything I'd experienced. Each time he took me in his arms and every time we made love, it felt special. I believed I belonged to Christian and he belonged to me. I thought things would always remain that way.
When Christian told me of his tennis player, and when he insisted we separate, I thought I would lose my mind. How could he do this? After telling me he loved me, he would cast me aside? He'd dump me because the tennis player was better looking and enjoyed a measure of fame?
I told myself, I could never do something like that.
"Christian's a selfish bastard," Andy Barnes said. "You're better off without him."
I took a leave of absence from my teaching job. After moving in with my folks, I spent weeks doing nothing but sleeping and crying in my bedroom. I lost interest in food and dropped twenty pounds; I looked like a scarecrow. Evenings, I sat before the television, drinking rum-and-colas until it was time to go to bed.
Andy finally got me out of the house and onto the water.
"Your life is not over," he told me, taking me by a forearm and literally dragging me out the door.
We brought our boards to the break at Ocean Boulevard, where the surf was firing. When I caught my first ride and carved the face of a wave, my despair suddenly lessened. The warm water, sunshine, and the roll of Atlantic swells soothed me, and I knew—right then—I must settle someplace tropical, a location with surf, but someplace far from Florida.
Maui was that someplace.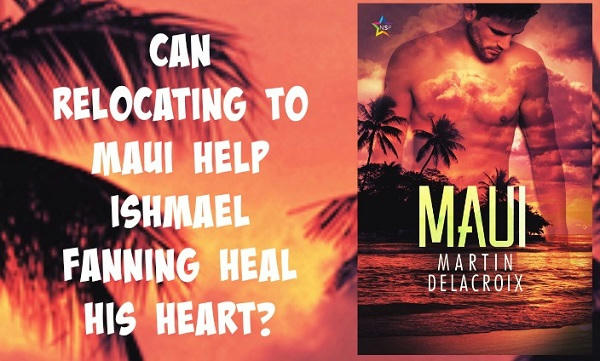 About Martin!
Martin Delacroix is a former journalist and trial attorney. He writes short fiction and novels. His short fiction has appeared in over twenty anthologies and he has written several novels. Martin lives on a barrier island on Florida's Gulf Coast. When he's not writing he enjoys beach walks, playing his guitar, gardening, cooking, and distance running. He enjoys good wine and conversation. You can find Martin on his Website (http://www.martindelacroix.com/)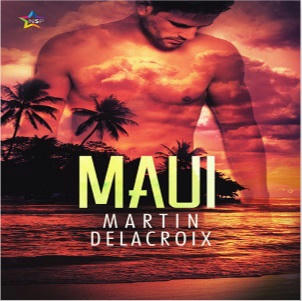 Giveaway!
One lucky winner will receive a $10.00 NineStar Press Gift Code!