Hiya guys, we have C.F. White stopping by today with her new release Misdemeanor, we have a brilliant guest post , great excerpt, a fantastic giveaway and my review, so check out the post and click that giveaway link! <3 ~Pixie~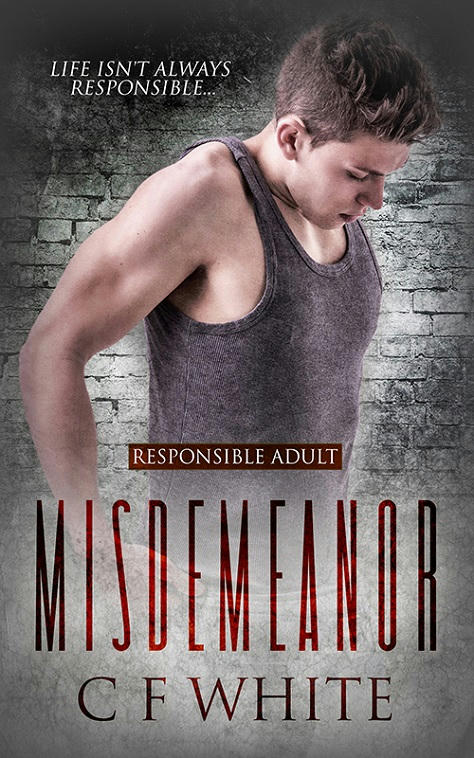 Misdemeanor
by
C.F. White
After his mother tragically dies and his deadbeat father goes off the rails, nineteen-year-old Micky is left to care for his disabled little brother, Flynn.
Juggling college, a dead end job and Flynn's special needs means Micky has to put his bad boy past behind him and be the responsible adult to keep his brother out of care. He doesn't have time for anything else in his life.
Until he meets Dan.
"Amazingly gritty and raw. This slice of life is so realistic it flays you." – Pride Publishing

C.F. White!
Hi and thanks for having me here on the final stop on my blog tour to promote my book Misdemeanor, the first in my Responsible Adult Serial. 
First thing to reiterate is that this is a serial. There are three books in the whole Responsible Adult story and all will be coming out this year in quick succession from Pride Publishing. So a brief word of warning that the first book does have a bit of a nail biting cliff hanger. But Hard Time, book number two, is up for pre-order next month so not long to wait, and that one doesn't end quite as abruptly and leads along nicely to book three, Reformed, out in October.
Anyway, I'm here to talk about Misdemeanor. I have detailed on previous blogs about my inspiration behind the book and how a little close to home it is by featuring a little boy who has a rare condition called Williams Syndrome. I am hoping that, above all, this book has raised some awareness for a relatively unknown disability, whilst also staying true to the m/m romance genre. So today, rather than dwell on that side of the story, I thought I'd simply introduce the main characters. After all, they carry the story and if you aren't invested in them then it doesn't matter how adorable the sub character, Flynn, the little brother of the main MC is (and he really is, just so's you know). 
Micky O'Neill is a nineteen year old ex-street fighter with a track record of past misdemeanors that has brought him a bit too much of a reputation among the small town authorities. He's had a harsh upbringing with a brute of a father and a mother who suffered from depression due to spousal abuse and the daily grind of having an exceptionally poorly child. Micky's life changes exponentially when his mother tragically dies. He has to single handedly bring up his eight-year-old brother, Flynn, who has Williams Syndrome. So not only does Micky have to play the absent Dad at his young age, he also has to weave around the mindfield that is disabilities, social services, special educational needs and everything else that comes with taking on Flynn's responsibility. Trouble is, he's also hiding a massive secret. Not only from the authorities, who he has to maintain to that there is still a father in the house (Micky knows his criminal record would mean Flynn instantly being taken into care) but also to the friends he relies upon for the help he needs to just juggle through life. He's literally hanging on by a thread and needs something, or someone, to pull him out of his rut. Just like Dan's father happens to mention:
"Kids like him just need a bit of support, a chance to prove themselves and the love of a good woman behind them." Frank pulled out a few dry tissues from his pocket, wiped at the paint dripping on his hands, then quickly looked back up to his son. "Or man. We're equal ops around here. As you know," he added with a wink.
Dan Peters is a twenty-five year old university graduate. He's been brought up on the more affluent side of town by his police commissioner father and his legal secretary mother. He's a book worm, having wanted to teach English since his graduation but seemingly stuck at the upper class supermarket he's worked at since he was sixteen. He keeps getting promoted, so the dream of leaving and starting new keeps getting further away. He's an out and proud gay man, just with a history of bad judgements with regards to the men he dates. He's considered the nice guy. However, his more privileged upbringing does means he harbours many a preconceived judgement: 
"Intended recipient?" Dan chuckled. They weren't exactly the words he would expect to come from the bit of rough sitting opposite him when talking about a drunken bar fight.
So the two really are a bit of opposites attract. Not just due to their class status, with Micky being a rough boy from a working class council estate and Dan with his white-collar, middle-class family, but also in temperament and personality. However, neither is particularly mature to deal with the things life seems to keep throwing their way. The question is, will they ever be? Being a parent is hard, being young and thrown into parenthood, like Micky is, is even harder. Being a parent to a special needs kid at the age of nineteen when life is already stacked against you, well, that's got to make for a great story, right? Guess you'll have to go find out 🙂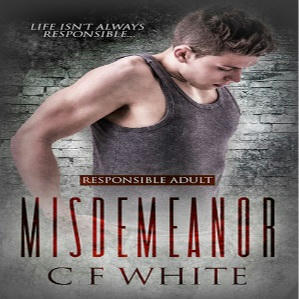 Excerpt!
The Sun Keeps Rising
"Shit!"
Micky cursed loudly and squinted through the morning glare to read the alarm clock that was obviously having trouble performing its one and only basic function. He threw off his duvet and jumped out of bed, his foot landing on a plastic wind-up toy penguin discarded on the floor. The penguin openly mocked him by tossing itself into a noisy backflip.
"Fuck!"
Micky cursed again, bending down to pick up the toy and throw it savagely against the wall. It shattered into a million pieces and Micky felt instantly guilty.
"Flynn!" he yelled, hopping over to his bedroom door and yanking it open. Treading more carefully to the bathroom opposite, he rubbed his eyes before coming face-to-face with himself in the mirror above the sink.
He looked like shit. No change there. The three hours of almost sleep he'd gotten obviously hadn't done anything to improve on his disheveled appearance. He ran a hand over the stubble on his chin. He needed to shave but now didn't have the time. Micky turned on the tap, dunked his head under the cold stream and squeezed paste onto his toothbrush.
"Flynn!" he shouted again, louder this time, before shoving the toothbrush into his gob and brushing vigorously. The minty taste did nothing for his dry mouth.
"Yes, Micky," came a quiet little voice from the bathroom doorway.
Still holding the toothbrush between his lips, foam dripping out from the side of his mouth, Micky turned.
"We're late," he said, trying to suck the minty drool back up and stop it escaping from the corners.
"I'm dressed," Flynn replied with a huge proud smile.
Flynn stood in the doorway, clutching another wind-up plastic toy. He kept spinning the thing around, setting off an ear-piercing buzz as it unwound at double speed. He appeared so small and fragile. More like a five-year-old than his actual eight years. He'd gotten dressed. Sort of. He'd managed to pull on his gray school trousers over his pajama bottoms and his army-green jumper clung inside out. No socks, and his mousy-brown curls stuck out from his head in all directions.
Micky's heart melted a little at the sight.
"Well done, Flynn." Micky finished brushing his teeth, spat down the plughole and cupped a handful of water into his mouth to rinse. Turning back to his brother, Micky then crouched in front of him. "But how about we try taking the pajamas off?"
Flynn looked down, waggling his toes, and back up at his big brother. "Why?" he asked, confused. "I put them back on later."
Micky laughed. The kid had a point.
"Come on." Micky took hold of Flynn's hand to walk him back into the small box room. It had twin beds, pushed up against opposite sides. One had used to belong to Micky before he'd moved into the master bedroom.
"What time did you get up today?" Micky asked, dragging Flynn's jumper over his head.
"Five five two," Flynn replied.
He wound up the blasted plastic toy again and Micky breathed in deeply, preventing his immediate instinctive reaction to take the thing and smash it against the wall in comradeship with its penguin mate.
"That's early," Micky said, pulling off Flynn's pajama top then rooting around in the drawer for his brother's school polo shirt. He found it scrunched at the bottom and helped Flynn squirm into it while trying to smooth out the creases.
"For what?" Flynn asked, holding on to Micky's shoulder as he knelt and stepped out of his trousers.
"Everything," Micky replied with a yawn.
"Daddy didn't say it was."
Micky looked into Flynn's blue eyes. The white starburst pattern within them gave him the feeling of being hypnotized. Micky blinked.
"Dad's not here, Flynn," Micky said slowly, standing to inspect his now school-uniform-clad little brother.
"Yes, he is." Flynn smiled widely, his plastic toy buzzing in his hands.
Micky stared down at for a brief moment, then spun around and ran full pelt down the stairs and into the living room. The place was dark and dank, stinking of booze and fags with beer cans littering the floor.
Micky yanked open the curtains to witness the disgusting figure sprawled on the sofa. Tatty stonewashed denim jeans bagged around his knees and the T-shirt he wore, once white in color, was stained yellow with patches of Micky didn't want to know what. His greasy, graying hair hung around his face like rats' tails. He was snoring and every breath out from his wide-open mouth filled the room with a putrid stench.
Micky kicked at the arm dangling off the sofa. The man grumbled but didn't move. Micky kicked him again, more fiercely. Opening one eye, the brute belched as he squinted through the glaring sunlight.
"Get the fuck out," Micky demanded.
The laughter that followed made Micky's skin crawl, along with the irritating scratching of fingernails across the man's chest. The shirt rubbed against the curly dark hairs scattering his fat body and made the unbearable scraping of nails down a chalk board.
"Now," Micky growled.
The grunted response wasn't something Micky could decipher, nor did he care to. Micky watched with contempt as he rolled off the sofa and landed on the floor with a thump. Several beer cans crunched under his heavy frame and he rolled again to push up on to all fours. Grunting once more, he heaved himself to stand. He tripped on his own feet and clutched at the wall. Micky clenched his fists at the ready as the second loud belch blasted out and Micky had to turn away from the oncoming stink.
"Money," he demanded, holding out a hand.
"Get fucked," Micky spat back.
"Then I take his."
He staggered over to the fireplace mantelpiece and made a grab for the handmade clay moneybox shaped like a car. Micky wrapped firm fingers around his wrist and squeezed tightly.
"Over my dead body." Micky gritted his teeth. Clutching the wrist harder, he used his other hand to root around in the dirty jeans pocket and yanked out a key. Shaking his head, Micky shoved him away. "Now leave, before I fucking kill you."
"Micky?" Flynn's delicate little voice squeaked from the living room door. He clung to the plastic toy still in his hand, his eyes tightly shut.
Micky ran over, picked him up and settled him on his hip. For an eight-year-old, Flynn weighed no more than a couple of stone, his body skin and bones. It wasn't his fault. It was the condition. Flynn rested his head on Micky's shoulder, wrapping his arms around his big brother's neck, still clamping his eyes shut.
"It's okay, Flynn. Dad's leaving now."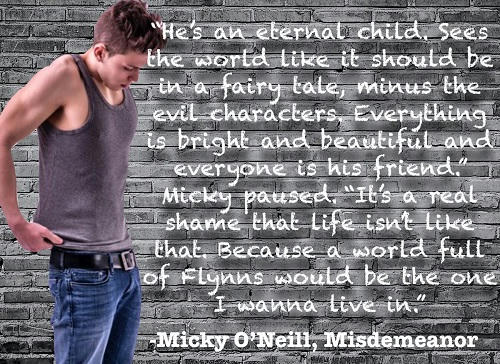 About C.F.!
Brought up in a relatively small town in Hertfordshire, C F White managed to do what most other residents try to do and fail—leave.
Studying at a West London university, she realised there was a whole city out there waiting to be discovered, so, much like Dick Whittington before her, she never made it back home and still endlessly searches for the streets paved with gold, slowly coming to the realisation they're mostly paved with chewing gum. And the odd bit of graffiti. And those little circles of yellow spray paint where the council point out the pot holes to someone who is supposedly meant to fix them instead of staring at them vacantly whilst holding a polystyrene cup of watered-down coffee.
She eventually moved West to East along that vast District Line and settled for pie and mash, cockles and winkles and a bit of Knees Up Mother Brown to live in the East End of London; securing a job and creating a life, a home and a family.
Having worked in Higher Education for most of her career, a life-altering experience brought pen back to paper after she'd written stories as a child but never had the confidence to show them to the world. Having embarked on this writing malarkey, C F White cannot stop. So strap in, it's gonna be a bumpy ride…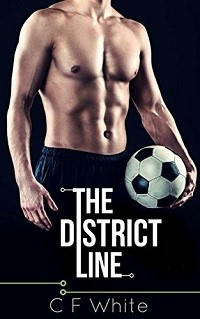 Giveaway!
Win a Signed Copy of The District Line!
(Just click the link below)
Review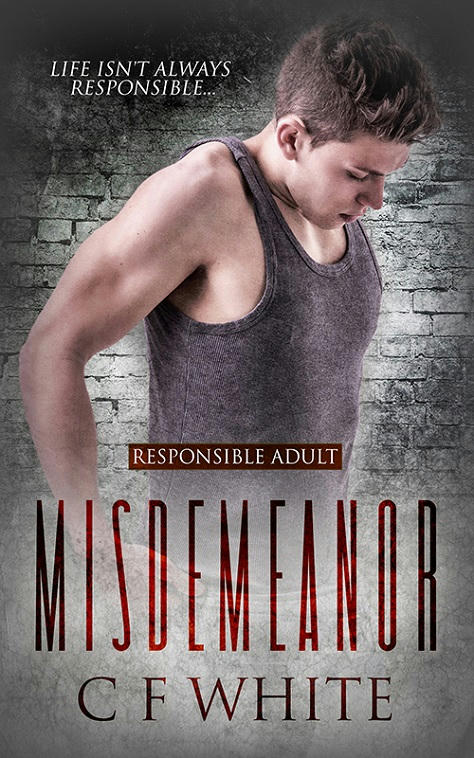 Title: Misdemeanor
Series: Responsible Adult 01
Author: C.F. White
Genre: Contemporary
Length: Novel (226pgs)
ISBN: 978-1-78651-566-7
Publisher: Pride Publishing (4th July 2017)
Heat Level: Low
Heart Rating: ♥♥♥♥♥ 4 ½ Hearts
Reviewer: Pixie
Blurb: Life isn't always responsible
After his mother tragically dies and his deadbeat father goes off the rails, nineteen-year-old Micky is left to care for his disabled little brother, Flynn.
Juggling college, a dead-end job and Flynn's special needs means Micky has to put his bad-boy past behind him and be the responsible adult to keep his brother out of care. He doesn't have time for anything else in his life.
Until he meets Dan…
Purchase Link: https://www.pride-publishing.com/book/misdemeanor
Review: Micky has had a difficult life but now at nineteen he has begun to turn his life around, he's just got a half decent job, he's studying for his exam re-takes and he's desperate to keep his little brother Flynn out of care. He hasn't got time for relationships and then he meets his new manager Dan.
This is a wonderful story that shows a more true to life living than is usually seen in books. Micky is a guy who has been handed a crappy life, he's determined to turn it around though for his little brother but life keeps throwing up obstacles that threaten to destroy everything he is working towards. Dan has had a pretty easy life and although he's working a job that he never thought would be permanent he's pretty happy except for the lack of a boyfriend.
When Micky and Dan get together, it isn't easy for either of them. Micky can't just throw himself into a relationship, not just because he's in the closet, but also because he's worried about Flynn. Flynn is an absolute darling, he has Williams syndrome and you just want to snatch him up and snuggle him to death for his sweetness. Dan has his own small demons from previous relationship break-ups so he feels like he's on rocky ground especially when Micky pushes him away.
The characters in this story are brilliant written, they jump off the page with their vitality and I'm not just talking about Micky, Dan and Flynn, I mean all the characters. They have an air of realness to them, I know that I myself was reminded by some of the characters to friends I've had over the years. They really do remind me a lot of my teenage year's friends… and I now find that really creepy LOL.
This storyline is an amazing one; it brings the simple mundane life to the forefront and shows the struggles against a system and snobbery by a young man just trying to improve his lot in life for his younger brother. I dare anyone not to fall in love with Flynn, to admire Micky, and to hope that Dan can continue to wear Micky's walls away.
My only niggle at this story was the ending, the abrupt way it cut off on a cliff-hanger had me gritting my teeth and cursing the author out… come on did you have to end it just there?
Anyway, I recommend this story to those who love more lower class real life stories, who adore young children who are cherubs, who want to see two young men find each other and the beginnings of love, and who want a story that has you hooked from the first couple of pages.

Check out the other blogs on the tour!