Hi guys! We have Thea McAlistair stopping by today with the tour for her new release No Good Men, we have a fantastic guest post, a great excerpt and a brilliant $10 NineStar GC giveaway so check out the post and enter the giveaway! ❤️ ~Pixie~
No Good Men
by
Thea McAlistair
In 1934, almost everyone struggles to pay the rent, and Alex Dawson is no exception. To support his writing habit, he moonlights with his mentor Donnie as a bodyguard for the mayor. It's dull work, until the night a handsome, golden-eyed stranger catches his eye–and both his boss and his mentor are killed when his back is turned.
Jobless and emotionally adrift, Alex vows to find the murderer before the corrupt police can pin the blame on him. But he soon discovers he's in over his head. The golden-eyed stranger turns out to be a mob boss's cousin, and a suspicious stack of money in Donnie's dresser leads Alex to discover that his mentor and the mayor were involved in something more crooked than fundraising dinners and campaign speeches. As the death count rises amid corruption, mob politics, and anarchist plots, Alex realizes that the murders aren't political or even business. This is the work of a spree killer, and Alex and his new boyfriend are the only ones who can stop them.

Thea McAlistair!
My (Quick and Dirty) Publishing Journey
You may have heard that writing a novel is a marathon, and I'm here to tell you that it absolutely is. A lot of time an effort goes into creating tens of thousands of words. My debut novel, No Good Men – out now! – was five years in the making. BUT there are things you can do to give yourself a helping hand.
Trouble writing a first draft – Try NaNoWriMo!
Often times, the hardest part about writing a novel is just getting started and putting words on the page. Your good friends at National Novel Writing Month (NaNoWriMo) understand this. On paper, it's very simple: you task yourself with writing 50,000 words during the month of November. This equates to 1,667 words a day, which if you're anywhere near as busy as me, is quite the task. However, they provide lots of support in the form of a fun word-tracker, encouraging emails, helpful forums, and sometimes in-person events. If that still sounds like too much, they have smaller sessions in April and July called Camp NaNoWriMo that let you set your own pace (though they do have a minimum). The first draft of No Good Men was written during NaNoWriMo 2014, and the first draft of its sequel Boiling Over was done across the April and July 2018 Camp NaNoWriMos, so clearly this works for me.
Trouble editing – Try Scribophile!
Right, so now you have a first draft. And it's still messy. But you feel like if you look at this thing for one more minute your eyes will fall out. First, put that thing down. Let it sit for at least a month. Maybe a year, maybe more (No Good Men sat dormant for two and a half years while I did other things). Then have a go at your second draft.
But wait, still not good enough? You want another pair of eyes on it to make sure you're not insane? Well you're in luck. Online writing community Scribophile is for you to get connected with other writers and critique each other's work. I know that sounds scary, but I guarantee you'll learn a lot both from critiquing others and from having others take a stern eye to yours. Plus, if you can't stand the idea of someone reading your work, what are you doing looking to publish? Plus you meet some great people, and if you're comfortable, you can take the interactions off-site. I met two writing buddies on there who are now personal friends who always understand me when I complain about the writing process.
Trouble querying – Try PitMad!
Once your happy with your novel, you're probably going to want to see it in print. If you want to take the traditional publishing route, you're going to want to learn how to pitch and query. I found this to be the hardest part by far. Think of your query as the cover letter on the job application that is your book. It has a formula, it has a word limit, and it has appropriate people to be sent to. Research to find those things.
But if you're like me and you don't really enjoy sending applications and queries into the void, you can join in the pitching frenzy of PitMad. This Twitter event happens four times a year (about once per season) and lets you put your ~250 character pitch in front of dozens of agents and publishers by using specialized hashtags without feeling like you're interrupting someone's life (C'mon, get confident. You wrote a freaking book!). You'll still need to master the query for if you get some bites, but it gives you a leg up. No Good Men got only two "likes" during the March 2018 PitMad, but I only needed the one – it's now out in the wild through NineStar Press.
~~
Well that was… not as quick as some other things, but I hope it gave you some insight into the tools I used and you can use too on your publishing journey. And when you sign that final contract, let me know!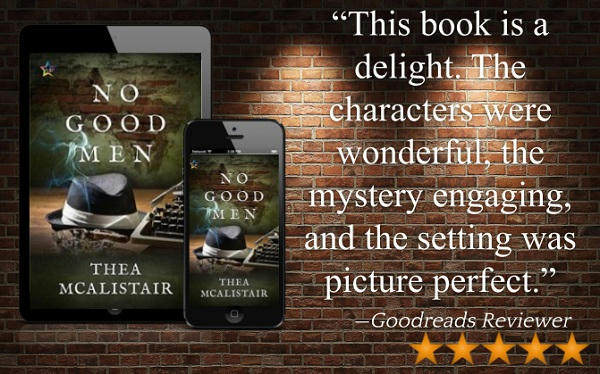 Excerpt!
No Good Men, Thea McAlistair © 2019, All Rights Reserved
Mob money could buy a lot, but apparently it couldn't buy taste. Every single architectural detail of the Ostia struck me as garish: from the chandeliers dripping crystals to the thick wooden accent panels to the gold-painted cherubs carved into the tops of the columns. But my opinion didn't matter; I was just hired muscle.
The club had opened the previous December—about two seconds after booze turned legal again—and attracted all sorts of upper-class clientele, including my boss, Mayor Roy Carlisle. They called him the White Knight of Westwick, and he ran on the rather ironic platform of driving various ne'er-do-wells out of the city. But again, not my business. My job was to hover just behind him in case something terrible happened. Nothing ever happened though, no crazed attackers or falling pianos. The worst crisis I'd run into in the ten or so months I'd been working for him was a freak rainstorm at a garden party, and I had to hold my jacket over his wife Emma's head to protect her hair.
Still, it was a dollar a night to stand around, and that was more than other people were getting. The Depression had wiped everyone out, including me. If I hadn't taken up bodyguarding, I would've been thrown out of my room in the boardinghouse faster than I could say eviction. Writing pulp stories wasn't a lucrative day job, and even less so at the beginning of a career.
Which was why, despite my thoughts on the decor, I was pleased to be at the Ostia. Everyone said they had the best acts in town, and I couldn't disagree. That night they opened with a pretty, button-nosed redhead. She was French, or at least she had a good enough grip of the language to sing in it. I didn't know what she was singing about, but it sounded sultry enough as she made eyes at our table.
Carlisle lapped it up, ignorant or indifferent to Emma turning bright pink beside him. She didn't say anything though. Maybe she'd taken a lesson from other political wives and learned to swallow her pride or risk becoming divorced and destitute. Not that she didn't deserve to be proud. She was still pretty at thirty-five—ten years Carlisle's junior—blonde and delicate with huge blue eyes.
She must have gotten her looks from her mother, because her father had the smashed face of a bulldog and towered over even my own six feet. Seated to his daughter's left that night, Marc Logan also stewed in silence, his hand alternately crumpling the napkins and patting Emma reassuringly on the knee. His own blue eyes, the haunting color of old ice, bored a hole into the side of Carlisle's head.
Their dinner guest for the evening, Mrs. Green, likewise noticed his glare and apparently decided the best course of action was distraction. "Emma dear, did you see what Miss Kepler was wearing the other night at the Peterson soiree?" she tittered as she coiled the chain for her hanging glasses around a finger.
"Hmm?" Emma turned her head just enough to keep her husband in her peripheral vision. "I'm sorry; what were you saying about the Kepler girl?"
"Her dress!" exclaimed Mrs. Green. "It was scandalous! So low-cut. Anyone would have thought she was selling herself. Her father should never have let her out of the house like that. Don't you agree, Mr. Logan?"
Logan blinked slowly, no doubt trying to come to terms with the dullness of a conversation centered on someone else's clothing. "While I have to agree that she was… improperly dressed for the occasion, it is quite difficult for a man to say no to his daughter once she's gotten her mind wrapped around something." He glanced at Emma, who smiled weakly.
Mrs. Green continued along the thread of scandalous attire, but I let my attention slip back to Carlisle. Oblivious to the rest of his table, he continued to stare at the French singer. While such behavior wasn't unusual for him, that night it was so obvious that even I was becoming uncomfortable. I glanced at my watch and suppressed a groan. It was only half-past ten. Donnie wouldn't be around for another hour and a half.
"Are you feeling all right, Mr. Dawson?"
My attention snapped to Emma. "Yes, ma'am," I answered, hoping she hadn't noticed my boredom.
Her mouth quirked like she was in on some joke I didn't know the punchline to, but she said nothing else. Instead she turned to her father, placed a hand on his shoulder, and whispered something in his ear. He grunted in response. Carlisle didn't notice the exchange, or maybe didn't care. Mrs. Green kept nattering away.
The song stopped, and the French girl took a bow. We all clapped, Carlisle too enthusiastically, and Emma barely at all. The girl swept off the stage to a table off the wing for a break, and she was replaced by a dark-haired woman with too much makeup. The new woman sang with a rough alto voice, occasionally throwing appraising looks at Carlisle, though he didn't return them. Once the French girl left, his attention had returned to the food. The rest of the table did the same.
With my charges occupied, I took the chance to look over the room again. Nothing out of the ordinary. Diners, waiters, a glossy bar at the back. The maître-de waving through a man who had just entered… I realized I knew the man weaving his way between tables. Donnie was terribly noticeable with a thick, out-of-fashion beard and pocket-watch chain draped across his waistcoat. I looked at my own watch again. It was only eleven.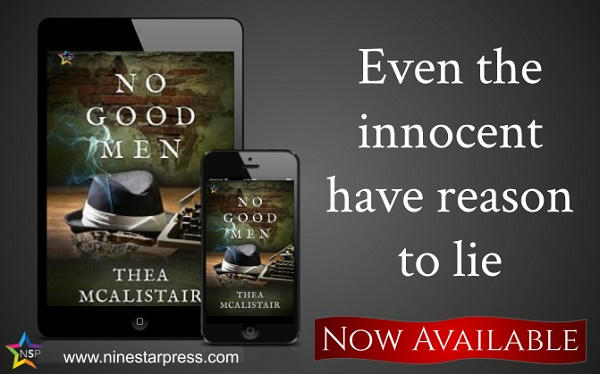 About Thea!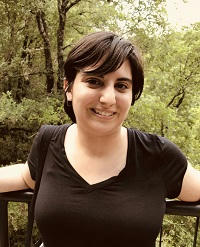 Thea McAlistair is the pseudonym of an otherwise terribly boring office worker from New Jersey. She studied archaeology, anthropology, history, architecture, and public policy, but none of those panned out, so she decided to go back to an early love – writing. She can often be found muttering to herself about her latest draft at completely inappropriate times.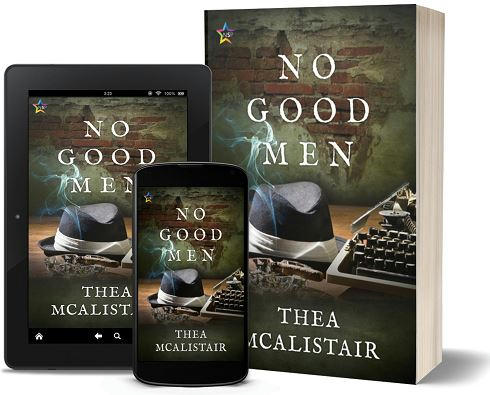 Giveaway!
One lucky winner will receive a $10.00 NineStar Press Gift Code!

Check out the other blogs on the tour!