Surprise, surprise! *winking*
Believe me, this was not intentional, but I couldn't wait any longer either. I'm too excited to have this series back going again. I think I may have missed them just as much as you. And they're all here. This book isn't just about God and Day's wedding, or about the sexy, dangerous, new recruit; instead I catch you up on everyone. Including bringing back a couple of fan favorites. This installment can standalone, but if you have the urge to catch up on the others, they're on sale right now!
I hope you'll drop me a couple lines when you finish, and let me know what you think.  ~A.E. Via~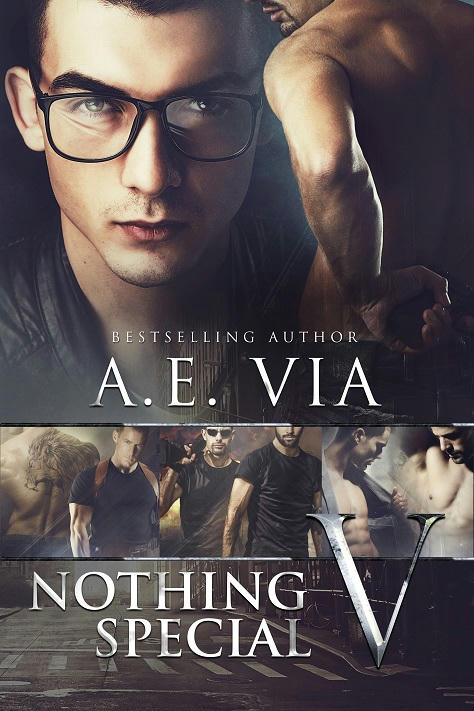 Nothing Special V
by
A.E. Via
The boys are back and fiercer than ever!
"We were a unit tonight, moving as one. Even apart, we are deadly, but when combined – we are f**kin' unstoppable." ~~ God ~~
Atlanta's notorious narcotics task force is at it again. They are stronger, bigger, and better than ever. Especially when a city councilman sends RECON Marine, Edwin Steele – who's been blacklisted from his Oakland department – to join the team. God and Day weren't recruiting. They have a lot on their plates, like the fact they're supposed to be getting married soon. They don't have the time or the patience to integrate a decorated war hero with a slight chip on his shoulder into their well-oiled machine. 
A hothead that's uncontrollable and terrible with authority… but wasn't that their team motto?
Steele was ready to hang up his shield. He was done fighting with bigoted bastards that couldn't respect the job. He was good at fighting; he just needed the right team to fight with. When his uncle – City Councilman, Rasmus Steele – shows him a video of God's team in action, he knows right away, it's where his nephew belongs in order to restore his faith. 
Steele pointed to the driver, a behemoth of a man wielding those massive firearms like a true beast… like a soldier. "And him. Who the hell is he?"
"That's your new boss. Lieutenant Cashel Godfrey… they call him… God."
Steele was skeptical about his new placement, but when he meets God's technology specialist/computer genius, "Tech," he's willing to give it his all, and he definitely shows and proves.
Tech is stunning. His sweater vest and khakis, a stark contrast to the blue-jeaned roughnecks he works with. A beautiful sheep amongst the wolves. Steel thinks there's no way the brilliant man would be interested in a hardhead like him, but Tech has a few badass hidden talents of his own and manages to surprise him… surprise all of them. 
This story is a part of a series but can stand alone. It does not end on a cliffhanger and has a HEA. There are no multiple pairings in this novel.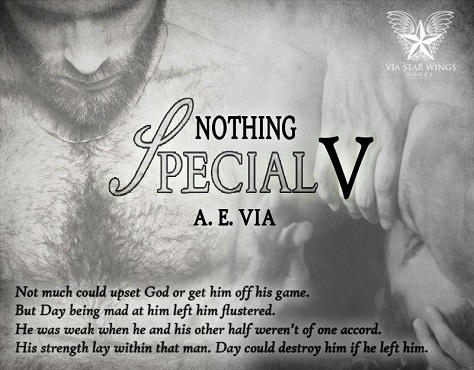 Excerpt
"Who's that?" Steele nodded towards the glass wall, looking out of their department.
"Wow!" Tech's eye's widened, sitting up higher in his chair.
"Damn," Syn whispered.
Day's smile spread across his face and God already didn't like anything about was getting ready to happen. The entire bullpen was on their feet, staring and moving towards the trio of men walking directly towards their department. God wished he'd stayed home in bed with his fiancé so they wouldn't've been here for this surprise visit.
"You don't recognize him?" Tech asked in awe, leaning into Steele's shoulder.
"No. Why? Should I?" Steele frowned, looking around at everyone, but no one could take their eyes off the ridiculously handsome men entering their office. With them came an air of confidence and extreme wealth.
"Hey. No superstars allowed." Day smiled and damn near jogged over and threw his arms around the man in the middle, holding him tight to him as the guy whispered something in Day's ear that had him throwing his head back and laughing affectionately.
His classy trench coat was matched perfectly to his two-tone shawl collar shirt. It was masculine and the logo was one God didn't recognize, probably too posh to be found where he shopped. His slacks looked custom made for him and his shoes looked Italian. The guy finally let Day go, his billion-dollar smile brighter than any light in their office. Day moved over and hugged the tallest one, looking him up and down like he liked what he saw. Who fucking wouldn't? He wore dark slacks and a cream sweater with a thick gold herringbone decorating his neck. God kept his mouth pressed tightly together, not wanting to do anything that would make Day upset. The third guy was drool worthy. He'd seen him more than once, modeling in a culinary magazine or charming the pants off the female chefs on television. A sleek body encased in anther tailor-fitted blazer and matching slacks. The man oozed style and perfection, his light hazel eyes scanning the room, charismatic personality radiating from him, causing half of God's men to melt in their fucking chairs just looking at him. The cool man held out his arms, the right side of his mouth curving up into a sexy grin while he encouraged Day to step into his embrace. Day hugged him more intimately than he hugged the others like the man was too beautiful to grab and manhandle.
"What the hell are you doing here?" Day finally asked, moving back to stand in front of the one in the middle. "Let me introduce you to everyone, first. I don't think you've met the other guys."
"No, I haven't," he said, too smoothly for God's liking and he barely stopped his eyes from rolling to the heavens.
Day began pointing out everyone. "You remember Syn, Ruxs, Green, and Tech. This is our newest member, Edwin Steele. Michaels is on leave. And, I know you remember Ro, but he was injured so he's home soaking up a lot of unnecessary pampering." Day clasped his hand on the man's broad shoulder. "Everyone, this is my best friend and frat brother, Prescott Vaughan, and beside him are his partners, that's Dr. Edward Rickson, and this stunning man beside him is Blair McKenzie."
"Being sex on a stick must be a job qualification to join your team, Leonidis. Looking around this table at all these strapping men has me considering a change in careers," Blair said in a southern drawl that had each of the guys gushing at him and sticking their chests out a little further. 
God looked at his guys, giving each of them a stare of disdain, which none of them saw because they were too busy gawking.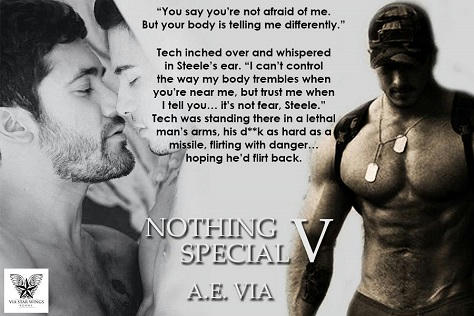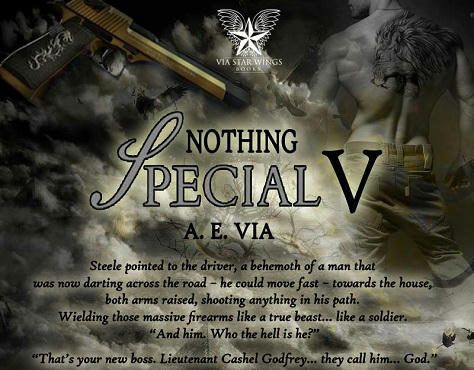 About A.E.
A.E. Via is still a fairly new author in the beautiful gay erotic genre. Her writing embodies everything from hopelessly romantic to spicy to scandalous. Her stories often include intriguing edges and twists that take readers to new, thought-provoking depths.
When she's not clicking away at her laptop, she devotes herself to her family—a husband and four children.
While this is only her eighth novel, she has plenty more to come. So stalk her – she loves that – because the male on male action is just heating up!
Go to A.E. Via's official website http://authoraevia.com for more detailed information on how to contact her, follow her, or a sneak peak on upcoming work, free reads, and where she'll appear next.
 Author Official Website | Goodreads | Facebook Author Page | Facebook (Friend me) | Twitter | Amazon Author Page

Giveaway!
Win! Signed Nothing Special Series ~ 4 books & 2017 Wall Calendar!
(Just click the link below)
(Ends 13th December 2016)