Hi guys! We have Kay Doherty popping in today with the tour for Only You, we have a great excerpt so check out the post and enjoy! ❤ ~Pixie~ p.s. keep an eye out for Shorty's review coming soon.
Only You
by
Kay Doherty
Case Holden hates his life. Made rich at a young age, he slipped into a lifestyle of partying with multiple boyfriends who only wanted to be with him for what he could give them. After confiding to his aunt that he's miserable, she extends an invitation for a visit. Case plans to spend the time in small town Clover City to reprioritize and plant his feet on the road to happiness. He does not expect the Clover City sheriff to step into his world and wreak havoc on his emotions.
Two years ago, after the death of his partner, Rawley Kane moved to Clover City, trading the painful memories and big city madness for a less stressful existence. Even as sheriff, his life is uncomplicated and quiet. That is until Case Holden rolls into town and reminds Rawley just how lonely he is, and of everything he's been missing.
Case is everything Rawley shouldn't want. The man has six boyfriends and a life back in Denver, not to mention he's quite a bit younger than Rawley. No matter what he tells himself, he can't get enough of the young man. And Case has made it clear Rawley is the only one he wants. Now if they could just get past Rawley's guilt and Case's insistent boyfriends, they just might stand a chance.
Excerpt!
Rawley had spent the past four days in his truck with his trusty radar gun, nailing speeders at various points across town. The past two days, he'd been sitting at the railroad crossing at the edge of town; a hot spot for teenagers speeding down the main road and over the tracks without looking. It had been a year since the last death occurred on these tracks and he intended to keep the streak going. He sighed loudly as he tore off the latest ticket and gave the seventeen-year-old boy behind the wheel his usual speech about safety. He'd given out half a dozen the past couple of days, but if it saved a life by making the kids think twice, it was worth the mind-numbing boredom.
Rawley climbed back into his truck, shut off the emergency lights, and drove back to his parking spot partially hidden by the wall of the feed store near the tracks. It had been the usual quiet on the crime front the past several days, which was typically a welcome occurrence for Rawley, but ever since Case Holden's arrival, Rawley's thoughts had been plagued by gray-blue eyes, dark hair, and a perfectly toned body. He spent his nights tossing and turning, imagining Case in any number of different scenarios, every one of them sexual. The whole situation was frustrating him. He took the edge off every night with his hand, but it didn't satisfy the deep need he had for another man's body—Case's body in particular.
Rawley shifted on the bench seat and adjusted himself. He seriously needed to get a grip. The moment Case climbed into his truck, drenched from the rain, Rawley had suspected he was gay, but after running into each other several times around town the past few days, Rawley was now certain. The knowledge only worsened his predicament because he knew if he wanted Case badly enough, he could have him. The man didn't even try to hide his sexuality or his attraction to Rawley. When they'd seen each other the day before at the general store, he'd been wearing a dark-blue T-shirt that had "Out and Proud" stamped across the chest in rainbow lettering.
They'd found themselves face-to-face in front of the dairy display — Rawley in his tan police uniform and Case looking like a model in his skintight T-shirt and painted-on jeans. Conversation had been polite but stilted. Rawley knew it was his fault because he was too busy noticing every little dip and curve of Case's body to speak coherently.
Knowing Case was gay and that he wouldn't make a play for the younger man had Rawley short-tempered and sniping at everyone. That was why he was sitting alone on the outskirts of town, doing traffic duty; no one wanted to be around him, including himself. Rawley stared into the distance, wondering what the hell he'd done in this life or a past one to earn him this level of torture, when a vehicle he would've been hard-pressed to miss caught his attention. The bright-gold Mustang roared past him, registering ten miles per hour over the speed limit.
"Oh, you've got to be shitting me," Rawley muttered. He turned on the emergency lights and siren as he pulled onto the road.
There was only one person in Clover City who drove a Mustang. He caught up to Case quickly, and they pulled to the side of the road, Rawley coming to a stop a few car lengths behind Case. Rawley exited the truck and walked up to the driver's side of the car to find Case had rolled down his window and held out his license and insurance card. Rawley took them, willing his body not to react to the beautiful smile Case offered him. Rawley couldn't help but notice that Case wore a black shirt that made his hair seem even darker and those gray-blue eyes brighter.
"Get pulled over a lot, do you?" Rawley asked, averting his gaze to Case's papers.
"My car tends to draw attention," Case answered. Rawley rolled his eyes at Case's nonchalant shrug.
"Your car draws attention," Rawley muttered.
Everything about Case drew attention, or at least Rawley's. He put his mind to the task at hand, making sure Case's license and insurance were up-to-date before handing them back through the window.
"I didn't get pulled over driving my aunt's Jeep."
"Did you speed in the Jeep?"
Case shrugged. "It was a manual with no oomph."
"Slow down," Rawley said as he turned on his heel to return to his truck.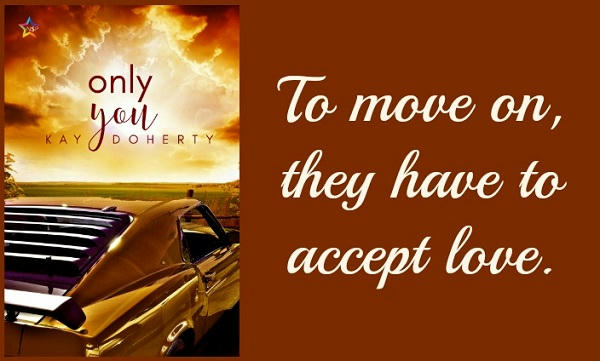 About Kay!
Kay lives in Colorado with her husband and their animal children. Family is important to her so there are weekly visits to her parents and frequent text messages with her brothers. She has a severe addiction to coffee and Mexican food. She loves to read and write and can easily become consumed by it for hours, much to the dismay of the husband and dogs. On occasion, she can be convinced to venture out into world of the living.
Author Links
Twitter | Pinterest | Email: kaydohertyauthor@gmail.com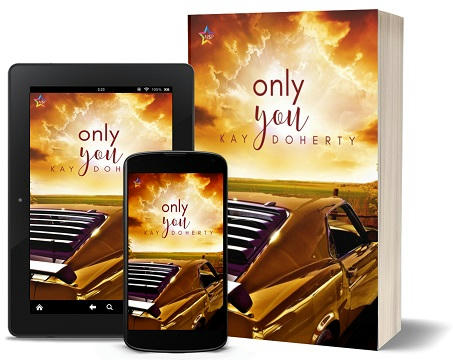 Check out the other blogs on the tour!