Hi guys, we have Lane Hayes stopping by today with her new release Out in Spring, we have a great excerpt and a brilliant $25 Amazon GC giveaway so check out the post and enter the giveaway! ❤️ ~Pixie~
Out In Spring
by
Lane Hayes
The jock, the nerd, and a little spring fever…
Ned-
I don't understand hockey at all. Or any sport. Attending a team party with my best friend might be a mistake. As an out and proud geek, I admit that hanging out with a bunch of jocks and their admirers isn't my idea of fun, but getting kidnapped by a sexy hockey player who claims to have a crush on me is definitely a highlight. And finding out that Logan St. James is bisexual makes everything more interesting.
Logan-
Keeping my big bi secret hasn't been easy. I have a couple of months of college left and one more game to play. I'm determined to make the most of it and spend as much time as possible with the sexy guy I've had a crush on since freshman year. I don't want this to be over. There must be a way to come out in spring.
Out in Spring is a low-angst MM, bisexual awakening staring a hunky hockey player, a sweet-natured geek, and a little college fun. This story is part of the Out in College series, but each book can be read as a stand-alone.

Excerpt!
"Let's see how many times we can go across the monkey bars without stopping. In other words, go to the slide and back until your arms give up on you. Winner chooses the next contest and—"
"Hold on. That's not fair. We both know you're going to win."
"Yeah, that's true. I'll collect the first prize. Something easy…like you have to answer a truth or dare question. Ready?"
"No, you already owe me, remember?"
I did a quick trip across the bars, then dropped to my feet and brushed my hands off. "You're right. What would you like?"
"Uh…I don't know."
"Come on. Think of something. It has to be reasonable, though. I don't have a million bucks or a year's supply of M&M's in my truck," I warned.
Ned lifted a brow. "Really? You have T-shirts and sweatshirts. Why don't you have M&M's?"
"That's a genius question. I need to fix that ASAP. Truth is, I live out of my truck. Not literally, but I've got a lot of necessities…shoes, socks, water, a first aid kit, lube, a box of condoms."
He wrapped his arms around himself and shivered. "How about a blanket?"
"Yep. Wait here. And watch out for fairies."
I ran to my SUV, pulled a wool plaid blanket from the trunk, and hurried to find Ned sitting on the pirate ship with his legs dangling off the edge. I climbed the short set of stairs and draped the blanket over his shoulders.
"Thank you."
"You're welcome. Cozy up, 'cause this could take a while." I flexed my knuckles and started to reach for the first bar, but paused instead. "Or do you want to go first?"
"No, thanks. I'm not good at anything that requires coordination. And those bars are germy. I have Purell in my pocket, but when I fall—"
"I'll catch you," I intercepted. "YOLO, Nedster. I don't want to go back to that party, and I don't really want to go home. And you don't either."
"I don't?"
"Nope. You'd rather hang out with me." I waggled my brows comically.
I jumped from the pirate ship before he could argue, then pointed at the bar above me and motioned for him to get moving.
"What about the blanket?" He chuckled when I rolled my eyes. "Okay, fine. But I want to change the rules. If I get to the other side without falling, I should get another prize."
"Another one? That seems kinda greedy, but all right," I teased, crooking my forefinger.
"Here goes nothing." Ned sighed as he stood, glancing from the row of bars to me and back again. He clutched the first one with both hands…and immediately fell.
I caught him around his waist and held him closer than necessary, so he brushed my chest before his feet hit the ground. I didn't let him go. I stared at his mouth and licked my lips. "It's okay. Try it again."
"Um…all right." Ned let out a nervous chuckle as he set one hand on my shoulder and the other on the bar.
I let go when he gripped both hands around one bar, then reached for the next. And the next. At the halfway mark I cheered him on with a loud whoop, pumping my fist in the air and counting down the bars left. Five, four, three, two…
He dropped like a lead balloon…and sure, I caught him again. But let's get something straight. Ned wasn't a small person. Sure, he was on the skinny side, but he was at least six feet tall. I didn't exactly "catch" him. It was more a matter of pulling him against me and holding on. I fully admit that my maneuver was premeditated. But my goofy, off-the-cuff quest to steal a few more minutes with my crush backfired big time. I didn't count on my body's reaction.
I swallowed hard and brushed my sleeve over my nose. "Maybe we should, um…"
He nodded, but he didn't move. And neither did I.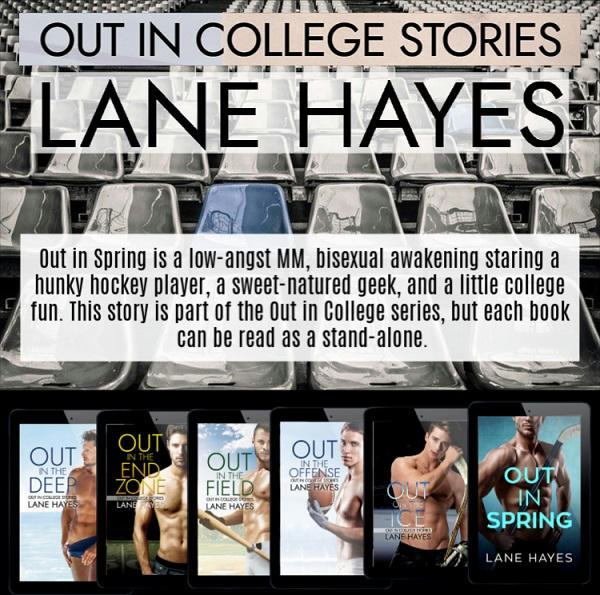 Out in College series!
Out in The Deep (book 01)
.•.•.**❣️ Amazon US | Amazon UK ❣️**.•.•.
Out in the End Zone (book 02)
.•.•.**❣️ Amazon US | Amazon UK ❣️**.•.•.
Out in the Offense (book 03)
.•.•.**❣️ Amazon US | Amazon UK ❣️**.•.•.
Out in the Field (book 04)
.•.•.**❣️ Amazon US | Amazon UK ❣️**.•.•.
Out on the Ice (book 05)
.•.•.**❣️ Amazon US | Amazon UK ❣️**.•.•.

About Lane!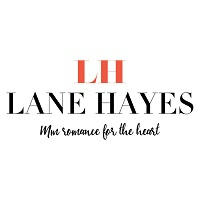 Lane Hayes is grateful to finally be doing what she loves best. Writing full-time! It's no secret Lane loves a good romance novel. An avid reader from an early age, she has always been drawn to well-told love story with beautifully written characters. These days she prefers the leading roles to both be men. Lane discovered the M/M genre a few years ago and was instantly hooked. Her debut novel was a 2013 Rainbow Award finalist and subsequent books have received Honorable Mentions, and were winners in the 2016, 2017, and 2018-2019 Rainbow Awards. She loves red wine, chocolate and travel (in no particular order). Lane lives in Southern California with her amazing husband in a newly empty nest.
Website | Facebook | Twitter | Goodreads | Instagram | Bookbub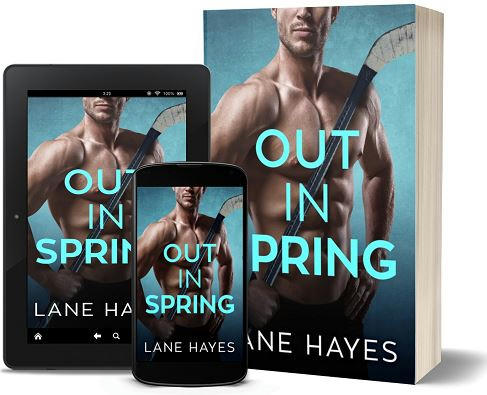 Giveaway!
One lucky winner will receive a $25.00 Amazon GC!