Hi guys! We have Victoria Milne stopping by today with the tour for her new release Purple Method, we have a fantastic guest post, a great excerpt and a brilliant giveaway, so check out the post and enter the giveaway! ❤ ~Pixie~
Purple Method
by
Victoria Milne
When one kiss changes everything, closeted heavy metal singer Max Diaz and MMA fighter Rick Bernstein must decide how hard they're willing to fight—for their dreams and each other.
An up-and-coming heavy metal singer and a martial artist desperate to join a top MMA gym must decide how hard they're willing to fight—for their dreams and each other.
Max Diaz is firmly in the closet, and as unbearable as that's becoming, he can't risk his only remaining family—his brother, Tony—or his band Purple Method's chance to make it big.
Rick Bernstein dreams of rising in the ranks of the MMA circuit and securing a training career at a top gym, but with rejections coming thick and fast and his financial future in dire jeopardy, starting a relationship is the last thing on his mind—especially with someone who isn't out.
But when Purple Method returns to Elfinbrook after a six-month tour, one kiss changes everything. Now Max and Rick face decisions that will change both of their lives forever.

Victoria Milne!
Why Purple?
The decision to use "Purple" in the title of Purple Method was no accident or random choice.
It's funny how having identified as a goth for ten years, and pretty much wearing black clothing the entire time, that purple is such a significant color to me. It has been ever since I went to university and made a new set of goth friends to whom clothing color was incredibly important. Before that I'd simply worn black, because that was what I felt most comfortable wearing, and had never given it much thought.
It was a whole other story, though, with my new friends. 
How it worked was that each one of us in the tight-knit group was allowed one color that we would wear along with our customary black clothing. Choosing a color at random, however, was not an option. Each of us had our own allocated color, and if you wore another goth's color… well, let's just say I never dared to find out! 
When I joined the group, red, blue, orange, hot pink, baby pink, and green were already taken. That pretty much left me purple, which, thankfully, I quite liked.
Ultimately, when I look back at it now, I understand that it was simply us finding a way to be part of a close group, and yet having a unique identity within that—which, at the time, was not an easy thing to achieve in the goth world!
The color purple has grown on me since, as that was such an important period of my life. Strangely, I don't wear it much these days, but I'm always drawn to it. It's a reminder of the wild and fun times I had in my early twenties.
Purple Method is inspired by my time in the realm of heavy metal and goths. When I look back at the story now, I realize at its core it's about finding and owning your identity—unapologetically. It's about navigating a world where the rules appear absolute, and about bending or breaking those rules so you can be your true self.
Meet Max and Rick in a fun and entertaining summer read about a bunch of crazy-ass heavy metal musicians, a martial arts expert, and loads and loads of really delicious food. Purple Method is out on 9th July!
Are you ready to join the party?

Excerpt!
Max Diaz's legs were trembling so hard, he was amazed they were still holding him up. As he waited at the edge of the stage, hidden out of sight, his throat grew tight, and he dreaded the moment he'd be expected to perform. He didn't think he could speak right now, let alone sing the complicated vocals.
After years of Max pleading with his brother to let him join the band, Tony had finally relented. He suspected Tony had done it to ease the blow of their dad leaving them. It was just the two of them against the rest of the world.
But that didn't change the fact that Max was now the lead singer of an actual band. He still couldn't believe it. Couldn't believe they'd trusted him with the responsibility of fronting them when they were all so talented.
The venue was small, but right now, the stage looked huge. There had to be at least twenty people watching them. Twenty people who would witness his epic failure if he didn't pull his shit together.
Tony, Lee, and Kyle—his bandmates—were preparing the equipment, like Max had seen them do countless times before when he'd been to their gigs. Next time he'd help out, but right now he wasn't complaining that they were leaving him alone. Kyle was testing the microphones, Tony was moving one of the drums, and Lee was tuning his bass guitar. It wouldn't be long now.
Max's legs were numb as the trembling crept through his body all the way to his fingertips, and his head swam as queasiness threatened.
"Max, breathe," Tony said.
Opening his eyes, Max gasped a breath and tried to focus on his brother.
"You've got this."
"But what if I don't—"
"You do. Just pretend we're back home in the garage. You're ready. Do you think I'd let you onstage with us if you weren't?"
Max scrubbed his hands over his eyes. That was true. "But what if I let you down? What if I screw up?"
Pulling him into a hug, Tony said, "Focus on the music and you'll be fine. If you're thinking about screwing up, then you will. Don't think about that."
"Ready?" Lee asked.
Tony patted Max on the back and released him.
"Yeah. Let's do this," Max said, and prayed Tony was right.
While the others took their places onstage, Max turned his thoughts to their chaotic band practices. Was it helping? He wasn't sure. If anything, he was more nervous.
Oh God. The queasiness worsened, and Max knew he couldn't hold it in this time. He made a dash for the restrooms out back, barely making it in time. When he returned to the stage, Tony and Lee were playing the intro on loop, and all three of them were glaring at him.
Max grabbed the microphone and gripped it as hard as he could, terrified it would slip through his fingers as he stepped onto the stage. He closed his eyes and focused on Tony's deafening drumbeat, and then on Lee's bass guitar, the deep notes thundering through his body, dissipating the tingling in his limbs. By the time Kyle's guitar joined the mix, Max's nerves were giving way—transforming into the familiar charged excitement music always brought him.
Bringing the microphone to his lips and taking a deep breath, Max opened his eyes. Their audience looked interested, but they weren't leaping about yet. As Max sang the first lines of "Scream My Name," a couple of people whistled and nodded their approval.
He could do this. He totally could. And if he had the chance to perform like this for the rest of his life, he'd die happy.
Grinning, Max raised his arms in the air, and he swore that by the end of their set he'd have them all screaming for Purple Method.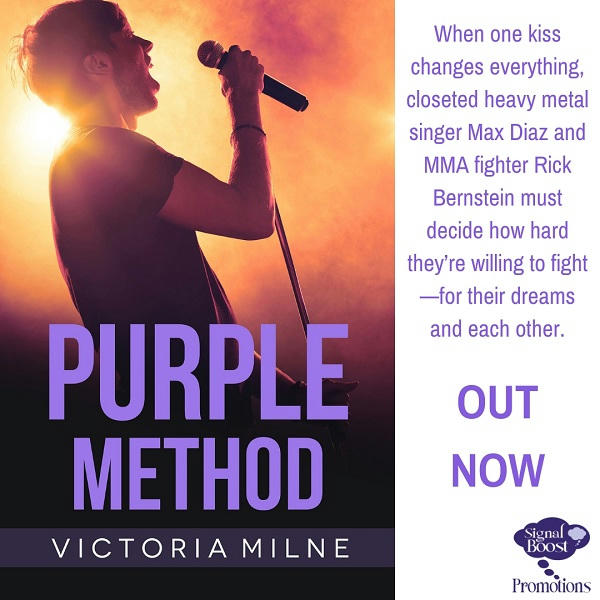 About Victoria!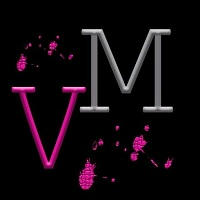 Victoria Milne discovered fiction writing relatively late in life, back in 2012, and has loved every second of the journey. Her belief that life is one big adventure to be experienced to the max has stood her in good stead, but it has resulted in rather a lot of plot bunnies that don't give her a minute's peace!
A firm believer that consensual love should come without labels and without prejudice, these themes often appear in her stories, as do Victoria's passions for martial arts, cooking, yoga, and loud music. It was no surprise when these subjects began to resonate in her writing, frequently taking center stage, and rather than fighting it she's learned to accept and enjoy that these will always be indispensable elements in her work.
Although Victoria appreciates that stories don't always have to have happy endings, hers always do—because everybody deserves to find their true love(s).
In 2016, Love Unlocked—the anthology in which her story "Writer's Lock" was published—was a Rainbow Award finalist. The experience fueled her desire to learn as much about the mechanics of writing as she could. In 2017 Victoria completed her training with the Society for Editors and Proofreaders and became a full-time freelance editor. Victoria has always loved reading, and still can't quite believe she's been lucky enough to not only create books of her own but also help other writers perfect theirs too!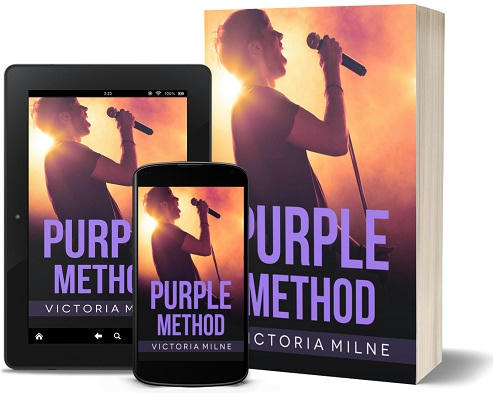 Giveaway!
Win! 3 x Ebooks of Purple Method!