Hi guys! We have two authors popping in today to celebrate their new holiday stories, first we have Damian Serbu with Santa's Kinky Elf, Simon and then his fellow NineStar Press author Karrie Roman with Advent Adventure, we have great excerpts from both books and there's also a brilliant $10 NineStar GC giveaway, so check out the post and enter the giveaway!  ❤ ~Pixie~
Santa's Kinky Elf, Simon
by
Damian Serbu
Santa has big plans to release a story about himself right before Christmas, revealing his true nature as a vampire. He decides the best advanced publicity comes from reality stories and enlists Simon the Elf, a captive former human, to hit Chicago for the holidays and strike up a romance.
Santa wants Simon to document the whole thing, so they can give people a taste for life under Santa's enslavement before the main story hits. Forced to the Second City against his will, Simon at first resists Santa's orders, knowing a romance would be short lived at best, and at worst bring some innocent victim into Santa's evil orbit.
But Simon failed to reckon with the charm and wit of Jonah, a hot guy he meets his first night on the town. Falling hard, Simon takes up with his new love despite knowing the awful choice ahead of him. Santa's Kinky Elf, Simon, tells you this tragic love story in the elf's own words.
.•.•.**❣️ NineStar | Amazon US | Amazon UK | Smashwords | B&N | Kobo ❣️**.•.•.
Advent Adventure
(
A Holiday Sequel to Saved
)
by
Karrie Roman
With their nightmare at the hands of a serial killer behind them, Jack and Will are determined to give each other a perfect Christmas. As the countdown to the big day begins, life continues on with all its little ups and downs, laughs and tears, as Jack searches for the perfect gift and Will makes plans that will change everything for them.
Surrounded by friends and family Will and Jack do their best to have the kind of normal, loving Christmas neither of them has experienced in a long, long time. No matter what kind of Christmas they have, though, they both understand that as long as they are together the day will be perfect.
When the big day arrives, Jack receives a gift from Will he never thought possible, one he didn't even know he wanted and the last gift he will ever need.

Excerpts!
Santa's Kinky Elf, Simon, Damian Serbu © 2018, All Rights Reserved
I amble down the hall, taking as much time as possible before getting to Santa's little chamber. Delay, delay, delay. Not that my reticence will change reality or get me out of whatever he wants. No, here at the ole North Pole, Santa reigns supreme. He's a vampire, see.
Crap. I realize you may not know the story yet. I spelled it out in Santa Is a Vampire. I wrote the book, though they put some hack named Damian Serbu on the credit line with me. Fuckers. Anyway, you can check it out to get the whole scoop once it comes out, so I'll cut to the chase here. Santa is a nasty-ass vampire, of the evil variety, and a warlock to boot, with a wicked form of magic.
"Simon, now!" I hear Santa bellow down the icy hallway. Remember, we're up here at the North Pole in Santa's castle, which he hides from the whole world with a powerful concealing spell.
Instead of hurrying me along, the edge in his voice slows me down. Foul mood. No telling what he wants this time. I mean, for a while he called me all the time while he told me his story, but we finished up with our little game once Santa Is a Vampire was finished. So I'm back to being just another one of the elves up here, enslaved against my will, forced to do Santa's bidding, no longer chumming around with him.
I stop in front of a big cardboard cutout, life-size, I'm telling you, of Santa holding a can of Coke and winking. Ugh. In addition to being a witchy vampire, dude is seriously narcissistic. He collects all sorts of Santa memorabilia and displays it around the ice palace, like this here thing. He finds it hilarious they always depict him smiling and happy with a twinkle in his eye, when really he kills people without regret—innocent people—all the time.
Shit. Here he comes. I dillydallied too long. "Hey, buddy!" I smile, tilt my head all funny, and wave like I spot my best friend in the world coming down the hall toward me.
Santa grimaces. "We're not buddies. Never have been. Never will be. I thought I called you? No, let me correct my statement. I did call you." He grabs me by the back of the collar and lifts me into the air, then spins around and proceeds to carry me the rest of the way to his hidden office chamber. To get there, we walk right through an ice wall. "It doesn't take long to get from one end of the castle to the next, let alone from where you were. You don't think I know you were in the lab with Trixy and Hedgehog? Well, I do."
I scratch my head, my pointy little hat almost tipping off. "Well, according to most labor laws, I should get a break sometimes. I've been cleaning shit up for them all morning. I needed to take my time getting here in order to rest. My rights, and all."
Santa leans back in a rocker, his eyes still a pleasant blue, but glares at me. "First, if you act this way again or continue with this attitude, you'll really be cleaning up shit. I don't mean figuratively, but right out there in the reindeer stalls. I haven't had to punish you that way in a while and I miss it. Second, you have no rights up here. You point it out to me rather fondly on a regular basis. North Pole labor laws merely stipulate you do what you're told, when you're told, how you're told. Nothing else to discuss or consider."
I jump into a bright-red beanbag and lean back. "Wait! Before we settle in for our latest little chat, can I have a Santa beer?"
Santa rolls his eyes but reaches over to the little fridge and pulls a bottle out.
"Sweet." I twist off the cap and take a big swig. Dealing with Santa is a lot easier with a good buzz. Actually, I prefer to be completely shit-faced, but sometimes alcohol loosens my tongue too much, and I get into way more trouble than I want. Leads to sessions in the ice dungeon. Not good. My ass is still sore from the last time, and not in the good kind of way.
He rocks back and forth, like a kindly gentleman, while I slam my beer, get up and replenish it, then sip this one more slowly as I wait for him. Odd. Usually we get right to business. WTF?
"Um, this is uncomfortable to me."
Santa squints his eyes together. "What is?"
I shrug. "Sitting here silently with one another. Like, if we were lovers, you'd expect a contented silence. Something pleasant as we enjoy each other's company. But that's not us. So what the heck's up?"
"Oh, Simon. Ho! Ho! Ho!" Great, fake Santa. Sometimes he delights in putting on the whole Santa show like he really embodies the loving-children-happy-jolly-fat-man stereotype. Annoying, because we know the truth.
"Oh, Santa. Fuck! Fuck! Fuck!" Oops. I mocked him. Went too far.

Advent Adventure, Karrie Roman © 2018, All Rights Reserved
December 1
"It's just not right, Will," Jack grumbled.
Will watched him, doing his best to hide a smile, as Jack sorted through their combined decorations. Neither of them had many. Will, because he'd rarely even thought of Christmas in the past, much less celebrate it. And Jack, for a similar reason, according to him.
Here they were, standing before the eight-foot tree they'd bought with only a handful of ratty decorations to adorn it.
"We could get more," Will suggested.
"Oh we're getting more. Shops will still be open," Jack said glancing at his watch. "Let's go."
"We could go tomorrow. It's the weekend," Will suggested. He was much more comfortable leaving the house these days, but it was almost 8.00 pm and the shops shut at 9.00 o'clock. He didn't want to be one of those last minute customers.
"Will Blaikie." Jack shook his head as though thoroughly disgusted. "The Christmas tree goes up on December first. That's the rule."
"But why?" Will couldn't help himself sometimes. He wasn't used to being so comfortable with another person to be able to take the piss out of them, but he loved doing it with Jack.
"I don't make the rules, Will. I just follow them," Jack sniffed as if that settled it. He reached for his keys and stalked toward the front door. Apparently, these Christmas rules were serious business. Maybe he thought Santa wouldn't come to him if he broke them.
"And besides," Jack continued, "I am not brave enough to hit the stores on a Saturday a few weeks before Christmas." Jack shuddered as though the idea terrified him.
Will tried—and failed—to keep the smile from his face as he followed Jack out of the house. He was the bravest man Will knew, so Jack being afraid of Christmas shoppers seemed improbable.
Fifteen minutes later, they were in the Christmas trim department of their local Myers. The display trees looked so beautiful; it was going to be hard to choose which decorations to go with. Will reached out and slid his fingers through blue-and-silver tinsel. He looked up and caught Jack watching him with something akin to horror on his face.
"You do know the Christmas colours, right?" Jack asked.
Christmas colours? No, he really didn't think he did know them, but from Jack's expression, he thought it best not to confirm that out loud. "Um…refresh my memory?"
"Red, green, and gold. Please god, tell me you're not one of those people who like blues and silvers on their trees?" Jack frowned.
Was he serious about this? Will was trying so hard not to laugh. Who'd have thought tough homicide detective Jack Mitchell would be so uptight about Christmas decorations. "Actually, Jack, I like all the colours of the rainbow on my tree." Will glanced around for inspiration, and realising Jack had to be a Christmas traditionalist, decided to have some fun. "And look at these fairies and masquerade masks. They'll look amazing." Will picked up a few of the offending decorations and waved them in Jack's disgruntled face.
"Ooh, and what is Christmas without some bejewelled dragonflies?" Will asked with an overabundance of enthusiasm. Jack was still just watching him. Maybe he was rethinking the life choices that had brought him to Will.
"Will, do you remember before I moved in, we talked about the future, our goals, dreams, whether or not we wanted kids? You know—all the things sensible couples discuss before moving in together?"
"Sure, I do, Jack," Will replied, feigning ignorance of where this was going.
"I think we missed something important. I mean, I can negotiate and compromise on just about anything, but Christmas trees have to be done a certain way and that's—" He gestured helplessly at the decorations Will held in his hands. "—that's just not it."
Will smiled gently, put the decorations down, and pressed his lips to Jack's. "I know, baby. I'm just teasing."
Jack visibly relaxed. "Oh thank god. For a minute there… You're gonna pay for that, Will Blaikie."
With the teasing done, they got back to the serious business of decoration selection. Forty minutes and two hundred dollars later, they were on their way back home.
If Will had thought Jack was somewhat…picky about his decorations, he soon discovered it was nothing compared to the meticulous way Jack went about the actual decorating.
"I just think it was too close to the other gold bauble," Jack said as he reached to rearrange Will's baubles yet again.
"But I was doing the red, then gold, then green like you told me," Will sighed.
"I know," Jack said, never taking his eyes off the tree. "It gets tricky when you start looking down the tree, though. So on the horizontal they may be apart, but vertically there might be another gold one right above or below it."
Will felt his mouth gape. "You can't be serious."
"What?" Jack replied with a look of complete innocence on his face, as though he couldn't figure out what Will's problem was.
"You're serious." Will tossed his head back and laughed. He could have so much fun with this. "Wow, okay. So, I have to look all around the bauble to make sure there are no clashes of colour. Got it."
They worked quietly for a time, Will planning just how he was going to mess with Jack over this. Jack's face was a mask of concentration, and Will wondered what was going through that unique mind of his.
"I love you. You know that, Jack."
Jack turned to him and gently cupped his cheek. "I know." He pressed his soft lips to Will's.
Will didn't think he'd ever get used to the thrill that shot through him every time they kissed—at least he hoped he didn't.
"Mm, you taste good," Jack murmured. "I'm gonna make us a tea while you finish up."
It was just the opportunity Will had been waiting for. As soon as Jack walked out of the room, Will got to work. He moved quickly and quietly, undoing the fastidious way Jack had decorated the tree. He lined up all the gold baubles together and then the red and green. He moved the tinsel so it was no longer 'evenly spread through the branches' as Jack liked it but rather looked like someone had stood back and haphazardly tossed it onto the tree. Lastly, he shifted the strands so large gaps in the twinkling lights were spread all over.
Once his work was done, he sat back on the couch and waited. It was only a few minutes later when Jack came in, his hands laden with a tray holding their tea and biscuits. He put the tray on the coffee table and collapsed beside Will on the couch. He smiled widely at Will, pressed a kiss to his cheek, and then turned to the tree.
Will watched his smile fall immediately and his eyes grow wide. Jack flicked his glance back and forth between Will and the tree. "How could you?" He asked, aghast.
Will laughed and grabbed Jack's hand as he went to stand. "Leave it, Jack. I'll fix it up. You just made it too easy for me to mess with."
"You know I'm storing up all this cheekiness, Mr Blaikie, and there absolutely will be payback." Jack leaned over and pulled Will to him. He kissed him soundly before pulling away. "You get none of this"—he said, gesturing to himself with one hand—"until that atrocity has been fixed."
"Withholding sex? Isn't that more of a punishment for you?" Will suggested.
"Damn it. You're right."
"I promise this tree is going to be perfect, Jack. Because it's our tree. Yours and mine together. How could it not be perfect?"
"Did I tell you I love you?" Jack asked.
"You did, but I think it bears repeating." Will sniffed, affronted that it may have been half an hour since he'd last heard the words.
Jack pulled him closer, manoeuvring them both until Will was sprawled beneath him on the couch, their teas cooling on the table. "I love you." He nibbled along Will's exposed throat. "I love you." He kissed his lips, nose and each eye. "I love you," he whispered and began trailing his kisses lower and lower still…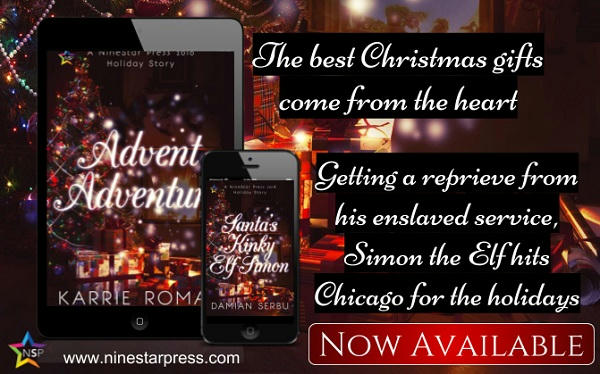 About Damian & Karrie
Damian Serbu lives in the Chicago area with his husband and two dogs, Akasha and Chewbacca. The dogs control his life, tell him what to write, and threaten to eat him in the middle of the night if he disobeys. He has published The Vampire's Angel and The Vampire's Protégé with NineStar Press. Coming later this year from NineStar: The Vampire's Quest and Santa Is a Vampire.
Karrie lives in Australia's sunshine state with her husband and two sons, though she hates the sun with a passion. She dreams of one day living in the wettest and coldest habitable place she can find. She has been writing stories in her head for years but has finally managed to pull the words out of her head and share them with others. She spends her days trying to type her stories on the computer without disturbing her beloved cat Lu curled up on the keyboard. She probably reads far too much.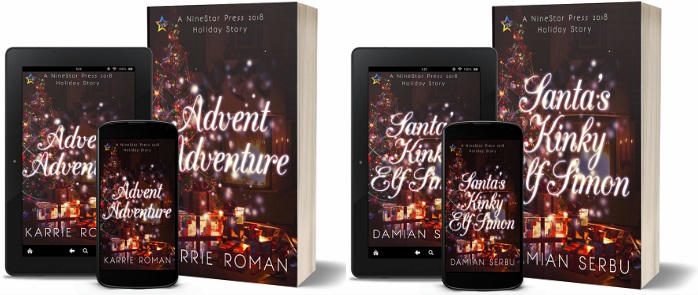 Giveaway!
One lucky winner will receive a $10.00 NineStar Press Gift Code!