Hi guys! We have Robert Winter stopping by today with his audio release September, we have the first part of a fabulous interview with the narrator Kale Williams, we have a great excerpt and a brilliant $25 Amazon GC giveaway for two lucky winners, so check out the post and enter the giveaway! ❤ ~Pixie~
September
by
Written by Robert Winter
Narrator: Kale Williams
A May-December contemporary gay romance for lovers of second chances
David James is smart, successful, handsome… and alone. After the death of his lover, Kyle, from cancer, he buried himself in his law practice and the gym. At forty-eight, he is haunted by his memories and walled off from the world. When David injures himself working out, he's assigned to Brandon Smith for physical therapy. The vibrant young therapist is attracted to David and realizes he needs a hand to get back into dating. What begins as a practice coffee date escalates to friendship, passion, and maybe something more, as they navigate a new relationship in Washington, DC, and the gay mecca of Provincetown.
But David remains trapped behind the barrier of fear and guilt. Will he remain loyal to Kyle's memory if he moves on? Can he and Brandon manage a twenty-two-year age gap? Brandon thinks he understands David's concerns, and for him, the answer to those questions is yes. He wants to be with David, and he believes he can overcome David's barriers. But Brandon fails to account for the world's reaction to a handsome young man attached to an older, wealthy lover.
David's memories, Brandon's pride, and an unexpected tragedy might cost them something very special…
Kale Williams Interview!
Join author Robert Winter and narrator Kale Williams in a wide-ranging interview that explores the process and art of producing an audiobook. The interview has been divided into five segments. Follow each stop on the blog tour to hear the entire discussion, and enter to have a chance to win a $25 Amazon giftcard.
Feb 19, 2018 – MM Good Book Reviews  Part 1—To kick off the interview, Kale describes how he got stated in audiobook narration.
Feb 20, 2018 – The Novel Approach  Part 2 – Kale discusses how his theater background informs his work as a narrator, how he got into narrating M/M romance, and what it's like narrating those explicit sex scenes.
Feb 21, 2018 – Love Bytes Reviews  Part 3 – In this segment Kale describes his process for preparing to narrate a book.
Feb 22, 2018 – Joyfully Jay  Part 4 – Kale discusses how he makes each character unique, and lessons he took from voice actor Hank Azaria. Kale and Robert also discuss the development of voices for two characters, Brandon and Joe.
Feb 23, 2018 – Two Chicks Obsessed with Books and Eye Candy  Part 5 – In this final segment, Kale discusses the scenes in September that stood out to him as a narrator, and we discuss one character in particular who is very important in Robert's next book, Asylum.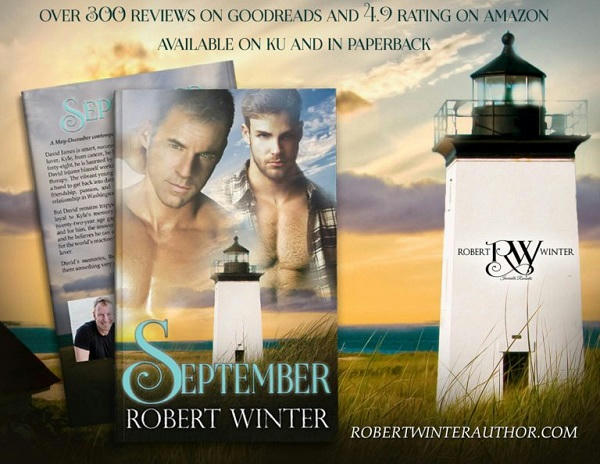 Audio Excerpt!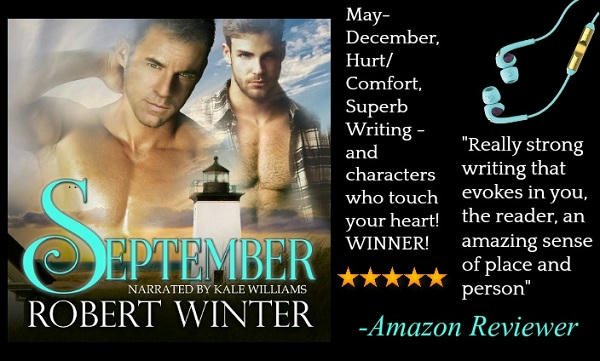 About Robert!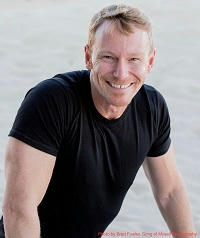 Robert Winter is a recovering lawyer who likes writing about hot men in love much more than drafting a legal brief. He left behind the (allegedly) glamorous world of an international law firm to sit in his home office and dream up ways to torment his characters until they realize they are perfect for each other.
Robert divides his time between Washington, DC, and Provincetown, MA. He splits his attention between Andy, his partner of fifteen years, and Ling the Adventure Cat, who likes to fly in airplanes and explore the backyard jungle as long as the temperature and humidity are just right.
Contact Robert at the following links:
Facebook | Website | Goodreads | Twitter | Email RobertWinterAuthor@comcast.net
Meet the Narrator
Kale Williams lends his voice to bring to life romance books of all stripes. Known for his distinct characterizations and natural intimate storytelling, he is as comfortable with the cowboys on the prairie as he is with the cops of the big city, from the slow burn to the hot steam to the HEA. Love is love is love.
Giveaway!
Win! Two lucky winners will each receive a $25.00 Amazon Gift Card!