Hi guys! We have J. Scott Coatsworth popping in today with the stunning cover to his upcoming release Spells & Stardust, we have a great excerpt and a brilliant $20 Amazon GC giveaway, so check out the post and enter the giveaway! ❤ ~Pixie~
Spells & Stardust
by
J. Scott Coatsworth
Spells & Stardust is Scott's first anthology – eight sci fi and fantasy shorts that run the gamut from regeneration to redemption.
The Bear at the Bar: A gay fish out of water tale with a pinch of magic.
Tight: What happens when your lover disappears in midair?
Morgan: The year when everything changed.
Re-Life: What if you were reborn in a strange new future?
A New Year: They met every eleven years. And each time, Hank's life changed.
Repetition: What if you wanted to go back in the closet?
Gargoyle: Sometimes you get what you deserve. Sometimes it happens on All Hallows Eve.
Avalon: A few bright moments in the sun, stolen from outside time.
Most of these stories have been previously published in various anthologies and journals. This is the first time they have all been collected in one place.
Warnings: One story contains attempted suicide; another has a homophobic incident
Excerpt!
From "A New Year"
The edge of the old cement pediment crumbled away beneath Hank's feet into the river far below, glistening in the light of the almost-full moon. The bridge railing was cold at his back—he could feel it all the way through his jacket and shirt to his skin. He could see his breath glowing in the night air.
The nearly-frozen water rushed by in the river below, flowing under the bridge behind him and on toward the ocean far away in a steady flow, silver in the moonlight and heavily laden with winter rain. As soon as he gathered his courage, Hank would let go of his grip on the railing and fall into those icy waters, to disappear forever from the world of men.
It was New Year's Day, 1986, an hour after midnight, and it was the end of things for Hank.
Or it should have been.
It was also the night he first met Dale.
About J. Scott!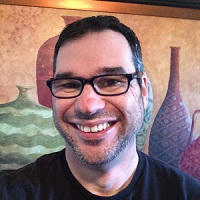 Scott spends his time between the here and now and the what could be. Enticed into fantasy and sci fi by his mom at the tender age of nine, he devoured her Science Fiction Book Club library. But as he grew up, he wondered where all the people like him were in the books he was reading.
He decided that it was time to create the kinds of stories he couldn't find at his local bookstore. If there weren't gay characters in his favorite genres, he would remake them to his own ends.
His friends say Scott's mind works a little differently – he sees relationships between things that others miss, and gets more done in a day than most folks manage in a week. He loves to transform traditional sci fi, fantasy, and contemporary worlds into something unexpected.
He runs both Queer Sci Fi and QueeRomance Ink with his husband Mark, sites that bring queer people together to promote and celebrate fiction that reflects their own lives.
Website | Facebook | Facebook Author Page | Twitter | QueeRomance Ink | Amazon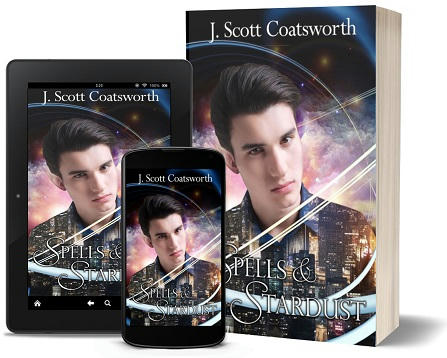 Giveaway!
Win a $20 Amazon GC!