Hi guys! We have NineStar Press visiting today with week 2 of their new Holiday stories; we have A Fae's Dear Santa…, Keelan Ellis's Light One Candle, Jana Denardo's The Glow of Luminiferous Aether on Tinsel, Annabelle Jay's Oranges and Cloves and K.S. Trenten's Seven Tricks. We have a great excerpt from Seven Tricks and we also have a brilliant giveaway, so check out the post and enter the giveaway! <3 ~Pixie~
Holiday Stories week 02
Dear Santa… by A. Fae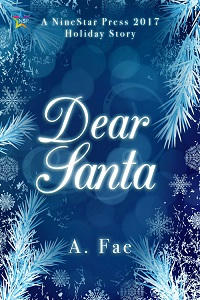 The holidays don't mean much to Nadia. There are be tons of socialite parties her parents will force her to attend. She'll be expected to find just the right outfits to pass the inspection of her mother, as well as to hopefully catch the eye of one of the belles at the ball. None of which she cares about in the least. To say she's a Scrooge is an understatement.
Before the kick-off event takes place, Nadia receives an unexpected call from the daughter of one of her parents' friends. They've met before, but for the life of her, Nadia just can't place her. They exchange pictures through text—a gorgeous woman to match the sultry voice. As her mood is heightened slightly, enter nerves galore.
How will the holidays turn out? Will this mysterious woman from the past be able to pull the Christmas spirit out of her after all? And when is the right time to tell her she's asexual?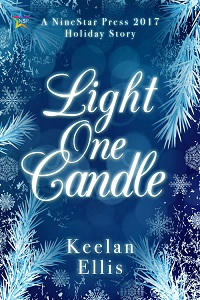 Light One Candle by Keelan Ellis
Nerdy, struggling graphic novelist Josh Reben expected to work at his comic book store job all through the holidays. The only thing he had to look forward to was a possible hookup with a guy who—let's be honest—didn't seem that into him. So when his brother Ben calls to tell him he'll be flying home for Hanukkah, along with his wife and new baby, Josh pleads for the day off for a family visit.
With the best of intentions, Ben also invites their former neighbor Marc Birnbaum to dinner. Only, he didn't know that Marc bullied Josh for years when they were children. Josh approaches the evening with the idea of getting some closure, but when he finds Marc to be completely changed from his childhood self, things get a little confusing.
Family drama and personal baggage make for holiday tensions, but during the Festival of Lights, the Rebens and their guest just might find their way to some new understandings.
The Glow of Luminiferous Aether on Tinsel by Jana Denardo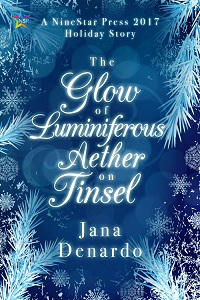 As Chief Tactician for the airship DeGrasse, Jacob Scarberry has spent the last six months on a wearying tour of duty. He's missing home, and his prosthetic leg is conducting the December cold straight to his core. But with the holidays coming up, he's looking forward to a well-earned leave, sharing some Christmas surprises with his lover, Dr. H. Alphus Troyer, and welcoming in the dawn of the 20th century.
A professor at Ohio University, Al is already on Christmas break, and his unconventional household is in a festive frenzy. Al is a bit less joyous, his anticipation of Jacob's return warring with uncertainty over the special gift he had commissioned for him. Would Jacob appreciate it, or will it put a strain on their relationship?
Suddenly Al's worries become trivial when the newspapers report an attack on the DeGrasse. With Jacob fighting for his life miles away, Al is left to wonder whether Jacob will return at all, or whether the planned festivities will become holiday heartbreak instead.
The Glow of Luminiferous Aether on Tinsel
Oranges and Cloves by Annabelle Jay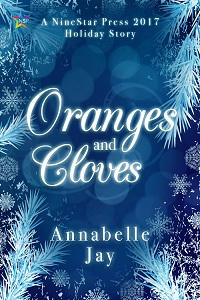 Landon, father of three, accidentally runs into another shopper while looking at oranges in the supermarket. He thinks little of the incident, but after being tasked to find a church by his mother and testing out a Children's Advent Celebration with his kids, he discovers that the shopper is actually one of the instructors helping all of the children make spiced orange pomanders. The man gives Landon a pomander with his phone number on it, but since Landon swore off men for 2017 after his partner left him and his dates have all flaked on him, will he take the instructor up on his offer of a date?

.
Seven Tricks by K.S. Trenten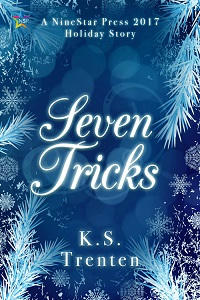 Some say a mouse king has seven heads. Hah, trust a human to get our legends wrong.
A mouse prince must perform seven tricks before the twelve days of Christmas are up. It's how he wins his crown, but the prince has whiskers set on something else. A stiff beauty with a magnificent jaw, waiting for him under the holiday shrub. He caught his scent in a dream, which he's been sniffing after ever since.
Scamper with him through his adventures and misadventures, dodging traps, cats, and giants, while he wins a steadfast nutcracker's heart.