Hi guys! We have Lorelei M. Hart & Colbie Dunbar popping in with their new release Matched To His Wolf, so check out the post and enjoy! ❤️ ~Pixie~
Matched To His Wolf
(The Dates of Our Lives 01)
by
Lorelei M. Hart & Colbie Dunbar
Fate doesn't use dating apps to pair true mates…except when it does.
Human Omega Colin Soames has finally made it. Investors are clamoring for his new hit dating app and then things get weird. Now he's on a mission to figure out who's co-opting his app and why; by going undercover as a potential date. Little does he know that the oddities he discovered weren't designed to sabotage the app as he first thought. No. Shifters have figured out a way to use it incognito, and he's about to go on a date with one. If only he knew shifters existed outside of fiction.
Pack Alpha Bentley Shaw likes being single. He doesn't have to answer to anyone but his pack. He likes it that way even if he is lonely and even if his wolf is restless. Why bother putting your heart out there if you are only going to get hurt? But one drunken night he lets his Beta talk him into trying the new dating app all the shifters are using—just once. How bad could one date be? It couldn't be worse than the time he tried to date a human—except that's exactly what Love and Hate sends him. 
Sparks fly, feelings grow, and their worlds are turned upside down in the very best of ways.
Matched To His Wolf is the first book in the sweet with knotty heat Dates of Our Lives M/M Mpreg Shifter Dating App romance brought to you by the popular co-writing duo of Lorelei M Hart and Colbie Dunbar. It features a human who stumbles into a world he never knew existed thanks to a silly little soap opera, an alpha who didn't want to date—full stop, two powerful men trying to figure out how to come together as one, and an adorable baby. If you like your shifters hawt, your omegas strong, your mpreg with heart, and your HEAs complete with true mates and a bundle of joy, one-click today.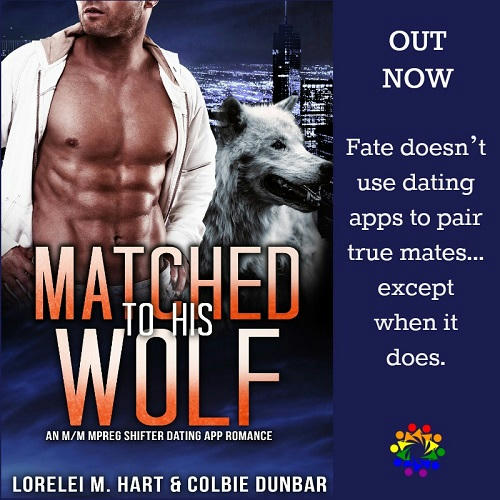 About Lorelei & Colbie!
Lorelei M. Hart
Lorelei M. Hart is the cowriting team of USA Today Bestselling Authors Kate Richards and Ever Coming now joined by their friend, Ophelia Heart. Friends for years, the three decided to come together and write one of their favorite guilty pleasures: Mpreg. There is something that just does it for them about smexy men who love each other enough to start a family together in a world where they can do it the old-fashioned way ;).
Social Media Links
Colbie Dunbar
My characters are sexy, hot, adorable—and often filthy—alphas and omegas. Feudal lords with dark secrets, lonely omegas running away from their past, and alphas who refuse to commit.
Lurking in the background are kings, mafia dons, undercover agents and highwaymen with a naughty gleam in their eye.
As for me? I dictate my steamy stories with a glass of champagne in one hand. Because why not?
Social Media Links
Blog/Website  |   Facebook  |  Twitter  |  Instagram  | Newsletter Sign-up  |  Pinterest