Hi peeps, we have R. Phoenix stopping by today with the tour for her new release Too Close, we have a fantastic guest post from R. and a brilliant giveaway so check out the post and click that giveaway link! <3 ~Pixie~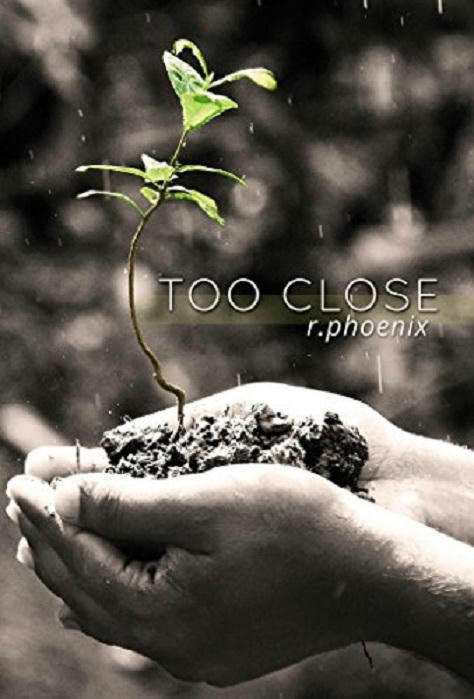 Too Close
by
R. Phoenix
Skylar Orion's life has been complicated ever since his mother abandoned him and his sister Evie. Making ends meet seemed impossible until Tate Chandler took them in — his knight in shining armor who promised to make life about more than just surviving. But Tate is not the man he seemed to be, and even his whispered I love yous and generous gifts do little to soothe the pain he causes. Knowing he can't give his sister all that she deserves without Tate, Skylar stays with him, relying on bad puns and a worse sense of humor to keep up the charade.
He will do anything for his sister, even if that means acting the responsible adult and going back to his old high school to meet Dexter Weston, the hot math teacher who can make even algebra interesting. Sparks fly between the two of them, but with his dependence on Tate, Skylar isn't free to follow his heart. He wants what is best for Evie, but can he pass up the chance to find love that heals instead of harms? 
Warning: This book contains scenes of domestic abuse and violence that some may find triggering to read.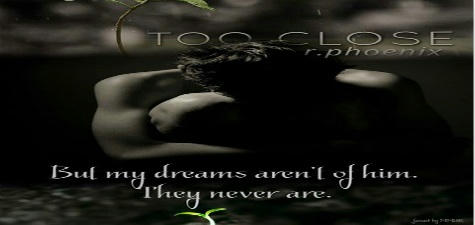 R. Phoenix!
My newest book, Too Close, is my first contemporary romance. Skylar is willing to do anything for his sister Evie, including staying with a man who is physically and verbally abusive so he can ensure she has everything she needs. When he meets Dexter, Evie's math teacher, Skylar is confronted by the sort of life he could have… but to pursue it, he'd risk losing everything. (Please mind the trigger warnings.)
Before that, I wrote these really dark paranormal books where vampires, werewolves, and witches took over the world and subjugated humanity. This was my first series, and it's nothing like Too Close. I'm actually in the process of editing and re-releasing those books, which has been a lot of fun. (No, seriously. I'm weird that way.)
It's a pretty dramatic shift, and I've been asked why I made the jump. Part of it is that I enjoy a challenge, and I like trying out different styles — which is why the series has so many elements to it. The other part of it is that Too Close is a book that's several years overdue for me.
Over a decade ago, a young adult author graciously took the time to correspond with me. At one point, I asked her to write a particular type of story. She told me that it was my story to tell and encouraged me to write it. At the time, I couldn't do it. But it's been in the back of my mind for years. Finally, it clicked, and I started writing the most difficult I've ever attempted.
Because of my inexperience writing in this genre, I wasn't sure how it would go — for that matter, I wasn't even sure it would ever get finished. I'm so glad to say that I did finish it and publish it. Domestic violence, especially in LGBT relationships, is often swept under the rug. The chance to call attention to it was one I'm glad I took.
The reviews and comments I've received have been extremely touching. (I've actually saved all of them; they've meant that much to me.) It's been gratifying to see that some have stated that they understand why someone stays in an abusive relationship a little better. If I can help promote understanding just a little more, if I can help just one person, it makes every step of an admittedly difficult journey worth it.
Pretty far cry from dark paranormal erotica, romance, horror, etc., but I am so, so very glad that I wrote it.
I hope you'll check out Too Close, and if you like to bounce between genres like I do, I hope you'll give Bound by Sacrifice (The Fate of the Fallen #1) a try. Both books are at Amazon and in Kindle Unlimited.
Bound by Sacrifice:  Amazon US | Amazon UK
Thanks for reading!

About R.
R. Phoenix has an unhealthy fascination with contrasts: light and dark, heroes and villains, order and chaos. She believes that love can corrupt and power can redeem. Her muse is a sadomasochistic slavedriver who thinks it's terribly amusing to give her the best ideas when she just got comfortable and warm in bed, and she passes on that torture to her readers.
If she had it her way, she would describe the books in her "Ripples in the Status Quo" world as: "Supernatural creatures take over the world and turn humans into pets and food. There's some sex between guys. And… um… fucked up things happen." It's probably a good thing she has people around her to remind her that she actually wants people to read her books. (They should really be more diligent, especially when they know she's writing her author bio.)
She's an author, stay-at-home mother, housewife, second time college student, and duck herder extraordinaire. She's learning how to cook without burning the house down, her garden is somehow neither drowning nor drying up, and one day she might remember what that mythical thing called "free time" is. She's starting to wonder who thought it was a good idea to write bios in third person.
She also tries entirely too hard to be funny, and she mercilessly inflicts her terrible sense of humor upon anyone who speaks to her. Really, it's not you. It's her. All the same, she'd love it if you'd say hello, because it makes her day to hear that someone read something she wrote. If they enjoyed it, there's usually an awkward happy dance and embarrassing sounds of joy to accompany it (no, not that kind of sound, you perv). If all of that hasn't scared you away, please say hello!
Website | Facebook | Twitter | Goodreads
Giveaway!
Win a $10 Amazon Giftcard! 
Backlist title from R Phoenix!
(Just click the link below)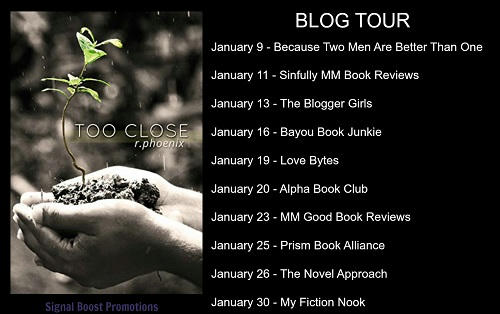 Check out the other blogs on the blog tour!