Hi guys! We have Sarah Black popping in today with her upcoming release War Paint, we have a brilliant guest post and a great excerpt so check out the post and enjoy! ❤ ~Pixie~
War Paint
(States of Love: Georgia 40)
by
Sarah Black
Mural artist Ben has come from Tel Aviv to Atlanta to work on a commission. A successful artist, he's still lonely and isolated after his family's rejection. Ben is charmed and surprised when local soldier Eli mistakes him for homeless, and brings him a cup of coffee and a biscuit. This gesture opens the door. Eli is lost, trying to make sense of a future without the Army after a combat injury ends his career.
Art gives them a new language and a path forward. But lost men can reach out, desperate to hang on to anyone close. Is what they find together real, and the kind of love that will last?
Sarah Black!
Thank you for hosting me! My new story, called War Paint, is being published as part of the States of Love series by Dreamspinner May 25. The story is set in Georgia.
My favorite grandmother was very tough. She said things like, "enough is as good as a feast," and never let me get away with anything. She seemed to know what I was up to, and I adored her for this mind-reading. She made biscuits the old-fashioned Southern way, with lard and buttermilk. I was watching her one day and asked her, after a sip from the carton, why we had to buy buttermilk. She said she guessed it was because we were too lazy to make our own buttermilk.
My eyes must have popped, because she explained about milking the cow, then churning the butter, and when you had the butter in the icebox cooling, you used the remaining buttermilk to make biscuits. But not with the precious butter in the fridge, with lard. I was waiting for her to tell me we were too lazy to get our own lard, too, but she eased up a bit on that one.
Southern biscuits were served at every meal, because you could stretch a bit of meat and gravy to feed a lot of people if there were those good biscuits to soak up the juice. She made them in the iron skillet, and the pattern was like a daisy. This is how she did it:
Sifted the flour- used self-rising, and just a pinch of salt and a pinch of baking powder. Cut in the lard with the pastry cutter. She used a wire pastry cutter and cold lard, said to "put some arm into it." When the lard was cut in to about the size of peas, pour in the buttermilk and softly- softly! combine the dough. Don't overwork or the biscuits will be tough! Form them into little balls, pat them out and put them in the iron skillet. Bake at 500 degrees.
Anyway, about biscuits. They are a staple of southern care and comfort, and when Eli, one of the characters in War Paint, saw someone he recognized as in more trouble than he was, the only thing he could think to do was bring him coffee and a biscuit. But that gesture said everything about who he was, and where he came from, and the way his grandmother made her biscuits.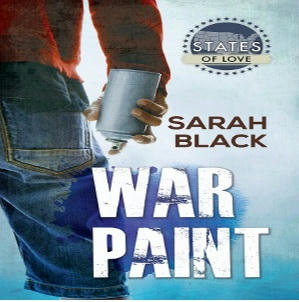 Excerpt!
BEN WAS sketching the fins on the back ends of old Buicks as actual shark's fins swimming in an aqua sea. Several Buick noses poked above the surface of the water like strange car-manatee hybrids. He'd seen manatees once in Florida and found them strangely disturbing. David moved over until his nose rested on Ben's foot. The little dog would move up, body part by body part, until he was lying across Ben's chest, nose pressed to the pulse, Ben's beard moving with every dog sigh. That's when Ben would know it was time to give it up for the day and retreat to his extended-stay hotel.
A young man came out of the diner and walked across the street, holding a coffee to-go cup and a small white paper bag. He came right to the bench, but at the last minute, his eyes seemed to skitter away, and he looked down at David instead. "Hello."
David wagged his stub of a tail, and he looked at the white bag with interest. "The waitress, she brought me an extra biscuit. I thought you might like it. I have some coffee too. I used cream and sugar. I hope that's okay."
It took Ben a moment to realize this boy with his tired eyes and lined face was actually bringing him a biscuit and coffee. What was this? Maybe he was going to talk about being saved? "Well, thank you. I like biscuits." It seemed lame, but Ben wasn't really sure what was going on, and he didn't want to seem too encouraging.
"All of us, we're just one step away, you know? I totally get how it could have happened."
One step away from what? He was young, maybe twenty-three or -four, but his face was lined like he was in pain. He looked like he'd been walking around Atlanta with broken ribs or had just gotten out of traction. Ben reached out and took the biscuit and coffee. "I'm Ben. This is David." He gestured toward the little dog. David got a scratch between the ears.
"I'm Eli," he said. Then Ben thought he heard the kid mumbling to himself, "Eli is a busboy, Eli is a busboy."
"Eli, Ben, and David. If we formed a band, we could call ourselves the Old Testaments."
Eli looked alarmed at this and took a step away, like he was getting ready to run for it. Ben thought he looked like a kid who was easily spooked. Maybe religious jokes weren't appropriate around here? This deep into the Deep South, who knew. He could barely understand them when they talked. The local accent was so thick he thought people sounded like they were trying to talk around a mouthful of honey and peanut butter. This boy, though, his accent was charming, slow and green as a summer meadow.
Ben gestured to the sketchpad on his lap. "Have you ever seen a manatee? I always thought that they looked like an alien life-form. Like maybe when the aliens beamed people up, they left manatees in their place."
Eli took another step away. "Actually I know this lady who looks a bit like a manatee. They seem real gentle and friendly, but something tells you not to screw with them." He closed his eyes, reached up and rubbed his forehead, like he had a headache. "Well, see you." David got another little pet.
"Thanks again for the biscuit and coffee," Ben said, watching him head off down Tye. It wasn't until he saw a dollar bill tucked under David's collar that he clicked on the fact that the kid thought he was homeless. And he'd brought him coffee and a biscuit.
About Sarah!
Sarah Black is a writer, artist, veteran, and mom. She writes about vets and artists, because those are the people she knows the best. She has recently moved back to the Virginia mountains, after a lifetime of roaming around. 
Twitter | Goodreads Blog | Facebook