Hi guys! We have Colette Davison stopping by today with her new look Why I… series, we have great excerpts from the series and a brilliant giveaway so check out the post and enter the giveaway for a chance to win a $10 Amazon GC! ❤ ~Pixie~
Why I Left You
by
Colette Davison
Guilt has torn them apart…
…but can they have a second chance?
Jamie is struggling with university, money and depression.
The last thing he needs is Brett, the guy who walked out on him four years ago. Yet, he could be just what Jamie needs.
Brett has his own way of dealing with heartache.
Ever since Jamie left him, he's been running away from commitment. But when he Jamie comes back into his life, he's forced to re-examine everything.
Brett and Jamie are drawn back into each other's arms by an undeniable spark.
But unless they can come to terms with the past, their relationship won't survive the present.
Why I Left You is a MM hurt/comfort, friends to lovers romance with explicit language and steamy scenes between gay men. It's the first in a series of standalone romances with a happy ever after.
Why I Need You
The truth can break them…
…but so can the lies.
Fin has put his life on hold to raise his little sister.
Following the death of their parents, he's convinced her well-being is all that matters, even if it's at his expense.
Noah has been living a lie for years.
After being publicly outed and kicked out from home, he's ready to let go of his anger and finally be free.
A chance meeting between Fin and Noah opens endless possibilities. Can they be together despite all their baggage? Or will the truth crush them beyond repair?
Why I Need You is a MM hurt/comfort, insta-dad romance with explicit language and steamy scenes between gay men. It's the second in a series of standalone romances with a happy ever after.
.•.•.**❣️ Amazon US | Amazon UK ❣️**.•.•.
Why I Trust You
Their past can bring them together…
…or it can haunt them.
Martin is a funny, larger than life guy.
Quick to help others with their pain, but hiding his own, his life consists of a string of break-ups.
Ryan needs a way to leave his abusive boyfriend.
Working with Martin is supposed to help him raise enough funds to escape. It's just business. With an ocean between them, it couldn't be anything more. Could it?
One is close enough to giving up on love. The other wounded by it.
Can they trust each other? Or will the distance, hurt, and abuse get in the way of their happy ever after?
Why I Trust You is a MM hurt/comfort romance with explicit language and steamy scenes between gay men. It's the third in a series of standalone romances with a happy ever after.
***Trigger warnings: Domestic violence and abuse***
.•.•.**❣️ Amazon US | Amazon UK ❣️**.•.•.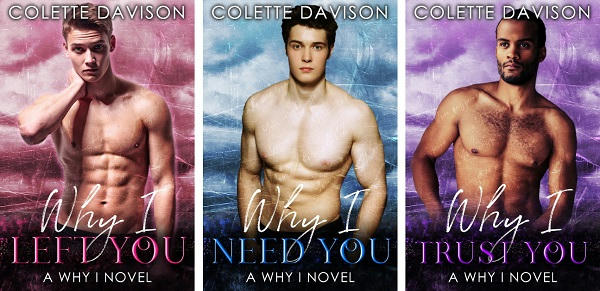 Excerpts!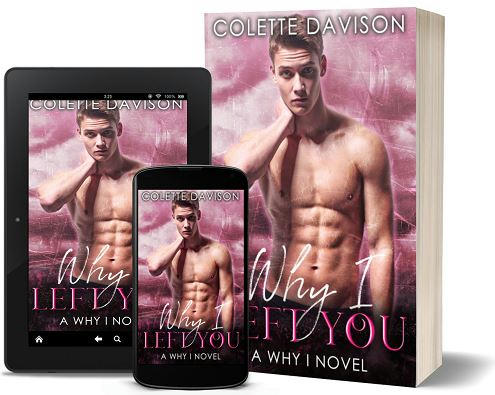 Why I Left You
Holy shit. Jamie was kissing him. Brett's head told him to back off and walk away, but his body remembered those lips and how much he'd once enjoyed having them pressed against his own. His body wanted to lean into the kiss and respond with four years' worth of regret. For a few precious moments, he let himself give in to desire. His heart hammered against his ribs, desperate to escape his body and reclaim what it had lost. His fingers tingled as he wrapped an arm around Jamie's shoulders and held him tightly, his thumb making small circles on Jamie's shirt.
Then his brain kicked into gear again. What the fuck was he doing? This was the guy who had ripped his heart out in the worst possible way. Besides, Jamie was clearly at least half-gone. What they were doing was a mistake at best.
He pulled away, breathing heavily as he stared at Jamie, whose pupils were blown wide.
"You're drunk," Brett said in the most matter-of-fact tone he could manage.
Jamie curled his upper lip and turned away, shaking his head. It was dumb for Brett to follow him, but he did it anyway. They'd been best friends long before they'd realised they were attracted to each other. Brett had always looked out for Jamie, back when they'd lived next door to each other. Those instincts kicked in.
"Let me walk you home."
Jamie stopped and rounded on him, fists clenched, teeth gritted. "Don't pretend you give a shit."
Brett blinked. "You're drunk. You need someone to make sure you get home okay. What about one of the guys you came here with? The one you were dancing with?"
"You gave up the right to worry about what happens to me when you left."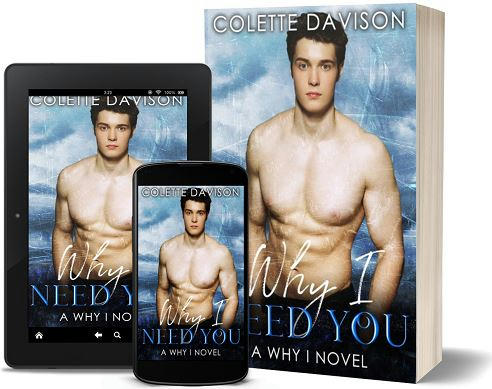 Why I Need You
"I'm staying at a friend's house for now," Noah said, trying to inject lightness into his voice. "Martin. He's cool. You should meet him sometime."
"Just a friend?" Fin asked, his eyes narrowing ever so slightly. Was that curiosity playing across his face?
"Yes," Noah said. "We went there once, in high school, but we're really not into each other. What about you? Have you got a boyfriend?" It was a stupid question, really. They wouldn't be out together if either of them was involved with someone else.
"No."
"Really?" Noah acted surprised. "I can't believe someone as cute as you is available."
Fin let out a short laugh. "I'd have thought you'd have been snapped up quickly, too."
Noah ran his finger around the rim of his pint glass. "I've been keeping a low profile. I had to keep up appearances for my parents and all that. Now, I'm free. What's your excuse?" He was sure he saw panic flit through Fin's eyes. They certainly darkened for a couple of seconds, his irises becoming almost indistinguishable from his pupils.
"I've been too busy, I guess. Too much work and study."
"You know what they say," Noah said. "All work and no play makes Fin a dull boy."
"I'm dull, am I?"
"Not from what I've seen. Yet. But you're in danger of it," Noah said in a knowing tone. "You should definitely get out more."
"Oh, yeah?" Fin asked, his voice lower than it had been moments before. He leaned towards Noah, resting both elbows on the table. "And who would I do that with?"
Noah leaned towards him as though there were some sort of invisible tug coming from Fin. He could tell by the way Fin's eyelids were a little heavy and the lazy curve of his lips that he'd welcome a kiss in that moment. Noah found he wanted to. He wanted to feel the texture of Fin's lips against his own, wanted to taste him. His hands became clammy. It felt like the few people in the bar were all staring at them. It didn't matter whether it was true or not; he could already feel the blood pounding in his head. His stomach lurched at the thought of prying eyes watching what should have been an intimate moment. So, instead of doing what he knew they both wanted, he leaned back.
"I'm sure you can find someone," he said in what was supposed to have come out as a cocky, laid-back tone but actually sounded really dumb.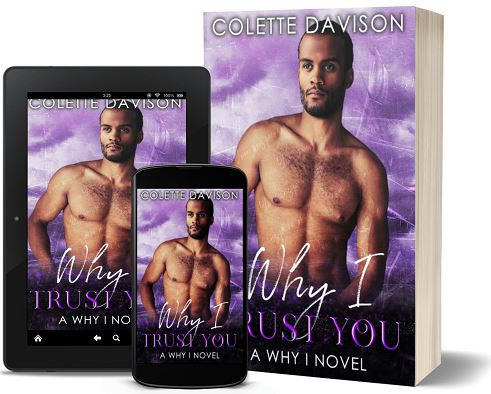 Why I Trust You
As Martin spoke, Ryan drew as quickly as he could. He wasn't aiming for anything of beauty, just the gist contained in a series of incredibly rough sketches. It was impossible not to get caught up in Martin's vision. The childlike excitement in Martin's voice encouraged Ryan to smile as he drew, visually realising the story that was beginning to unfold in Martin's rambling and often chaotically organised sentences.
"And that's it," Martin said. "I talked too fast, didn't I? You should have stopped me."
The truth was, Ryan had loved listening to Martin's deep, smooth voice. He'd loved being able to switch off from everything else to focus on nothing but Martin's words and the sketchpad and pencil. He used his phone to snap a few photos of his rough sketches and emailed them straight to Martin.
"I sent you a present," he said. "And, no, you didn't talk too fast."
"Got it," Martin said. "Holy shit. You drew these while I was talking?"
"Yeah, they're kind of rough."
They were more impressions than clear drawings. Bold lines used to create the suggestion of vast detail. But despite that, Ryan was confident that the content of each sketch was clear.
"I'll obviously need to translate all these ideas into digital format and pick a style that'll work across platforms without pixelating on larger devices or looking too visually cluttered on smaller screens. I'll work on some solid graphics ideas over the next few days."
"These are amazing," Martin breathed. "I just… wow."
Ryan felt a warmth surge through his chest. It felt so good to be really, truly appreciated by someone. The fact that it was a guy he'd never met and who lived several thousand miles away only made it hit home how truly miserable he'd become. But that awareness didn't stop the guilt from seeping into every fibre of his being. He was sneaking around behind Zane's back, talking to another guy. A guy whose voice he liked. A guy who made him feel appreciated. If Zane found out, he'd flip out and accuse Ryan of cheating. He gripped his pencil tightly, to the point of almost snapping it in half.
"I'd better go," he said, his voice suddenly weary. "I've got work in a few hours, so I'd better get some sleep." Not that he was convinced he would be able to sleep, as his thoughts were so mixed up about the way Martin made him feel.
"Yeah. Sorry I kept you up."
"No problem. It's been fun." It really had been. That was the thought Ryan wanted to take away with him, rather than the guilt, but he knew the guilt would win.
About Colette!
Colette's personal love story began at university, where she met her future husband. An evening of flirting, in the shadow of Lancaster castle, eventually led to a fairy tale wedding. She's enjoying her own 'happy ever after' in the north of England with her husband, two beautiful children and her writing.
Social Media Links
Blog/Website | Facebook | Twitter | Bookbub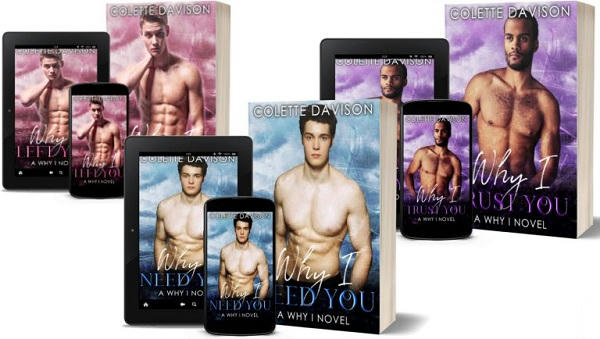 Giveaway!
Win a $10 Amazon Gift Card!