Hi guys, we have D.J. Jamison stopping by today with the tour for her new release Wrangling the Groom, we have a great new exclusive excerpt and a brilliant giveaway, so check out the post and enter the giveaway! ❤️ ~Pixie~
Wrangling The Groom
by
D.J. Jamison
Can two men keep a childhood promise for marital bliss?
Wyatt is overwhelmed after his grandfather dies, leaving him to take over the cattle ranch. The Triple J is floundering, vandals are targeting him, and his first and only love is finally within reach–and still holding a grudge. Wyatt has wanted to marry Diego since they made a childhood pact, but Diego isn't back for their second chance.
When a funeral calls Diego back to Texas, he comes face-to-face with the cowboy who broke his heart. Resentment has burned inside him for years, but his anger wavers as he realizes just how much Wyatt is struggling to keep his head above water. The man he once loved is lonely and burdened, and Diego feels compelled to help him rediscover the strong, capable rancher he knows him to be.Hostility gives way to passion, then friendship as they fall into a rhythm of work and sex. Wyatt has renewed hope he might wrangle the man he wants to be his groom. But Diego has a life waiting for him one thousand miles away, and love may not be enough to prevent history from repeating itself.
Wrangling a Groom is Book 2 of the Marital Bliss series, but it can be read as a standalone.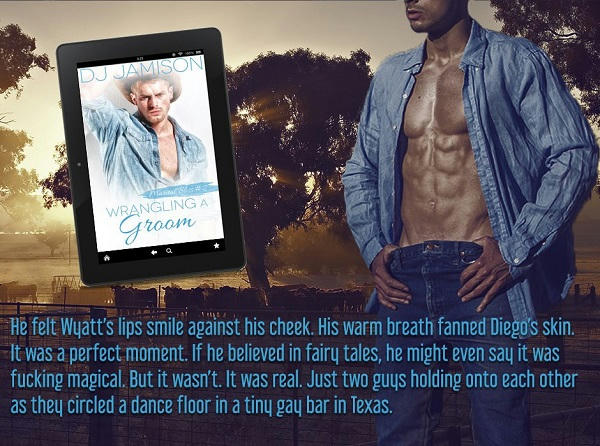 Exclusive Excerpt!
In this scene, Wyatt and Diego are standing behind the barn. Diego has returned to the ranch for a funeral, and Wyatt has no idea how long he'll remain.
***
Wyatt stared at the nail, now pounded flat, where he'd once raked open the skin of his hand to make a blood pact.
He reached out, brushing a finger over it. "Do you remember?"
Diego leaned closer. "A nail? Is that…where you cut yourself for that ridiculous pact?"
Wyatt smiled faintly. "It wasn't ridiculous."
"We were six years old," Diego said. "We didn't even know what love or marriage meant, not really."
Wyatt's stomach tightened at Diego's dismissive tone. But he remembered, that was the important thing. As much as he disparaged it, he'd never forgotten, had he?
"We're twenty-five now," Wyatt said. "That was the age we chose."
"Huh." Diego tilted his head, as if to think. "I guess it was."
"You got anyone special?" he blurted.
Diego looked taken aback, but he answered. "Nope."
"Me either."
Saliva pooled in Wyatt's mouth as nerves took over. This was the moment. He took a deep breath, dredging up every bit of courage he had. Courage that had failed him six years ago.
"I think we should do it."
Diego looked lost. "Huh?"
"The marriage pact—"
"What?"
"Just hear me out," Wyatt said quickly. "I don't know how long you're gonna stay, and I don't want to go another six years without seeing you. We made a promise—"
"When we were kids!"
Wyatt talked faster. "Still. You're here, and at the exact right time. That has to mean something, right? We were good together once. We loved each other. That's more than a lot of people have. I don't know about you, but I'm tired of being alone. I'm tired of nothing but regrets. Let's keep the promise we made, D! Why not? What do we have to lose—"
"Stop," Diego cut in. "Just stop."
Wyatt gasped for breath, feeling as if he'd run a sprint. His heart pounded, and nausea hit him so hard he had to clamp his teeth against the urge to spew at Diego's feet.
Fuck, he wanted this so much. And Diego was going to say no, he was going to say—
"I can't listen to this."
He turned away, and Wyatt reached for him before he could stop himself. He grabbed at his shirt, and Diego turned on him so quickly he fell back against the barn wall, the window sill digging into his back. He barely felt it as Diego leaned in, eyes snapping with fury.
"You're out of your damn mind," he said. "You have no right to ask me this. No right to touch me. You threw it all away." Stepping back, he threw out an arm. "Now, you've got all this. It's everything you wanted."
"It's not everything I wanted," Wyatt protested.
"Then it's what you wanted most," Diego said. He shrugged, as if he didn't care, but Wyatt could see through the casual gesture. Diego was tense, his jaw muscle jumping. "You made your deal with the devil, Wy. Now you have to live with it."
"This isn't what I wanted," Wyatt insisted.
But Diego was already backing away. Wyatt almost missed the fury when Diego's expression turned coolly neutral. Anger was something familiar. This distance, though? This wall between them? That felt wrong.
But then again, everything had felt wrong since that day six years ago, when Wyatt said the wrong thing and Diego left him.
"It's too late, Wy. I don't want to talk about this."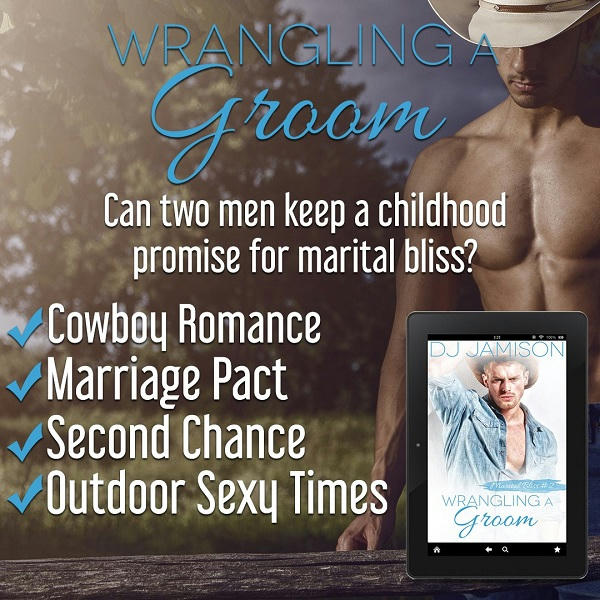 Marital Bliss series!
Surprise Groom (book 01)
.•.•.**❣️ Amazon US | Amazon UK ❣️**.•.•.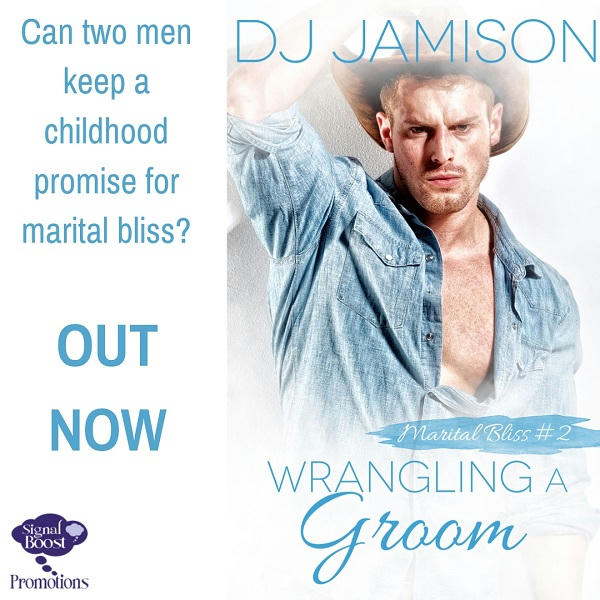 About D.J.!
DJ Jamison is the author of more than a dozen m/m romances, including the Ashe Sentinel series and the Hearts and Health series. She writes a variety of queer characters, from gay to bisexual to asexual, with a focus on telling love stories that are more about common ground than lust at first sight. DJ grew up in the Midwest in a working-class family, and those influences can be found in her writing through characters coping with real-life problems: money troubles, workplace drama, family conflicts and, of course, falling in love. DJ spent more than a decade in the newspaper industry before chasing her first dream to write fiction. She spent a lifetime reading before that, and continues to avidly devour her fellow authors' books each night. She lives in Kansas with her husband, two sons, two fish and, regrettably, one snake.
Facebook Page | FB group | Mailing list! | Twitter | Goodreads | BookBub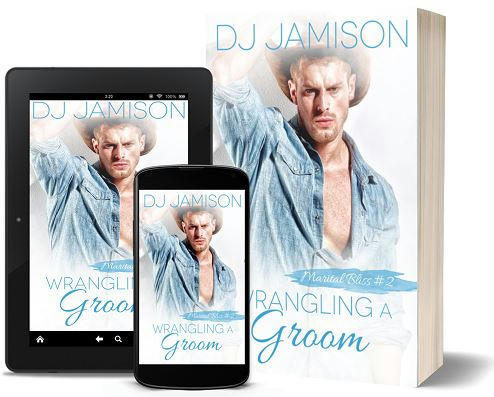 Giveaway!
Win a Ebook of Surprise Groom (Marital Bliss #1)!