Hi guys! We have Nell Iris popping in today with her new release 9 Willow Street, we have a great excerpt and a fantastic giveaway so check out the post and enter the giveaway! ❤ ~Pixie~
9 Willow Street
by
Nell Iris
Heartbroken after the death of his beloved Nana, Hannes, the family outsider, finally allows himself to grieve. The legal battle over Nana's quirky old house — the only place he's ever felt accepted and loved — is over, and he moves in and finds a sense of peace.
… And a rabbit.
An adorable bunny with a huge personality moves in, too, and refuses to leave. Hannes instantly falls in love with the sweet animal who helps heal his heart. But one morning, Hannes' view of the world changes when the rabbit transforms into a man. A man named Mattis.
After the initial shock, Hannes and Mattis discover a connection between them that runs deeper than it seems. Will their newfound feelings survive unraveling secrets and meddling families, and grow into something real? Something deep and everlasting?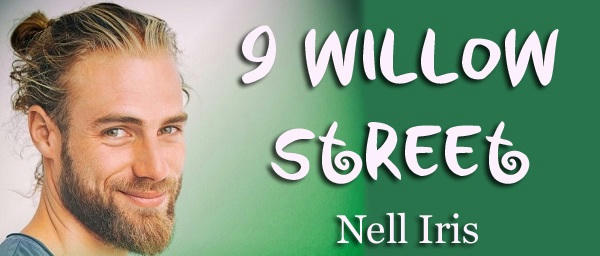 Excerpt!
Next morning, I wake up early. It's still dark outside, and I'm not sure what woke me up — a quick glance at the ancient mechanical clock radio on the bedside table tells me it's almost two hours until my alarm will go off, so I close my eyes again, willing myself to go back to sleep.
My eyelids are heavy, and I melt into the mattress as my mind drifts. I must already be dreaming because I can smell coffee; strong and bitter and fruity, and it's making my mouth water. The scent grows more intense and I hum. I've never had a dream this life-like before.
My eyes flutter open and I rub a palm over my face, but the coffee aroma doesn't disappear even though I'm clearly awake. Knitting my eyebrows together, I turn on the light.
And there, on the bedside table, stands my favorite cup — the one Nana hand-painted with my name and wood anemones, my favorite flower — full of hot, steaming coffee.
"What the …?" I push myself up to seated and stare at the thing as though it's a huge disgusting cockroach.
… and from the corner of my eye, I notice someone sitting on the floor, leaning against the wall under the window.
I gasp, scrambling backward until I almost fall off the bed. When my feet hit the floor, I put as much distance between me and the stranger as I can. My legs wobble and my hands tingle as I press my back against the wardrobe door.
"Who are you? How did you get in here?" I say, voice breathy and hesitant. I wouldn't scare a mouse in my state. My gaze flits between the intruder and the door.
Can I make a run for it?
My heart is galloping in my chest, and I shake my head, trying to clear it and make sure I'm properly awake, but he's still there. He's real, not a figment of my imagination.
As I look closer at the man, who's not saying anything, just sits there as though he's trying to be as unthreatening as possible, I realize he's vaguely familiar.
I definitely recognize the Bob Dylan T-shirt he's wearing. "Are you wearing my clothes?"
He nods, making his huge white-blond curls bounce around his head. The tip of his nose twitches and his forget-me-not colored eyes are big and guarded.
It's the eyes that does it.
"Wait! You're that guy. The one the Nymans were here looking for." I bite my lip as I search my brain for the name of the missing man. "Mattis?"
"Yes."
I jump when he speaks, making my head slam against the wardrobe, and I wince.
"Don't be afraid, I won't hurt you, I promise."
I scowl at him, inching myself closer to the door, hoping he won't try and stop me when I get close enough to bolt.
Why, oh why, did I make that stupid rule for myself to never bring my phone to bed? If I'd had it, I could've hidden in the closet and called 911.
"I made you coffee, Hannes. Please don't run, I need to talk to you."
"How do you know my name?" My voice is nowhere near as demanding as I want it to be. Instead, it sounds more like a plea and cracks.
Slowly, he rises to his feet in one fluid motion, keeping his gaze on me and his voice soft. "I know many things about you."
"How?" I'm pretty close to the door now. Just a few steps and I'll be out.
"Please don't run. Sit, drink your coffee, and I'll tell you."
I shake my head. "Why should I? How do I know you're not here to kill me or something?"
He cocks his head and his nose twitches faster. "'Don't be afraid. I know I probably look big and scary to someone as small as you, but I promise I'm nice. I won't hurt you.'"
I freeze as he quotes my own words back to me, the ones I said to Mio that day I found him in the kitchen. "How?" I whisper.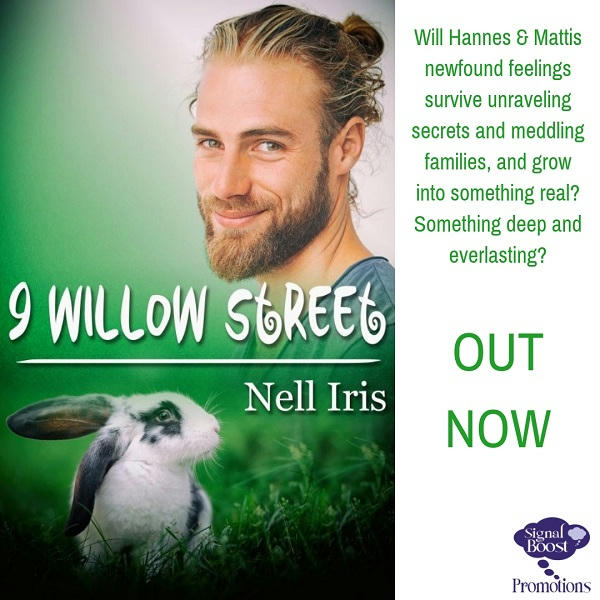 About Nell!
Nell Iris is a romantic at heart who believes everyone deserves a happy ending. She's a bona fide bookworm (learned to read long before she started school), wouldn't dream of going anywhere without something to read (not even the ladies' room), loves music (and singing along but, let's face it, she's no Celine Dion), and is a real Star Trek nerd ("Make it so"). She loves words, poetry, wine, and Sudoku, and absolutely adores elephants!
Nell believes passionately in equality for all regardless of race, gender, or sexuality, and wants to make the world a better, less hateful, place.
Nell is a forty-something bisexual Swedish woman, married to the love of her life, and a proud mama of a grown daughter. She left the Scandinavian cold and darkness for warmer and sunnier Malaysia a few years ago, and now spends her days writing, surfing the Internet, enjoying the heat, and eating good food. One day she decided to chase her lifelong dream of being a writer, sat down in front of her laptop, and wrote a story about two men falling in love.
Nell Iris writes gay romance, prefers sweet over angst, and wants to write diverse and different characters.
Website | Twitter | Facebook Page | Facebook | Instagram | QueeRomance Ink | Email contact@nelliris.com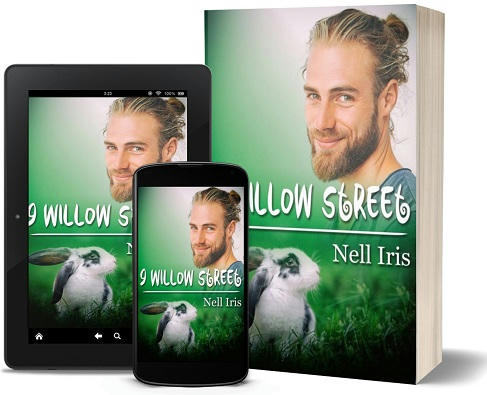 Giveaway!
Win a Signed Copy of Finding The One!