Hi guys! We have R.R. Campbell stopping by today with the tour for his new release Accounting for It All, we have a great guest post w/excerpt and a brilliant $10 NineStar GC giveaway so check out the post and enter the giveaway! ❤ ~Pixie~
Accounting for It All
by
R.R. Campbell
Former porn-star Robin Whethers has skated by as Pornucopia's do-nothing accountant for years. And who can blame her? Her supervisor has only encouraged her dillydallying, and it's given her oodles of time to do what she loves most: coach the talent at her mentor's all-female pornography studio.
But then the IRS comes knocking. With her supervisor unable to bail her out, Robin can either come clean and risk her friendships and career, or buck up and find another way to skirt the system. No matter how she chooses, along the way she'll have to confront both her blossoming feelings for the man she's enlisted to teach her accounting and the return of the woman she's always loved, who's finally ready to try to make things work.
This lighthearted yet evocative tale of one woman's quest for self-actualization is sure to please anyone who's ever made the wrong choice for the right reasons.
R.R. Campbell & Excerpt!
The below is a snippet from chapter nine of Accounting for it All. Shortly before this scene takes place, our main character, Robin, has received a voicemail from her mom suggesting her lie about where she's run off to for the last week has been discovered, and Robin is now fretting whether she should continue to stay in Miami where she's started her career in the adult industry. She's joined in this scene at a café by her friend, Jocelyn, and Jocelyn's mentor, Constance, who intends to help Robin choose the path she should take.
—
"So here's the real question," Constance started.
The waiter arrived table side. "Can I get you—?"
"Do you like sex?" Constance said.
The waiter paled. "I'm sorry?"
"Not you," Constance said. "Well, I hope you like sex, but you're not who I was asking."
"Should I come back once you've—?"
"No, it's okay," Constance said. "What do you have to say, Robin?"
My cheeks went hot. "I, yeah."
"Yeah what?" Constance said. "Yeah, you like sex, or yeah, you've decided what you want to eat?"
Jesus tap-dancing Christ. My brow boiled right along with my lips and forearms. "It's… I…"
"What do you recommend?" Constance said.
The waiter looked as though he'd just seen Lazarus rise from the dead. "Sexually? I—"
"No. None of that was—" Constance looked back to me. "Do you need a minute?"
I managed a few words. "I'd appreciate it, yeah."
Constance spoke to the waiter. "Sorry."
"I should apologize," he said. "I—"
"Come back in a minute," Constance said. "Nothing to apologize for."
The moment he made it more than a few feet away, Jocelyn exploded with laughter. "Girl," Constance said, "that ain't funny. None of this is funny."
Still, Jocelyn laughed. "It is. It is, though."
Constance tapped her long, purple-painted nails on the table. "It is not. If Robin's gonna be all right with this industry, she's gonna need to be okay discussing sex. Am I right?"
"You're right. You're right." Jocelyn wiped away a tear. "The timing was just so…" She never finished her sentence.
"For real," Constance said, focusing on me again. "Do you like sex? We have to start there if we're gonna get anywhere."
Did I like sex? Clearly. But why was it so hard to talk about? "I do."
"All right. Good." Constance slid her glass to the side. "Are there sex-related things you want to do with a partner or partners you haven't had a chance to do yet?"
A memory of Sarah flashed in my head first. Then there was the time I'd run into light bondage online a couple of years earlier, and I never had it in me to bring it up with anyone I'd been with. A trust thing, I figured.
And all of that was without mentioning the recurring dream, the one where there'd be one man, then another… "Yes."
Constance leaned forward and clasped her hands. "Do you think you could have fun doing them while also being on camera?"
Some new awareness settled onto me in that moment, one of Jocelyn's intently watching eyes, the stares from the table of the elderly nearby, the attentive gaze of the waiter visible through the doorway leading to the kitchen. Could they hear me? Were they listening?
I forced myself to concentrate on Constance's question, but no immediate answer came. Maybe that told me all I had to know. I wanted to grow—I thought I did, anyway—not only as a person, but—at least based on my answer to the last question—sexually too. I mean, who wouldn't?
But could acting in porn help me achieve both? Just one? Neither?
—
Want to know the answers to those questions? Get your copy of Accounting for It All in print or eBook today from Amazon, Barnes & Noble, or by request at your local bookstore or library. For more, you can visit accountingforitall.com.
r.r. campbell is an author, editor, and the founder of the Writescast Network, a podcast collective for writers, by writers. His debut novel, Accounting for It All, is the story of a porn-star-turned-accountant who becomes mired in an IRS audit of a money laundering scheme she had no idea she was part of. It is currently available from NineStar Press, and his forthcoming science fiction EMPATHY series will debut in January 2019. For more from r. r. campbell, visit rrcampbellwrites.com.
Thanks for reading.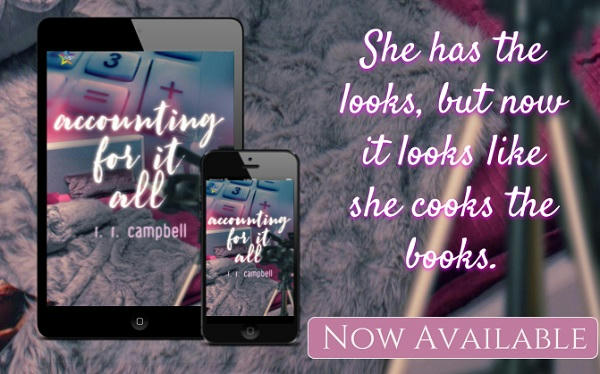 About R.R.!
Born Ryan Campbell, r. r. campbell is an author, editor, and host of the r. r. campbell writescast. His work has been featured in Five:2:One Magazine's #thesideshow, Erotic Review, and with National Journal Writing Month. He lives in Madison, Wisconsin with his wife, Lacey, and their cats, Hashtag and Rhaegar.
Website | Facebook | Twitter | Instagram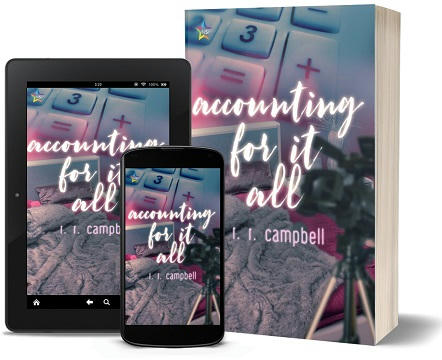 Giveaway!
One lucky winner will receive a $10.00 NineStar Press Gift Code!
Check out the other blogs on the tour!