Hi guys, we have A.E. Via visiting today with her new release Nothing Special IV: His Hart's Command, S.W.A.T. Edition, we have a fantastic guest post from A.E., a great exclusive excerpt, and we have a brilliant giveaway where there's some awesome prizes up for grabs, so check out the post and then enter the giveaway!  ❤ ~Pixie~
His Hart's Command
(Nothing Special IV: S.W.A.T. Edition)
by
A.E. Via
Lennox Freeman (Free) is one of the best hackers in the world which has caused him to spend most of his life on the run. Never able to put down roots, he couldn't trust anyone not to take advantage of him, even his own family. If it wasn't for his best friend, Tech, shielding him, Free's father would've sold him and his skills to the highest bidding crime family when he was still a student at MIT. Free owed Tech his life; so when his friend called for him to come to Atlanta to work with him, he couldn't say no. However, he wasn't expecting the overprotective group of detectives that made up Atlanta PD's most notorious task force. And he certainly wasn't prepared for the large-and-in-charge SWAT Captain that was responsible for their safety.

Ivan Hart has lived and bled one creed all of his life: To Serve and Protect. His intense focus and determination in law enforcement has led him to finally commanding his own team. He'd worked hard to put together a squad of badasses capable of backing up a very dangerous team of detectives. Being God and Day's last line of defense came with a lot of responsibility that he took very seriously.

After his divorce was final Hart turned right around and remarried his job. He had his good friends there in the office with him every day, so it was easier to ignore the few quiet hours he spent at home alone each night. He'd settled well into his new routine and was comfortable with it. Then God decided to disrupt everything by hiring another tech specialist for his department. A man whose brains, trendy looks, and voice would leave Hart tongue-tied and captivated at their first introduction.

Free quickly awakens a passion in Hart that he long thought was dead. An attraction he didn't know existed. He couldn't fathom that the sexy cyber genius could be interested in an over-sized, big-bearded brute that served criminals the bottom line for a living. No matter what his best friend, God said.

A future with Hart could be potentially dangerous and often times full of terrifyingly close calls; but little did he know that so could falling for the most hunted hacker in the world. All Lennox Freeman wants in life is security, love and protection… Hart had all that to give and more.
This novel is a part of a series and contains previously mentioned characters, but CAN BE read as a standalone. No cliffhangers.
A.E. Via!
IT's ABOUT THAT TIME AGAIN!
I'm so happy to be back with the next installment from my Nothing Special series. It's been a while since I visited with my guys and let me tell you it was one helluva ride they took me on. This title has all the guys you love from the previous stories and some new that I'm sure you'll adore. Which can make this title stand on its on. Since my last two novels, my alpha lovers have asked for more action and hotter romance. I hope I delivered.
I'm doing a guest post on each stop of my limited tour and each one WILL BE DIFFERENT. I never know what to talk about or say for a post – not wanting to do the usual – so I'm gonna talk about my many experiences I had over the several months of writing this book. Some will be funny quips, cute tales, people I spoke to, emotions I experienced, etc.
What I wanna talk about on MM Good Book Reviews is how hard I tried to get an interview with an actual Virginia Beach police department SWAT officer. Man. When I say these guys are too damn busy to do anything but practice and 'be ready', that wasn't exaggerated in the book. I called numerous times. I even went to their facility. (Didn't get past reception).
"NO INTERVIEWS" the desk officer told me. Even for novelist.
But, I did work the parking lot. No one really wanted to talk after a long day of practice and I wasn't a nuisance. But they were smoking hot to look at. One had a motorcycle. I did use a description from one of the officers I saw. 😉
Thank you for listening and thank you so much for stopping by. Definitely leave me a comment below on your thoughts, (should I have been more persistent for an in-depth interview?), and enter a chance to win some of the kickass prizes that correlates with my computer-guru, MC. That means sweet gadgets.
Join my release party on November 30th at https://www.facebook.com/events/322292521695369/
ALL are welcome. I have some amazing powerhouse MM authors coming by to share some of their many goodies as well. Tell your friends!
Exclusive Excerpt!
"Can't believe you guys ate all the damn food!" Tech yelled.
Hart jerked his head up. He saw Tech shoving and pushing his way around the table trying to find at least one abandon wing or forgotten piece of sub. He looked hilarious in his sweater vest and red plaid bow tie as he wreaked havoc on fifteen men, twice his size. Tech wasn't one of God's enforcers for nothing. He may look like a geek but he was the most dangerous, lethal geek to hit the streets of Atlanta. Tech sat down between Ruxs and Green and demanded they order him some food.
Some of the team had the decency to look guilty but most of them started bitching about Tech being so late. Where is he? Hart spun around, checking behind him and up at the bar. He really didn't come? Hart smoothed his hand over his clean head. He could feel his face heating, and his head warming to an uncomfortable temperature. He couldn't feel any dumber if he tried. He'd asked out a man almost ten years his junior and was actually surprised he'd been blown off.
Hart stood and put on his best fake smile, although he knew God would see right through it, "I'm gonna head back to the station. Get a start on next week's assignment."
"Certainly not before you buy Free that drink you promised." God didn't bother looking up from his next shot. "Be cool. He just came out the bathroom. Go take him to the bar before he sits down."
Hart's feet were glued to the spot he stood in. Free was walking through the bar, heading towards their team's tables. People were watching him, just like he was. He wanted to hurry over to him but he couldn't stop staring. He looked amazing in those tight blue jeans. While Hart was gone the last couple weeks, Free had cut most of his hair off. It was shaved close on the sides, with trendy spikes sticking in various directions on the top. Hart's pulse began to beat at an unnatural rhythm the further Free moved in the opposite direction. He stopped suddenly, his dark eyes scanning the table. He hadn't sat down.
"I think he's looking for someone." God said from beside him.
"Who?" He blurted stupidly, still gawking at Free's compact ass.
"Ouch, shit." Hart rubbed the back his head where God had just slapped the dumb out of him.
"You idiot. He's looking for you." God growled. "Hurry up, call him over."
Free was looking around the bar. Clearly looking for something but Hart didn't want to hope that much. "He might be trying to find the bathroom."
God yanked Hart's arm. "Snap out of it, Jesus. Call him."
Free was pulling out a chair that Tech had pulled over for him.
"Freeman! Over here!" God yelled.
Hart wanted to thank his friend and elbow him in his ribs at the same time. Except when Free spun in their direction and a wide grin spread across his gorgeous face, Hart forgot all about the elbowing part. "Okay, he's coming over."
Hart's face started to heat and his palms felt uncomfortably damp. "Shit. He's bringing Tech too. Oh hell. Alright. What… what should I tell him? Hurry up. What do I do?"
God didn't laugh at him or make him feel like the moron he already felt like, instead he put a hot, heavy palm on his back and leaned towards him. "Take him to the bar for a drink. Talk. Ask him a lot of questions about him. A man likes it when you listen to what he has to say and not take over the conversation bragging about your own shit."
I can do that, I guess. I'm boring anyway. "Yeah, sure."
Release Party!
Join A.E. Via's release party on November 30th at
His Hart's Command Release Party
ALL are welcome. I have some amazing powerhouse MM authors coming by to share some of their many goodies as well. Tell your friends!
About A.E.!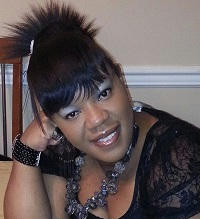 A.E. (Adrienne) Via has been a best-selling author in gay romance for five years now, but she's no stranger to MM. She's been an avid reader of gay lit for over twenty years before she picked up her laptop to place her own kiss on this beautiful genre. She's also the founder and owner of Via Star Wings Books, having published a couple of great new up and coming MM authors.
A.E. has a Bachelor of Arts in Criminal Justice from Virginia Wesleyan College that she used to start her own paralegal firm after she graduated in 2008. She spent five years preparing and filing bankruptcy petitions for struggling blue collar workers who couldn't afford to file with a lawyer. It was a rewarding and satisfying career… but another path called to me. Writing.
A.E.'s writing embodies everything from hopelessly romantic to adventure, to scandalous. Her stories often include intriguing edges and twists that take readers to new, thought-provoking depths.
Now that she's gotten over her 10 books published hump, she's kind of known now for her play rough and love hard, bad boy, alphas. However, I do like to push myself to step out of my comfort zone and explore with different tropes, but I never push myself into a whole other genre. I'm head over heels for gay romance and I have tons of more hot stories to tell.
Be sure to visit Adrienne on her social media pages and subscribe to her newsletter to never miss another release date! https://goo.gl/GbfCyk or Go to A.E. Via's official website http://authoraevia.com  for more detailed information on how to contact her, follow her, or a sneak peek on upcoming work, free reads, VSWB submissions, and where she'll appear next.
Giveaway!
Win! Signed Print Copies of the Nothing Special Series (5 Books excludes Book VI)!
Win a NUBWO Portable Bluetooth Speaker.!
Win a Oster Cordless Electric Wine Bottle Opener with Foil Cutter!

Win a KOBRA Retro LED Color Changing Light Bulb with Remote Control- 16 Different Color Choices!

Win a Portable Fan,JUSTUP New Flexible Gooseneck Mini USB Powered LED Cooling Flashing Real Time Display!
(All Gadgets purchased through Amazon.com)