Hiya peeps!! We have the wonderful due K.C. Wells and Parker Williams visiting today with their upcoming release An Unlocked Mind, we have an amazing bonus Christmas scene between Rob and Vic the stars of An Unlocked Mind  and there's also a fantastic giveaway, so guys, check out the post, enter the giveaway and enjoy the Christmas snippet! <3 ~Pixie~ 
An Unlocked Mind
by
K.C. Wells & Parker Williams
Rob Daniels is determined to prove to himself that his brother Alex got it wrong. Alex believes he found love through BDSM; Rob is certain that's not possible. He even makes several visits to a London club to prove his point. But when he attends the grand opening of Secrets, Rob gets a shock, one that has him fleeing, vowing never to return—until he does… and runs into the brick wall that is Dom Vic Prentiss. As first meetings go, theirs is a disaster.
The more time he spends around Rob, the more convinced Vic becomes of two things—one, something is eating away at Rob, and two, he's looking for something. Every instinct tells Vic to help him, but trying to unlock the secrets hidden in Rob's mind requires a key. All Vic has to do is find it. Because maybe then he'll get to see the real Rob, the man who's scared to let go….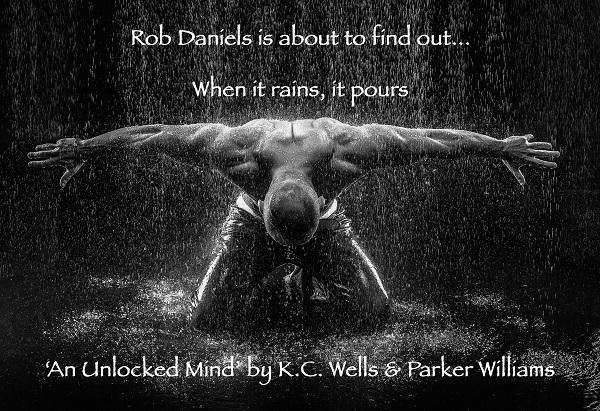 Exclusive Christmas Bonus Scene!
"Rob, can you come down here, please?"
Vic's voice carried up the stairs and to the bedroom where Rob was currently kneeling in the corner. "Gee, I don't know. I think you said I needed to stay up here until I learned my lesson. Haven't learned it yet. I don't think what I did was so bad."
A few moments later, the door opened and Vic strode in. Rob's breath hitched as a shadow fell over him. He inhaled deeply, the aroma of leather surrounding him.
"You never think what you did is bad, and that's part of the problem. On what planet do you think eating jalapeno peppers, and then offering me a blowjob was a good idea?"
"You didn't accept, did you?"
Thick fingers stroked through Rob's stubbly hair. He leaned into the touch.
"Besides, I wouldn't have gone through with it."
"I know that, but the fact you thought it was funny is reason enough you're in here."
Rob sighed. He had thought it was funny, but he could see Vic's point. "I'm sorry."
"I know. You're always sorry, but only after you get caught. Still, it's Christmas morning, so for today, I'll let you off easy. Come on downstairs, I have something for you."
Rob rose to his feet and turned to find Vic holding out his hand. He laced their fingers together, and led Rob to the lounge.
"I love our tree." And he did. This was his first Christmas with Vic, and they'd gone all out. Including Santa and reindeer on the roof.
"I wanted it to be special for you." He leaned in and kissed Rob. "You've given me everything I wanted out of life. Before we go to Sam and Aaron's place, I got you a gift."
Rob pulled his hand away. "We said we weren't going to buy each other anything."
"And we didn't. I did."
"That's not fair." Rob's chest tightened. He saw something in the store that he would have loved to get for Vic, and he hadn't. His eyes stung, and he wrapped his arms around his chest.
"Hey, enough of that. Come with me."
Rob hesitated, but Vic wasn't taking no for an answer. He wrapped a hand around Rob's arm and dragged him over to the tree. Beneath it lay a single gift. Bending at the waist, Vic picked it up and handed it to Rob.
"I don't want it."
"Stop whining and open the gift." His voice softened. "Please."
"But it's not right. I saw something I wanted for you, but you insisted we weren't going to exchange presents."
"Oh? What did you want to give me?"
Rob's couldn't meet Vic's gaze. He stared at the floor, not wanting to talk to Vic. Yeah, he was being petulant, but damn it, he'd really wanted Vic to have this present.
"Hey, if it's that important to you, then it's important to me. I'm sorry, I should have taken your feelings into consideration. Now tell me, what were you going to give me?"
Rob sighed. "I found what a review site called the 'Gold Standard' of hair clippers. For, you know, when you trim my hair. I thought it would be something for the both of us to enjoy."
"Wow. I think that may be the nicest thing anyone has done for me." He pulled Rob close. "Tell you what, you open this gift, and after, we'll go online and order yours. I would love it."
Rob dared to look up. He saw Vic's smile, and the tightness in his chest loosened. "Really?"
"Yes, really. And you were right, I should have been more thoughtful. It's just, you've already given me so much, and I wanted to do something for you." He kissed the tip of Rob's nose. "Now, open your present."
Rob took the thin package from Vic and tore off the paper. When it was all taken off, Rob turned it over and gasped.
"Where did you get this?"
"I had to go talk to a perspective client in Manchester, and called your father and Alex and asked them if we could meet up. Alex loved the idea, and wanted to know if he could invite others. When I said I wanted this to be a family thing, he explained to me that he wants these guys to be your family."
Rob's heart thundered as he looked at the picture Vic had given him. Alex stood behind everyone, waving at the camera. There was Peter, and Scott, and Ben, and Leo, and others Rob had met, but couldn't recall their names.
Vic pulled him in tight. "Alex got his friend, Miles, to take the picture. I hope you like it."
When Rob met Vic, he really thought he had no family left. After everything he'd done to Alex, Rob knew he deserved to be treated like crap by his brother. But Vic had stepped in, stood up, and helped Rob find himself. The real Rob, not the arsehole, not the guy who was a shit to everyone.
"I love it." He grabbed Vic's beard and pulled him into a kiss. "I love you."
"Love you too, boy." He swatted Rob's arse. "Now get dressed. Aaron and Sam are expecting us for dinner, and I don't want to disappoint them. It's their first Christmas together too."
"Yes, Sir." The words were spoken softly, but Rob couldn't have made them sincerer if he tried.
He went back upstairs to get dressed, then decided he needed to do one more thing. He turned around, headed back to the lounge, and dropped to his knees in front of Vic. He reached out and slid the zipper on Vic's pants down, reached in, and fished out his cock. He kissed the head reverently.
"Thank you for everything, Sir."
Before Vic could say anything, Rob took him deep. This was his place, on his knees in front of Vic, but also lodged firmly in Vic's heart.
And he would never give it up.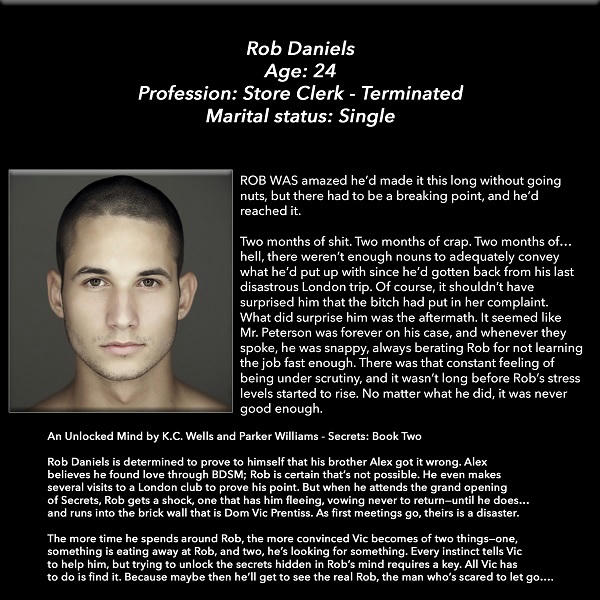 Secrets series!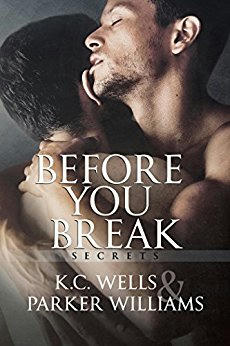 Before You Break (book 01)
Six years ago Ellis walked into his first briefing as the newest member of London's Specialist Firearms unit. He was partnered with Wayne and they became fast friends. When Wayne begins to notice changes—Ellis's erratic temper, the effects of sleep deprivation—he knows he has to act before Ellis reaches his breaking point. He invites Ellis to the opening of the new BDSM club, Secrets, where Wayne has a membership. His purpose? He wants Ellis to glimpse the lifestyle before Wayne approaches him with a proposition. He wants to take Ellis in hand, to control his life because he wants his friend back, and he figures this is the only way to do it.
There are a few issues, however. Ellis is straight. Stubborn. And sexy. Wayne knows he has to put his own feelings aside to be what Ellis needs. What surprises the hell out of him is finding out what Ellis actually requires.
Dreamspinner Press | Amazon US | Amazon UK | iTunes | Kobo | B&N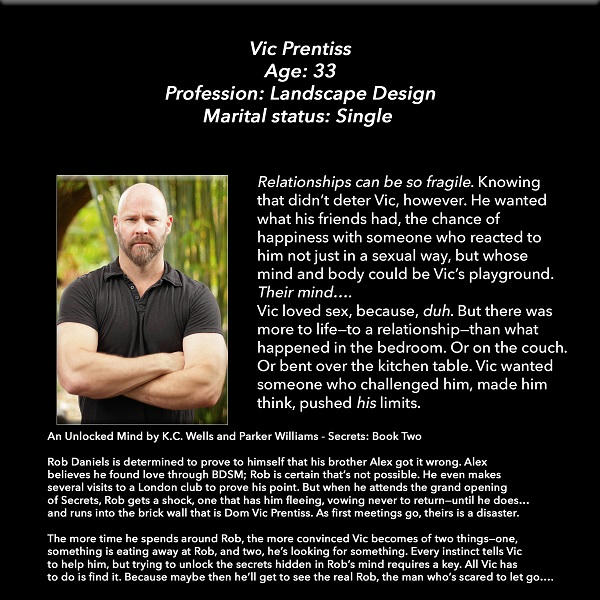 About K.C. & Parker!
K.C. Wells:
K.C. Wells started writing in 2012, although the idea of writing a novel had been in her head since she was a child. But after reading that first gay romance in 2009, she was hooked.
She now writes full time, and the line of men in her head, clamouring to tell their story, is getting longer and longer. If the frequent visits by plot bunnies are anything to go by, that's not about to change anytime soon.
Website | Blog | Facebook | Goodreads | Dreamspinner Press
Parker Williams:
Parker Williams began to write as a teen, but never showed his work to anyone. As he grew older, he drifted away from writing, but his love of the written word moved him to reading. A chance encounter with an author changed the course of his life as she encouraged him to never give up on a dream. With the help of some amazing friends, he rediscovered the joy of writing, thanks to a community of writers who have become his family.
Parker firmly believes in love, but is also of the opinion that anything worth having requires work and sacrifice (plus a little hurt and angst, too). The course of love is never a smooth one, and Happily Ever After always has a price tag.
 Website | Twitter | Facebook | parker@parkerwilliamsauthor.com
Giveaway!
Win a print copy of An Unlocked Mind!


International! (Anywhere in the world.)