Hi guys! We have K.A. Mitchell stopping by today with her upcoming re-release Bad Boyfriend, we have a short intro from K.A. and a great exclusive excerpt so check out the post and enjoy! ❤ ~Pixie~
Bad Boyfriend
by
K.A. Mitchell
Causing trouble has never been more fun.
Eli Wright doesn't follow anyone's rules. When he was seventeen, his parents threw him out of the house for being gay. He's been making his own way for the past five years and he's not about to change himself for anyone's expectations. For now, romance can wait. There are plenty of hot guys to keep him entertained until he finds someone special.
Quinn Maloney kept the peace and his closeted boyfriend's secrets for ten years. One morning he got a hell of a wake-up along with his coffee. Not only did the boyfriend cheat on him, but he's marrying the girl he knocked up. Inviting Quinn to the baby's baptism is the last straw. Quinn's had enough of gritting his teeth to play nice. His former boyfriend is in for a rude awakening, because Quinn's not going to sit quietly on the sidelines. In fact, he has the perfect scheme, and he just needs to convince the much younger, eyeliner-wearing guy who winks at him in a bar to help him out.
Eli's deception is a little too good, and soon he has everyone believing they're madly in love. In fact, he's almost got Quinn believing it himself….
K.A. Mitchell!
Hi! I'm very excited about the opportunity to share my Bad in Baltimore books with readers once again. Bad Boyfriend has always been a favorite of readers, and I hope new readers will enjoy getting to meet Quinn and Eli.
Although Quinn initially approaches Eli in order to find a date for an ex's party, their chemistry and Eli's force of personality soon change Quinn's plans. This scene is from the middle of the book, where they're arguing about whether Quinn has really moved on from his ex.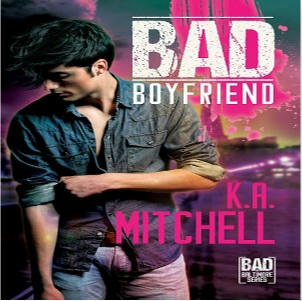 Exclusive Excerpt!
"This has nothing to do with Peter." With two yanks on the wheel, Quinn slammed the car into a spot on Eli's street.
"Right. Whatever. Feel free to lose my number." Eli flung off his seat belt and bolted from the car. Quinn took off after him and barely caught the outside door before Eli could slam it.
"What part of lose my number did you miss?"
"The part where you can tell me what to do."
Eli took a deep breath. "Listen, that forceful-Daddy crap only turns my crank in bed, so drop it."
"I'm not playing a game with you, Eli."
Eli looked up at him sharply. In the dim light from the single bulb on the landing, Quinn read his expression. Startled and still pissed enough to make his eyes almost all black, but not frightened. "Really? Because it sure as hell fucking feels like it. You come down here for a little walk on the wild side, and then you want to go back to your perfect suburbia of dysfunctional families and being tolerated by the neighbors. So go back to it. Go back to your chemically green lawn and your repressed sexuality and your high blood pressure and swallow it all until you drop dead of boredom before you're fifty."
For a second Quinn thought he was dropping dead. A heart attack at thirty-five, even younger than his mom's dad. His chest was too tight. For blood. For breath. For everything he was trying to hold onto. Then something snapped, and if he was dying, goddamn, it felt good. Almost as good as coming, because everything he'd kept wound so fucking tight was free. Anger and want and pain.
And the one person who might be able to understand it, might be able to take it and give it back just as strong, stood right in front of him. He reached out and grabbed Eli's shoulders. "You little shit. You're right."
Eli latched his hands around Quinn's neck. "Of course I am."
Quinn kissed him, nothing held back, nothing in reserve. He slammed Eli up against the wall in that tiny space between the door and the stairs and let everything go. Eli's fingers caught in Quinn's hair, pulling hard enough to sting before Eli hiked a leg around Quinn's hip and kissed him back, wet and open and almost as desperate.
It was like The Wizard of Oz, instant beautiful color, only Quinn had been living in worse than black-and-white Kansas. He'd been trapped in a monochromatic world of beige, of nice, of going with the flow, not making waves. Eli was the whole super-sized box of crayons, with no rules about staying in the lines.

About K.A.!
K.A. Mitchell discovered the magic of writing at an early age when she learned that a carefully crayoned note of apology sent to the kitchen in a toy truck would earn her a reprieve from banishment to her room. She never stopped making stuff up and was pleased to find out that people would pay her to do it. Over twenty books later, she's still in love with writing. Reviewers and readers alike have called her a "gateway drug" to gay romance. Although the men in her stories usually carry more emotional baggage than even LAX can lose in a year, she guarantees they always find their sexy way to a happy ending.
Website | Twitter | Facebook | Blog