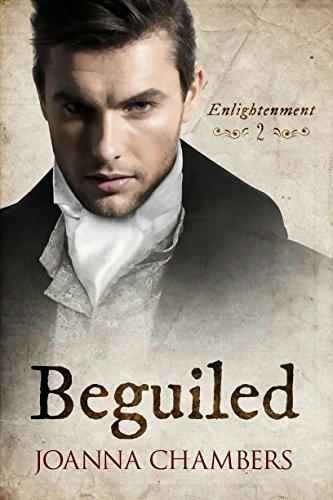 Title: Beguiled (2nd Edition)
Series: Enlightenment 02
Author: Joanna Chambers
Genre: Historical
Length: Novel (226 pages)
Publisher: Joanna Chambers Books (April 23, 2017)
Heat Level: Explicit
Heart Rating: ♥♥♥♥♥ 4.5 Hearts
Blurb: Two years after his last encounter with cynical nobleman Lord Murdo Balfour, David Lauriston accidentally meets him again in the heart of Edinburgh.
King George IV is about to make his first visit to Edinburgh and Murdo has been sent North by his politician father to represent his aristocratic family at the celebrations.
David and Murdo's last parting was painful—and on Murdo's part, bitter—but Murdo's feelings seem to have mellowed in the intervening years. So much so, that he suggests to David that they enjoy each other's company during Murdo's stay in the capital. 
Despite his initial reservations, David cannot put Murdo's proposal from his mind, and soon find himself at Murdo's door—and in his arms. 
But other figures from David's past are converging on the city, and as the pomp and ceremony of the King's visit unfolds around them, David is drawn into a chain of events that will threaten everything: his career, his wellbeing, and the fragile bond that, despite David's best intentions, is growing between him and Murdo.
Product Link: https://www.amazon.com/Beguiled-Enlightenment-Joanna-Chambers-ebook/dp/B0722GJFD4
Reviewer:  GiGi
Review: Did I mention how much I enjoyed Provoked? I dug right into that wonderful book, filled with tension. Beguiled takes off running with tension, and Murdo has been holding on to David's rejection for a couple of years now. Their past encounters were rife with passion, yet they lived in two different worlds, with different ideals, and went separate ways. Murdo feel's it was David's idealism that separated them in the first place and he's determined to get under his skin and have him again. It's not an accident that Murdo decided to go to Edinburgh after all, not just family commitment…Murdo went seeking David.
David has been busy working his way up with his friend Chalmers' help and influence. He owes him a good showing for the King's visit and amidst his long hours and heavy caseload agrees to get fitted for a new suit so he can meet his commitments and attend several patriotic events. Of course, David wasn't prepared to see the man who exposes his weaknesses, that tempts him at every turn, Murdo Balfour. The sparks fly once again, David and Murdo battle back and forth between passion and frustration, pride and what David sees as weakness in himself.
Once again, political station, commitments to friends and political disagreements act to force David and Murdo apart. But a tragic injury to David forces them together. Giving them time to build on their passion, or time for an angry husband to catch up with David and finish the threat to his life? Will David and Murdo take this time to get closer, to find a solution to their predicament, how long can they hide their true relationship? I'll have to wait for the next book to find out!
My only complaint is the cliffhanger…I know there is going to be a very angry, very dangerous, politically powerful Lord coming after David in the very near future, but can Murdo protect him? Ugh…eagerly awaiting the next bite of passion from these two!