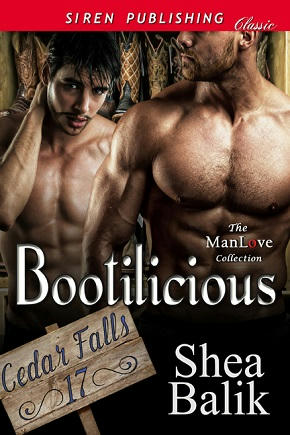 Title: Bootilicious
Series: Cedar Falls #17
Author: Shea Balik
Genre: Contemporary
Length: Novella (156 Pages)  
Publisher: Siren-Bookstrand Inc. (November 30, 2016)
Heat Level: Moderate
Heart Rating: ♥♥♥♥♥ 5 Hearts
Blurb:  From the moment ex-SAS officer Vicar Hunt met ex-Delta Force officer Lucian Frost, they couldn't deny their instant attraction. Well, Lucian wasn't about to deny it—Vicar, on the other hand, wanted to run as far as he could in the opposite direction. Why he ever thought he could fit in around others after all he'd experienced was asinine on his part. A mistake he never planned on making again, if he could just get to the safety of his home.
Lucian stared after the beauty that had run from his shop, Bootilicious, as if the hounds of hell were chasing him. Up until that moment, Lucian had never realized he'd wanted a man in his life. Since entering the military at eighteen, he'd been perfectly content with one-night stands, not having the time for anything more permanent. Now that he'd met Vicar, however, Lucian found himself more than ready to settle down.
Too bad Vicar didn't feel the same.
Then again, Lucian always did like a challenge.  
ISBN: 978-1-68295-614-4
Product Link: http://www.bookstrand.com/book/bootilicious
Reviewer: Lisa
Review:  Each book in the Cedar Falls Series collection features a different romantic couple. To enjoy the overall story arc and crossover characters, I would recommend reading the series in sequential order.  
I started reading romance stories at the age of twelve and was always intrigued by the worlds that authors can come up with. Then a few years ago I read my first gay romance and I decided that there was just something about them that I liked more. I, like many, have favorites that we always follow and Shea Balik is one of those authors for me. There is just something about the worlds that she creates that keeps me captivated throughout the whole entire book. So much so that when a new book comes out, I must always start reading the very first book that leads up to this one.
I love how there is a serious tone to it, but that it is equally matched with humor. I can't stand a book that has no humor in it, I would rather be laughing then just sitting there.  And when you put Jesse and the others in the mix, well you know what crazy stuff is about to come.
Bigfoot is at it again, or so Jesse claims.  Now his friends are lost in the woods looking for him.  When that happens you send in an expert.  Vicar is a moody young man who has lost quite a bit and he stays away from people if he can.  That is until Jesse gets his hands on him.  Then he meets the perfect man for him, but what does he do, he runs.
Lucian can tell from the moment that he met Vicar, that the man was his.  He also knows a wounded soul who needs help and he can provide that.  Now all he has to do is to get the man to stay in one place long enough to claim him. 
To me there is nothing better than a good romance. I love them especially when there are some gorgeous men in some kinky situations. I also love how some of our men come in damaged and the guys will all gang up on him to help him.  You can't say that Jesse and his group don't love those around them, because they show it in many ways.  I can honestly tell you that this is going to be one of those types of series that you can't put down and have to read more than once. It is the perfect story for me and gave me all that I needed. I love the way all the feelings they felt was involved in this story. I had a blast reading it and I can't wait to read the next story. When Shea puts out a book I am usually there to eat them up. I would definitely recommend reading this book. Trust me it will keep you laughing, crying, loving and having fun.